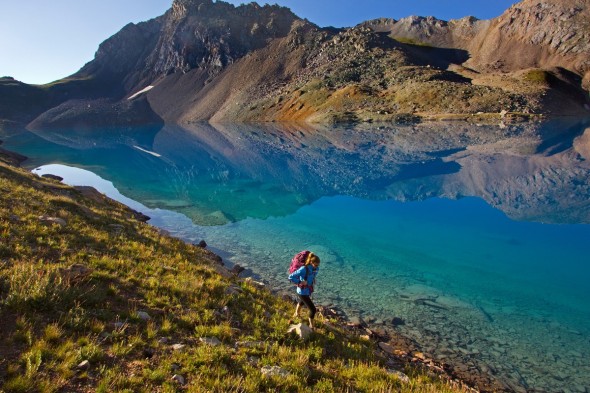 The summer season in Telluride has long been synonymous with the destination's signature festivals, from arts and music, to beer and film. Events such as the Mountainfilm Festival, Telluride Film Festival, and Bluegrass Festival, attract some of the best talent in the world, giving visitors the chance to enjoy picturesque surroundings of Telluride and the San Juan Mountains.
This summer, beginning Memorial Day weekend, Telluride plays host to more than 30 festivals, which officially kicks off with the Mountainfilm Festival. Other popular festivals include The Ride Festival — welcoming Pearl Jam as the headlining act — and the popular Telluride Film Festival where a number of Oscar contenders premiere.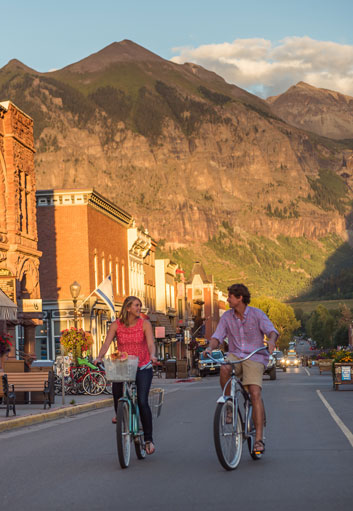 Here's the line-up:
Mountainfilm: May 27-30
Telluride Mountainfilm is a documentary film festival that showcases nonfiction stories about issues that matter. The festival goes beyond the film medium by bringing together world-class athletes, change makers, and visionary artists for a multi-dimensional celebration which includes interactive talks, free community events, a gallery walk, outdoor programming and presentations.
33rd Annual Telluride Balloon Festival: June 3-5
Each year, over a dozen hot air balloons launch at sunrise from the east end of town and sail down the valley. On the last night of the festival, the balloon pilots inflate their balloons along Main Street and fire up the propane for the "Glow", a beautiful final display of the balloons. 
Weekend of Wellness -WOW Festival: June 9-12
Weekend of Wellness' mission is to inspire, motivate, educate and make change. Renowned fitness experts host lectures, fitness classes and excursions throughout the weekend.
43rd Annual Bluegrass Festival: June 16-19
Held over the weekend of the Summer Solstice, Telluride's Bluegrass Festival officially ushers in the summer season. This year's lineup includes, Emmylou Harris, Leftover Salmon, Punch Brothers, Sam Bush Band, Neil Finn, John Prime, and many others.
Telluride Wine Festival: June 23-26
Every year, the Telluride Wine Festival welcomes wineries and wine connoisseurs from around the world. This year's schedule includes tasting events such as the Toast of Telluride, Winemaker Dinners, and The Highest Grand Tasting in North America.
The RIDE Festival: July 9-10
Since its debut in 2012, The RIDE Festival has quickly garnered a reputation among music fans for its carefully crafted line up. The weekend kicks off with a free outdoor sunset concert in scenic Mountain Village and the 2016 lineup includes Pearl Jam, Cage The Elephant, and more.
Telluride Yoga Festival:July 21-24
This inspirational four-day event features over 100 offerings including yoga, meditation, music, hiking, dining, SUP yoga and more.  Guests have access to more than 50 inspiring and motivating presenters in intimate and historic venues throughout the towns of Telluride and Mountain Village.
Telluride Jazz Festival: August 5-7
An intimate format, enabled by limited ticket sales, offers a chance to experience the openness and beauty of the legendary Telluride Town Park music venue, accompanied by a soundtrack provided by acclaimed artists, Grammy Award winners, cutting edge innovators, rare super-groups, and some of the best student bands in the country. This year's guest of honor is John Cleary & The Absolute Monster Gentlemen.
Pretty Lights: August 26-27
Returning for another two-night run, the electronic music project hosts their 2nd Annual Camping Event. Spinning dance music as close to the stars as he can get, Derek Vincent Smith is inspired by the Telluride location and looks to create a one of a kind show.
Telluride Blues & Brews: September 16-18
This three-day celebration of blues, funk, jam bands, indie, rock, gospel and soul performances is accompanied with over 50 of the best microbreweries in the country, a wide variety of food and craft vendors, children's activities, late night shows, and more. The Blues & Brews lineup is announced in Spring 2016.
Telluride Festival of Cars & Colors: September 29-October 2
The 2nd Annual Telluride Festival of Cars & Colors is a world-class celebration for automobile aficionados and lifestyle enthusiasts set in the beautiful town of Telluride. Nestled in the canyons of the San Juan Mountains, it's placed against the backdrop of Telluride's spectacular palette of September's autumnal colors. Focusing on high-end restorations, vintage and exotic vehicles.
For more information visit www.visittelluride.com.