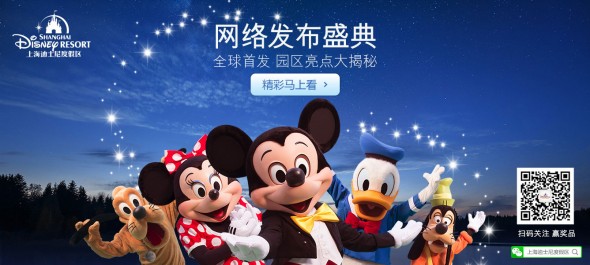 The Walt Disney Company unveiled key creative elements of Shanghai Disneyland recently offering first looks at Mainland China's first Mickey-themed enterprise with its six themed lands filled with rides, attractions and live entertainment — many of them a first for a Disney park.
A joint venture of Disney and its partner Shanghai Shendi Group, Shanghai Disneyland is designed to appeal to Chinese guests – taking the best of Disney and delivering it in a way that is created especially for this audience. It will extend the 60-year legacy of Disney Parks around the globe.
Ground-breaking started in 2011, but plans since then have involved expanding the park by adding additional attractions and entertainment, all toward a Grand Opening scheduled for spring of 2016.
Shanghai Disney Resort, part of the Shanghai International Tourism and Resorts Zone, is a complete vacation destination and at opening will include:
Shanghai Disneyland, a theme park with six themed lands: Adventure Isle, Gardens of Imagination, Mickey Avenue, Tomorrowland, Treasure Cove and Fantasyland, with its Enchanted Storybook Castle.
Shanghai Disneyland Hotel and Toy Story Hotel, imaginatively themed and adjacent to the theme park.
Disneytown, an international shopping, dining and entertainment district, adjacent to Shanghai Disneyland and including the Walt Disney Grand Theatre, home to the first-ever Mandarin production of the Broadway hit Disney's THE LION KING.
Wishing Star Park, a central point of the resort with beautiful gardens, a walking path and a glittering lake.
Guests whether from mainland China or carrying their curiosity from the U.S., will encounter popular Disney stories that come to life at the largest castle in a Disney park, at the first pirate-themed land in a Disney park, on the longest Disney Parks parade route and in more enchanting places filled with creativity and adventure.
At Shanghai Disneyland: Six Themed Lands
Visitors will find the lush gardens, live stage productions and attractions and will also encounter Disney characters in each land, including Mickey Mouse and his pals, Disney princesses, Captain Jack Sparrow and Winnie the Pooh.
Mickey Avenue is a main entry inspired by the colorful personalities of Mickey Mouse and pals. The whimsical avenue will feature areas for guests to get hugs and photos with Disney characters.
Gardens of Imagination celebrates the wonders of nature and the joy of imagination. Guests will take a spin on the Fantasia Carousel, soar on the back of Dumbo and enjoy the area's iconic Disney entertainment, including Castle stage shows and the "Ignite the Dream" nighttime spectacular. From several places in this land, guests will enjoy "Mickey's Storybook Express," a parade with its own musical soundtrack and colorful performers on the longest parade route in a Disney park.
Fantasyland, inspired by Disney's animated films, will be the largest land and home to the Enchanted Storybook Castle. Guests will experience familiar Disney stories as they ride Voyage to the Crystal Grotto, go in and out of tunnels glowing with dazzling diamonds on Seven Dwarfs Mine Train and take flight over the skies of London on Peter Pan's Flight. They may also explore the Hundred Acre Wood with Winnie the Pooh or follow Alice through a Wonderland maze.
Adventure Isle will immerse guests in a newly discovered lost world, filled with hidden treasures. The mighty Roaring Mountain will tower over guests and they may make their own trails at Camp Discovery, travel around the world on Soaring over the Horizon or embark on a rafting adventure through the heart of Adventure Isle on Roaring Rapids.
Treasure Cove will be the first pirate-themed land in a Disney park, a place to join the adventures of Captain Jack Sparrow and Davy Jones. As guests explore this pirate world, they enter Pirates of the Caribbean – Battle for the Sunken Treasure, an attraction that transforms a boat ride into a journey with cutting-edge innovations in robotics, animation, set design and multimedia. Guests will board a pirate ship, paddle through the scenic cove on Explorer Canoes and dine at Barbossa's Bounty.
Tomorrowland celebrates the limitless possibilities and optimism of the future in Shanghai. Disney's innovative use of technology has produced a land where guests will go to infinity and beyond on Buzz Lightyear Planet Rescue, a new space ranger adventure, or break the bonds of gravity on Jet Packs. A massive, color-shifting canopy will lure guests to TRON Lightcycle Power Run, a coaster-style attraction where guests board a train of two-wheeled Lightcycles for one of the more thrilling adventures at the Disney park.
Nearby Tomorrowland will be two experiences created especially for Shanghai Disneyland – Star Wars Launch Bay and Marvel Universe. In a celebration of the Star Wars Galaxy, guests will meet heroes and villains of the saga, visit iconic intergalactic set-pieces, view props and memorabilia from the most recent Episode, and be immersed in the Skywalker story through a state-of-the-art cinematic experience. In Marvel Universe, visitors go for a multimedia mission briefing on the world of Marvel, then get up-close with some popular Marvel Super Heroes and take on the role of comic book artist as they learn to draw some of these characters.
At night, the sky above Enchanted Storybook Castle will be painted in lights with music, special effects and fireworks, adding a special "kiss good night" for all the guests at Shanghai Disney Resort.
All Eyes on the Castle
At the center of Shanghai Disneyland, the iconic Enchanted Storybook Castle will be the tallest, largest and most interactive castle at any Disney theme park. It's also the first castle in a Disney theme park that represents all the Disney princesses. Other "firsts" at Shanghai Disneyland will include:
Adventure Isle, a mysterious land, with an ancient legend about a native tribe, a giant, reptilian creature, and the mighty Roaring Mountain.
Voyage to the Crystal Grotto, an enchanting, new excursion that celebrates classic Disney tales of magic and imagination as it travels the waters of Fantasyland, going underneath Enchanted Story Book Castle for a finale never before seen inside a castle.
Tomorrowland, a venue with an original design and new attractions to celebrate the hope, optimism and potential of the future, created especially for the people of China.
TRON Lightcycle Power Run, which promises to be one of the most thrilling attractions at a Disney park, with a twisting, turning track, high speeds, rich storytelling and a breathtaking view of Shanghai Disneyland.
Garden of the Twelve Friends, where animals of the Chinese zodiac are re-imagined as Disney and Disney•Pixar characters.
Treasure Cove, the first pirate-themed land at a Disney park, leveraging innovative technologies in the new Pirates of the Caribbean – Battle for the Sunken Treasure and a stunt show featuring Captain Jack Sparrow.
Enchanted Disney Stays in Shanghai
The Shanghai Disneyland Hotel is an elegant Art Nouveau-inspired resort with a touch of Disney magic and imagination, while the Toy Story Hotel immerses guests in a world inspired by the toys from the Disney•Pixar series of Toy Story animated films.
Disneytown, a vibrant shopping, dining and entertainment district adjacent to the theme park, will be tailored to Chinese guests, with familiar experiences, colors, symbols and design integrated into the area, including traditional Shanghai Shikumen architecture. Disneytown is home to the Walt Disney Grand Theatre, the separate-ticket venue for the global premiere in Mandarin of Disney's theatrical event, THE LION KING.  And, of course, there will be the innovative World of Disney Store, offering a comprehensive collection of Disney merchandise, including designed especially for Shanghai Disney Resort.
Near Disneytown will be Wishing Star Park, a magical area of greenery with a glittering lake surrounded by a 2.5-kilometer walking path and pockets of sculpted gardens.
More Shanghai Disneyland: www.shanghaidisneyresort.com
Related Stories: