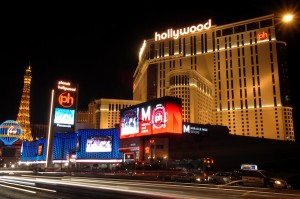 Caesars Entertainment finally has been bitten by hotel fee fever and, as of March 1, added daily fees ranging from $10-$25 at its Las Vegas resort properties. The news is significant because Caesars, with its nine hotel properties, including Caesars Palace, Harrah's, Bally's, the Flamingo, the Quad, Paris Las Vegas and Planet Hollywood on the Strip has long been a vocal holdout on charging resort fees and promoted its properties using a no-fees policy.
Company representatives say that guests are demanding fees or a packaged room deal that includes fees rather than be nickel and dimed over each amenity.
"This is in response to the increasing demand from our guests to provide a package price instead of the inconvenience of separate fees," said Gary Thompson, the company's director of corporate communications. "We continue to do all we can to provide our guests with the best value, best products and best experiences in Las Vegas."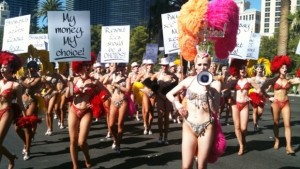 The topic of resort fees became a mock matter of incendiary influence two summers ago when a phalanx of 50 or so Bally's Jubilee showgirls took to the Strip to protest the new trend at that time for Las Vegas resorts to charge resort fees. They marched in their fishnets carried signs saying "Just Say No to Resort Fees!" and "Our Money, Our Choice!" complemented by fans of ostrich feathers. Caesars Entertainment pronounced its commitment to having no part of that practice at its hotels and even set up "no resort fees" Facebook page, drawing tens of thousands of followers.
The daily charges buy such amenities as Internet access, pool access, gym access, bottled water in the room, and daily newspaper. Some hotels add on freebies and 2-4-1 draws with that.
But a recent chart of resort fees (see below) throughout Las Vegas shows that most hotels are charging significantly more and offering significantly less for these services than they were offering in recent years.
A recent survey conducted by William F. Harrah College of Hotel Administration at UNLV noted that most visitors to Las Vegas do not pick hotels based on whether or not they charge a resort fee. The survey of more than 200 people questioned on the Strip showed 88 percent did not pick a hotel based on resort fees. However, only 30 percent said they valued the amenities they were paying for and more than half indicated they would prefer to pay for what they used.
Hotels love the fees because they generate profits of 80 to 90 percent over the cost of the amenities provided.
Perhaps the magic is in the package, however. Most customers, when faced with the fees, would rather see them wrapped into the room rates, rather than broken out as a separate fee.
Recent FTC attention to the matter in November prompted the federal agency to urge hotel companies to disclose these hidden fees at the time of booking. Warning letters were sent to nearly two-dozen hotel companies saying that failing to disclose these fees was a deceptive business practice and considered illegal.
A recent study by the New York University School of Continuing and Professional Studies found that U.S. hotels collect more than $1 billion in fees and surcharges each year. Not all of them are considered "daily resort fees." Other fees to watch and inquire about if they show up on your bill:
gym fees, early check-in fees, additional person fee, the who-moved-the-minibar-soda-fee, parking fees, housekeeping and spa gratuities, and telephone surcharges.
LAS VEGAS RESORTS DAILY FEE CHART
Aliante Casino and Hotel: $14.99
Internet
Unlimited local and 800 calls
Fitness center access
Daily local newspaper
Gift shop discount
Shoeshine service
Shuttle to/from Aliante Golf Course
Special daily offers and discounts
Aria $25
Access to the fitness center
In-room and all-property Internet access
In-room unlimited local and toll-free telephone calls
Daily newspaper
Complimentary boarding pass printing
Artisan Boutique Hotel: $9.95
Internet
Bottled water
Pool
Adult TV channel
Aston MonteLago Village Resort: $20
Wired and wireless high-speed access in lobbies
Unlimited local and 800 calls
Complimentary business services
Inter-resort shuttle
Complimentary access to Lake Mead with voucher
Comp fishing permits for Lake LV
Preferred golf rates at Reflection Bay
Complimentary local newspaper and USA Today
Wake-up calls
Concierge service
Bally's: $15
Fitness center access for two people per day
Daily in-room Internet access for one device
All local calls
Bellagio $25
Access to the fitness center
In-room Internet access
In-room unlimited local and toll-free telephone calls
Complimentary boarding pass printing
Caesars Palace: $25
Fitness center access for two people per day
Daily in-room Internet access for one device
All local calls
Circus Circus $8.95

A coupon for free chips & salsa at our Garden Grill Restaurant
A coupon for two free well drinks (beer or wine included)
A coupon for two free Midway games
A coupon for one free Adventuredome Premium rides
A coupon for two free adult passes to the Fitness Room each day of stay
Free local and toll-free calls (up to 30 minutes each call)
Miscellaneous retail, restaurant, and gaming coupons (over $100 value)
Free in-room wireless Internet access
The Cosmopolitan: $25.
Internet
Unlimited local, toll free and domestic long distance calls
24-hour fitness center and tennis court access
Encore $25 (Suites do not have any fees)
Daily access to the Fitness Center (does not include wet rooms or spa facilities)
In-room high-speed Internet access
Unlimited in-room local and toll-free telephone calls
Excalibur $15
Free high-speed Internet service in the guest room
Free access to the fitness center
Free incoming faxes
Daily newspaper
Free domestic and long distance phone calls
Two free drinks per stay
Flamingo: $18
Fitness center access for two people per day
Daily in-room Internet access for one device
All local calls
Four Seasons at Mandalay Bay: $25
Internet for multiple devices
Wifi in the lobby, by the pool and at the Verandah
In-room coffee and tea
In-room local and toll-free calls
Shoeshine service
Gold Coast $3
Use of fitness center
In-room coffee
Unlimited local and 800 calls
Shuttle to the Strip and The Orleans
Valet parking
Green Valley Ranch Resort and Spa $24.99
Wired and wireless high-speed in-room Internet
Unlimited local and 800 calls
Fitness center access
Daily local newspaper
Shoeshine service
Airport shuttle service
Hard Rock Hotel $22

Fitness Center
Shuttle (to/from Strip/Fashion Show Mall)
Pool Towels
Internet
Daily newspaper
Notary Service
Boarding pass
Harrah's: $18
Fitness center access for two people per day
Daily in-room Internet access for one device
All local calls
Hotel32 at Monte Carlo: $25
Internet
Fitness center access
Daily newspaper
Complimentary copying and faxing
Boarding pass printing
Local and 800 phone calls
Luxor $18
Unlimited local, toll-free and domestic long distance calls
Daily newspaper
Daily admission to the fitness center (does not include use of spa facilities)
Internet
Mandalay Bay $25
Internet
Local and toll-free calls
Fitness Center
Local Newspaper
Business Center (Outgoing Fax & Boarding Pass printing)
Mandarin Oriental Las Vegas: $24
Morning coffee and tea at MO to Go (served from 6-8 a.m.)
Internet
Local and toll-free calls
Access to the Fitness & Wellness Center, lockers and steam room
Unlimited access to scheduled fitness classes including yoga, Pilates and kinesis wall training (subject to availability)
Daily newspaper upon request
Overnight shoeshine services
Boarding passes printed at the front desk
MGM Grand $25

Internet
Local and toll-free calls
USA Today
Business Center (Copy & Fax, Boarding pass printing – Limited services)
Free access to cardio room
Mirage $25
Internet
Daily newspaper
Daily admission to the cardio room (does not include spa or fitness center)
Complimentary notary services at business center
Unlimited local and toll-free calls
Free copies and faxes (up to the first 5 pages) at the business center (excluding color and large print jobs)
Monte Carlo $20
Daily fitness center access
Newspaper
In-room coffee
Two daily bottles of water
Free copying and faxing
Free boarding pass printing
Free local and toll-free calls
NY-NY $18
Internet
Unlimited local and 800-number calls
Domestic long distance phone call rates of $0.10 per minute
Boarding pass printing
Notary services and faxes
Daily newspaper
Orleans $5
Unlimited local and toll-free calls
In-room coffee
10 minutes of free Internet daily in the business center
Gym access
Palace Station $14.99
Internet
Unlimited local, domestic long distance and 800 calls
Fitness center access
Daily local newspaper
Gift shop discount
Copy and fax services
Special daily offers and discounts
Airport shuttle service
Palazzo $20  
Internet
Unlimited local, domestic long distance and 800 calls
Fitness center access to Canyon Ranch
Daily local newspaper
Boarding pass printing
One regular coffee at Café Presse
2-for-1 well drink, house wine or domestic beer at La Scena, Oculus, Laguna, Fusion or Salute lounges
Palms Place: $20
2-for-1 drinks at any on-site casino bar or the Rojo Lounge
Internet
Cardio center access (no weight-lifting!)
Shuttle service to Fashion Show Mall
Daily newspaper
Boarding pass printing
Some local and long distance calls
Some faxing
The Palms: $20
2-for-1 drinks at any on-site casino bar or the Rojo Lounge
Internet
Cardio center access (no weight-lifting!)
Shuttle service to Fashion Show Mall
Daily newspaper
Boarding pass printing
Some local and long distance calls
Some faxing
Planet Hollywood: $20
Fitness center access for two people per day
Daily in-room Internet access for one device
All local calls
Plaza: $10
Internet
800 and local telephone calls
Complimentary bottled water
Coupon book with over $250 in valuable offers
The Quad Resort & Casino: $10
Fitness center access for two people per day
Daily in-room Internet access for one device
All local calls
Ravella at Lake Las Vegas $22
Fitness center access
Self-parking
Internet
Toll-free and local calls
Daily newspaper
In-room coffee
Bottled water
Red Rock $24.99
Internet
Unlimited local and toll-free calls
Fitness center access
Daily local newspaper
Shoeshine service
Airport shuttle service
Rio: $18
Fitness center access for two people per day
Daily in-room Internet access for one device
All local calls
Riviera $15
Internet
Local and toll-free calls
Fitness Center
Business Center (Faxes – up to 10 pages)
Access to Tennis courts & Pool area
Pool towel service
50% off drinks at La Bistro Bar
Two Comedy Club tickets
2-for-1 show tickets to Jan Rouven
One cup of coffee daily at the Pool Side Café
Coupon book with a $250 value
Rumor Resort: $11.99
Internet
Two bottles of water
Adult TV channel
Sam's Town $4.50
Local and toll-free calls
Business Center (Copy & Fax)
Shuttle (to/from Strip & Downtown Boyd Properties)
Valet & Self-parking
Signature at MGM $25
Access to the gym
Internet
Unlimited local and toll-free calls
In-room coffee
Daily newspaper
South Point: $14
In-room wireless Internet access
Use of the fitness center
Local and toll-free phone calls from the room
Printing of boarding passes
Airport shuttle (on availability and on schedule)
Stratosphere $12.99
Daily unlimited admission for up to four guests staying in the same room to the Stratosphere Tower
$19.99 tickets for up to four guests to see Frankie Moreno (half off retail price)
Unlimited admission to the Stratosphere Fitness Center during your stay
$5 food and beverage daily credit that is subject to the following: Guest must present credit card upon arrival to open room charges for use of the daily credit. Valid at Top of the World, McCall's Heartland Grill, Roxy's Diner, Stratosphere Plate Buffet, Level 107 Lounge and room service. The $5 credit is issued daily and must be used each day or will be forfeited. The credit may not accumulate. For use of daily credit, food and beverage consumed must be charged to the guest room and the $5 daily credit will be applied to valid food and beverage purchases
20 percent discount on selected services at Roni Josef Spa and Salon
All-day thrill ride pass for $25 (a savings of $9 with purchase upon presentation of an active room key card)
Suncoast: $5
Local calls
Access to fitness center
In-room coffeemaker
Daily newspaper
Coupon booklet
Sunset Station: $14.99
Internet
Unlimited local and 800 calls
Access to fitness center
Daily local newspaper
Gift shop discount
Copy and fax services
Special daily offers and discounts
Texas Station: $12.99
Internet
Unlimited local and 800 calls
Access to fitness center
Daily local newspaper
Gift shop discount
Copy and fax services
Special daily offers and discounts
THEhotel at Mandalay Bay $25
Wireless Internet
Local and toll-free calls
Fitness center
Local newspaper
Business center (outgoing faxes, boarding passes)
Treasure Island $25
Internet
2-for-1 buffet dinner or lunch
2-for-1 cocktail
Admission to the fitness center
In-room local and toll-free phone calls
Printed airline boarding passes
Copies and faxes
$20 credit toward a future stay
Tropicana $19.99
Internet
Fitness center access
Two bottled waters per stay
50-percent off drinks from Tropicana Bar from 4-6 pm Local and 800 phone calls
Faxes and photocopies and boarding pass printing
Trump $25
Internet
Fitness center access
$25 credit at the Trump Spa
Shuttle service to the Wynn Las Vegas and Forum Shops
Two bottles of water daily
Local and toll free phone calls
Faxes, boarding pass printing
Newspaper delivery
In-room coffee
Shoe shine service
Vdara: $25
Internet access
Unlimited local and 800 calls
Bottled water in room
Daily newspaper
Turndown service
Venetian $20
Internet
Unlimited local, domestic long distance and toll-free calls
Fitness center access for up to 2 guests
Daily local newspaper
Boarding pass printing
One regular coffee at Café Presse
2-for-1 well drink, house wine or domestic beer at La Scena, Oculus, Laguna, Fusion or Salute lounges
Westin Casuarina $11.50
Daily newspaper
Fitness center access
Pool access
Unlimited local and 800 calls
Boarding pass printing, notary public services and incoming faxes
Wynn Las Vegas: $25 (does not apply to suite upgrades)
Internet
Local and toll-free calls
Fitness Center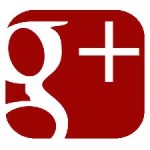 Like it, Talk about it