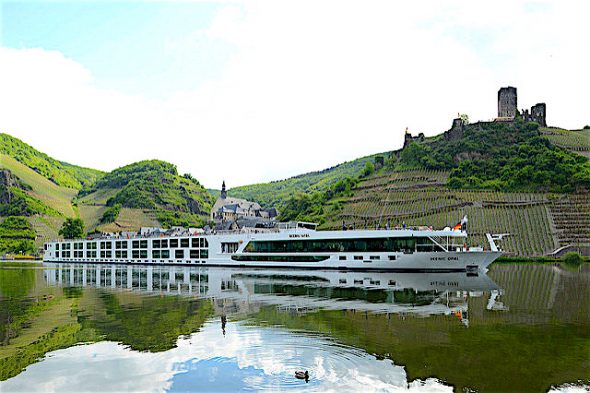 By Norman Sklarewitz
Savvy agents have increasingly come to offer a river cruise to clients but probably not as a first option. After all, ocean cruising with all its razzle dazzle attractions and high profile publicity probably is suggested first to a prospect open to suggestions. And close behind might be a land tour to one of the latest "hot" destinations hyped by some show business celebrities as the locale for one of those reality shows.
Still, river cruising is no longer the travel industry's poor relative. While the physical size and configuration of most river boats can't change, many owners like Scenic are moving aggressively to offer a product that appeals to a discriminating and usually high end clientele.
Admittedly, owners of river cruise lines remain unable to increase the size of their new builds as the big ocean liner companies continue to do. That's because the boats particularly in Europe can be only so long and so wide. As experienced agents know, that's because in most areas, but mainly in Europe, they need to pass through locks that control water depth and they impose strict limitations for the size of vessels that can handled. In fact, when going through some locks, there's no more than seven inches or so clearance on each side.
Also, because river ships must pass under bridges along their routes, their superstructure can only be so high. As a result, such things as masts for communication gear are hinged so they can fold back if river levels are so high that they would be torn off going under a bridge. In the latest river boats, the wheel house in which the captain controls the boat is mounted on tracks. When the boat approaches a low bridge, the captain merely presses a button and the whole room slides down as if on an elevator.
That length restriction generally at around 440 feet long also means there's a limit on how many passengers can be accommodated. While those big liners take 4,000 or more passengers, a river cruise boat generally boards only around 170 with the top capacity 192.
Despite or maybe because of those limitations, river cruise boats offer their passengers some big advantages. They can travel up and down some of history's most famous European rivers — the Danube, Rhine, Odor, Seine, Rhone, Vistula, and the Volga among others – and these days on the Irrawaddy in Myanmar or the Mekong in Vietnam.
Often a river cruise boat can dock so close to the center of towns and villages along their route that passengers just step off and head off to shop or explore ancient castles and historic churches on escorted tours.
All these features have resulted in a major increase in the number of river cruise companies in the travel industry and naturally in the number of boats they operate. At the same time, there's been much attention and many dollars invested in making a river cruise experience more than just a convenient but not, in the past at least, a very glamorous form of transportation.
But there's nothing to keep managements from upgrading the interiors of their vessels and expanding the onboard services to a level not seen before. And that's just what is happening.
Scenic: Setting the Standard for Luxury River Cruising
Setting the industry's pace for just such moves is Scenic, now branded with that one word instead of the former Scenic Luxury Cruises and Tours.
The company is privately owned and operated by Glen Moroney, an Australian travel entrepreneur based in Newcastle, NSW. Impressed with the potential for river cruising, in 2008 he started out building two river cruise boats. Today he has a fleet of 16 boats, all built in a Dutch ship yard. These mainly operate throughout Europe usually with eight to fifteen day trips between such cities as Amsterdam and Budapest, Budapest to Bucharest, Paris to Bordeaux, Lisbon to Madrid and St. Petersburg to Moscow.
Scenic has taken the onboard features and service to a level that leads the industry and frankly rivals many luxury ocean liners. Guests enjoy fine dining, room service, butler service, excellent guides on shore excursions and a variety of electronic devices such as E-Bikes to ride when ashore and the Scenic Tailormade, a hand-held device equipped with GPS to permit a passenger to enjoy a self-guided tour or hear details on points of interest wherever he or she is.
An innovative feature of all suites aboard the Space-Ship are full-sized balconies. At the push of a button, the top half of the glass enclosure slides down to permit guests to enjoy the sun or fresh breezes.
Very much a special attraction with Scenic is its all-inclusive policy. Simply put: once on board everything is included. That means all meals, of course, but also all beverages, all shore excursions and, almost unprecedented, all tipping. Unless a passenger opts for a spa treatment or a visit to the ship's little beauty parlor, he or she needn't open a wallet or purse.
One of the newest of Scenic's so-called "Space Ship" category is the Scenic Opal. It's 443-feet long but only 37.4 feet wide and accommodates a maximum of 168 passengers on its 2 ½ passenger decks. Launched just last year, the Opal's accommodations include the following: 2 panorama suites, 4 royal suites, 4 junior suites, 18 deluxe balcony suites, 43 balcony suites, 1 single balcony suite and 13 staterooms. Rates start at $3,430 per person, double occupancy.
Breakfast and lunch are service buffet style in the main dining room, but guests may also order a la carte. Dinners are full service. In addition, at least once each voyage, each guest is invited to the Portobellos for a five course dinner with wine pairings. In addition, guests on the Diamond Deck and occupying junior balcony suites once each trip are invited to a six course degustation menu at Table La Rive.
River Cruise Season
For this year's cruise season running from April through December, the Scenic Opal has been offering its
Rhine Highlights itineraries – 21 eight- and 15- day trips between Amsterdam, the Netherlands, and Basel, Switzerland or on to Budapest. In terms of distance, the eight day voyage only covers 860 kilometers or 534 miles. But the stops involve Old World communities that defy the terms "picturesque" or "charming."
On the itinerary northbound (and the same on the reverse run) are Basel, Strasbourg, Mannheim to include Heidelberg, Rudensheim and Koblenz, Cologne and Amsterdam. Half-timbered houses, village markets, bustling town squares, bakeries, with fresh from the oven rolls and pastries piled high, restaurants, cafes and much more are very much part of every stop.
But also in terms of history, this part of western Europe is rich. Some towns and villages along the Scenic Opal's Rhine River itinerary date back to the Romans. Many then figured prominently in the Middle Ages and then into the Medieval era as areas came under the control of rival feudal powers. Castles were raised by royalty; their watch towers and battlements still dot the landscape as the Scenic Opal sails by.