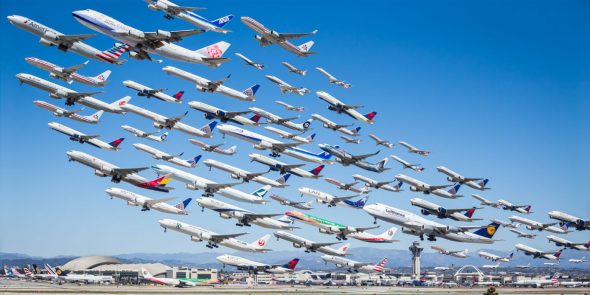 LA, as the song goes, may be a great big freeway, but LAX, the world's fifth busiest airport, is a great big runway these days with more and more airlines finding their way to the glittering city on the Pacific.
In the last 12 months, five new international airlines began flying into Los Angeles International Airport and two more international airline companies are on schedule to be added this year. And that does not begin to address all the new routes available from airlines already operating in and out of this busy port.
Passenger volumes at LAX set a record last year, crawling up six percent from 2014 to a hefty 74.9 million. And the airport found itself, among the top 100 airports in the world, according to Skytrax, although at the lower end of that scale.
Following a $4 billion, eight-year makeover of the Tom Bradley International Terminal and other location sites, the airport is set to run another $5 billion in improvements that will bring, among other things, a new $3 million paparazzi-proof VIP entrance as well as more connectedness between terminals. A people mover will eventually link terminals to a light rail station connecting LAX to Santa Monica and the rest of the metropolis. The great big runway by the water is quickly becoming one of the world's hub spots for transit and a top launch spot for connecting passengers on the U.S. left coast with all the great destinations of the world.
Unlike much of the geography in the Los Angeles basin during congested traffic times, you can get there from here if you are at the airport. "There" can be Jeddah or Addis Ababa or Cebu or Changsha.
Ethiopian Airlines, Hainan Airlines, Interjet, Qatar Airways and SAS all began service into Los Angeles this year. Upcoming: Aer Lingus starts service May 4 and WOW starts service June 15.
Meanwhile, the list of places one can reach in one flight from LAX continues to grow, with new routes that include Managua, Dublin, Bogota, Chengdu, Nanjing, Cebu and Santiago.
We take you on a road trip through some of these new destinations from Los Angeles — once multi-stop, 30-hour flights and now mostly non-stop hops.
LAX to Addis Ababa on Ethiopian Airlines
Addis Ababa: The first stop along this worldly sojourn from LAX may be one of the most exotic. Ethiopian culture and civilization stretches back to the days of the Old Testament and it is believed Sheba, lover of Solomon, is the mother of these people and their first queen. Addis Ababa, the most recent capital of the county (founded in the late 19th century by Emp. Menelik II), is beautifully preserved in parts and remains the central capital of Ethiopia. With a foundation built on the influence of Italian occupiers in the 1930s, Soviet occupiers in the 1970s and now western support, Addis may now be Africa's fastest growing metropolis. A new light rail system, courtesy of China, is going up to alleviate traffic jams; a new airport is in progress to accommodate the rapid growth of Ethiopian Airlines and Addis Ababa as an African hub; and new hotels are changing the skyline.
While the Addis Ababa Hilton, in proximity to the headquarters of the African Union, remains a solid standby for comfortable stays in this city, a Sheraton Luxury Collection property nearby is providing the needed five-star luxury that has been lacking there. Radisson Blu offers a central location as well, free Wi-Fi, a great breakfast buffet and very clean, upscale room furnishings; a Marriott Executive Suites hotel offers affordable and well-appointed one- and two-bedroom apartments for longer stays. And several comfortable properties owned and built by Ethiopian owners have been sprouting up: Elilly Hotel, Monarch Hotel, Desalegn Hotels and even the local InterContinental.
Addis, however, is sadly understocked in room inventory, especially anything above three stars, so best to book early. Leave plenty of time between landing at the airport and any meetings. The arrival and immigration protocols date from the Soviet era and it can take three hours to process one planeload of passengers. While Ethiopian flight #505 flies 3x weekly to Addis Ababa from LAX, it is a 20-hour flight in total so there is a brief layover in Dublin. However, passengers can now get off in Dublin and stay awhile, resuming their flight to Addis another day at no additional charge.
LAX to Changsha on Hainan Airlines
Changsha is the latest non-stop to the People's Republic from LAX. Those routes are also managed by Air China, China Eastern Airlines, and China Southern Airlines. However, because a Chinese government mandate allows only one Chinese carrier to operate each international route from China, the newest entrant, Hainan Airlines, is tagging the capital of Hunan as its own. (China is already served by Air China to Beijing; China Eastern to Shanghai; and China Southern to Guangzhou). Hainan Airlines, based in Hainan, a warm vacation resort island in the South China Sea off the southeastern mainland, decided that, with top cities in China taken and the market to the resort isle from the US not particularly scalable, a "Tier II" strategy was in line – a non-stop to what is China's 19th largest city and a center for manufacturing, production and redistribution.
Very little stands out about Changsha other than its bustling outdoor pedestrian mall along Huangxing Road. It suffers from some of the pollution woes that China's rising economies have wrought over the past decades as populations lift themselves and discover the joys of personal carriage.
Modern China's founder, Mao Zedong, began his political career in Changsha, first as a student and then as a teacher and principal in the early 1920s. The city dates back to the first millennium B.C and offers a number of preserved temples, monuments, museums and gardens to tell its stories.
But it is the food that gives the city its place on the map. Hunan cuisine, known as Xiang Cuisine is one of the eight cooking styles of China – known mostly for its hot and sour seasonings. Top recommendations: Stinky Tofu and Sisters' Rice Balls (best tried in Huogongdian, the Fire Palace) or Spicy Shrimp (a favorite at the Nanmenkou street market). Street treats should be tried with caution with concern for food poisoning or reactions to unfamiliar e-coli.
Arriving in Changsha from the U.S. is now easier than ever as Changsha adopted the 72-hour visa-free transit policy on January 1st. The policy is open to the passport holders of 51 countries transiting at Huanghua International Airport.
Hotels, however, although plentiful and easy to find, are mostly of the local variety, which usually means hard beds, smoky rooms, insects and substandard cleanliness. On the top end find Sheraton Changsha, Crown Plaza City Changsha, Kempinski Hotel Changsha, Wyndham Grand Plaza Royal and Kaiserdom Changsha Huatie.
LAX to Guadalajara on Interjet
American Airline's launch of daily service to Guadalajara was a strong indication that the market from the U.S. to this city in Western Mexico was a good bet. The route is also serviced by Volaris, Delta and Aeromexico. Interjet, headquartered in Mexico City, followed suit in February with daily service from LAX from its gate in Terminal 2. The airline functions as a low-cost airline and launched from the demise of Aero California in 2008.
Located inland, some 200 miles from Puerto Vallarta (but it will take a good four to five hours if you try to drive it), the colonial metropolis of Guadalajara is a thriving part of Mexico's economy with tourism as a major booster along with computing and information technology. Guadalajara is often referred to as the Silicon Valley of Mexico and is served by a continuous flow of talent from the many prestigious universities and educational centers in the city.
Top electronic manufacturing and computer firms have facilities in this region. Thus, the city is exploding with the accoutrement of rising economies: luxury malls, entertainment complexes, dining choices and myriad ways to attract local disposable incomes. The Expo Guadalajara, built in 1987, is still considered one of the most important convention centers in Mexico and is well served by such known brand hotels as Westin, Hilton and Hampton Inn.
Not forgetting, Guadalajara is the founding city of Mariachi. The city is a beautiful one as Mexican destinations go. Founded by Spanish conquerors in the 15th century it's rife with the colorful European-inspired architecture that developed through the centuries. The historic downtown with its historic plazas and ornate wrought-ironworks is a great place to wander. Mercado Libertad, or Mercado San Juan de Dios, is the place to look for souvenirs, traditional clothing and enjoy some of the best Mariachi music in Mexico.
As for local foods to try, birria (a spicy stew of goat meat and mutton), tortas ahogadas (a meaty sandwich made from thick local bread and smothered in a chili/tomato sauce), and chilaquiles (corn tortillas cut in quarters and lightly fried then smothered in salsa or mole) might be considered the most traditional dishes in Guadalajara and the Mercado Libertad is where to find them.
LAX to Doha on Qatar Airways
It's possible to travel from Los Angeles to Doha, the capital of Qatar, in 16 hours via Qatar Airway's new route that started in January. The former British outpost on the Persian Gulf is a relatively recent one as cities go, where mud and coral dwellings began to rise into the concrete and steel city that Doha is today starting with the oil concessions created in the 1920s and 1930s.
A conference center went up in1983 and an adjacent 15-storey Sheraton became the tallest structure in town. Today, however, Doha is as much about hotels as it is about oil. A Four Seasons, a Movenpick, a Marriott, a Ritz-Carlton and a St. Regis are among the plethora of properties dotting a golden stretch along the coast of the Persian Gulf.
While oil remains the main driver of the economy, construction is not far behind. 2011 saw more than 50 towers go up Doha, — the new Doha Convention Center Tower at 1,808 feet, as the largest and tallest at the time. Since then a 2030 vision plan has been set forth and some $65 billion committed on new infrastructure projects, with the 2022 World Cup serving as a strong incentive.
For outings, remember this is a hot desert. Average temperatures range from 70s in January to 106 degrees in July. Most attractions are inside: the Museum of Islamic Art and Arab Museum of Modern Art are worthy of note as well as are independent films –the Doha Film Institute runs regular festivals and showcases.
Shoppers will have plenty of luxury malls to wander. Check out the Villaggio Mall. Las Vegas is not the only city to sport a Venice Canal in one of its malls. The souqs are the most intriguing, however. The Souq Waqif (also tabbed the Iranian Souq or Old Souq), is a good place to pick up Arab whatnots and maybe a falcon or two (these are for sale at many stands). The traditional architecture and sheesha bars are reminders that you are not in Kansas any more. For spices and incense head to the Omani Souq and, of course, visit the Gold Souq, for great deals in 24 kt gold and gems.
Food in Doha is eclectic, given the throngs of ex-patriots employed there. Find South Indian foods, Middle Eastern foods (shish kabobs and Persian fare) and seafood (grilled hammour with butter) to be the most promising.
LAX to Dublin on Ethiopian Airlines and Aer Lingus
It's not what to do in Dublin that is so vexing; it's what not to do. The capital of the Republic of Ireland is one party pub after the other, one intriguing cobbled alleyway of Limerick lace after the other, one famous playwright's home after the other, and historic churches and museums that pop up by every patch of green.
The city is alive, hip, musical, infectious and ready to welcome anyone that agrees. Visit the artsy Glasnevin Cemetery, the Dead Center of Dublin, to see resting places of famous residents past. Check out the James Joyce Centre in a restored house that was built in 1784. Spend a morning viewing the stunning Book of Kells and exploring the grounds of Trinity College. Tip your hat to the ghost of Oscar Wilde as you pass his former home on the way. Don't miss a dip into the National Gallery of Ireland, the National Museum or the sordid stories that you'll at Kilmainham gaol. You can spend weeks in Dublin, possibly something that Ethiopian Airlines took into account when creating its free unlimited stopover en route to Addis.
Consider procuring a Dublin City Pass for a deep and quick orientation. It offers easy fast-track entry to 33 of the city's top attractions plus comes with a one-way air shuttle transfer into the center of Dublin from the international airport.
As for where to stay, the city's top pick might be the Merrion but other well-located hotels with a modicum of cool include the Fitzwilliam, the Dylan, the Clarence (owned by Bono & The Edge), The Morrison (DoubleTree by Hilton), Butlers Townhouse, the Westbury, the Morgan, and the Clontarf Castle Hotel. Also find a Radisson Blu or two, a Hampton Inn, Crown Plaza and other U.S. brands.
For some local dining and shopping consider Saturday's Temple Bar Food Market for vintage souvenirs, and the Dublin Flea Market on the last Sunday of the month. Top dining spots: Dawson Street is still the golden mile for Dublin restaurants and bars. Town Bar & Grill is where to go to impress. L'Gueuleton's, with its no-reservations policy and simple French-influenced menu, is a favorite hot spot. The website www.menupages.ie is a good resource for reviews and current menus of the city's main eateries.
LAX to Reykjavík on Wow
Reykjavik will soon be within reach from Los Angeles on a new low cost airline. Wow launched last year as Iceland's new low cost carrier and is getting off to a great start so far in Los Angeles – selling out of availability for its intro $99 promotion. In similar fashion to Norwegian Air, Wow starts with a low base price and then charges extra for everything else ($48 for a carry-on, for instance; $67 to check that bag and $10 to reserve a seat). LAX service starts June 15 with a 4x per week schedule to Iceland.
Reykjavik is best known, perhaps, for its wonderful geothermal lakes and the Blue Lagoon Spa, which uses those heated waters and adds a menu of healing treatments for day-trippers and overnight guests.
Much about this town is dazzling: the northern lights, the plays of light in winter and summer, the sense of peace it brings. Iceland has topped the list as the most peaceful country in the world seven years in a row now, according to the annual Global Peace Index compiled by the Institute for Economics and Peace. Reykjavík is the fifth city in the world to be tabbed a UNESCO City of Literature, joining Edinburgh, Melbourne, Iowa City and Dublin.
So what's to do in Reykjavik? Start with the museums, the National Museum, the Living Art Museum, Nordic House, the Reykjavik Art Museum. Reykjavik is an eminently walkable city with attractions, shopping, dining and pubs in easy reach for those with good shoes. The danger here is found in the sidewalks – used freely by the city's throngs of bicyclists. Keep eyes open and be mindful in winter of using the five-hours of light nature gives.
As for sleeping, most hotels in Reykjavik share the Nordic style of hospitality, offering efficient spaces, non-fancy décor, Scan furnishings at the upper end and good clean comfort in the middle tiers. Neither food nor hotel stays are cheap in Iceland. But good values can be found at such properties as Hotel Holt, where art is at the center of this family-owned location (it possesses the largest private collection in the country). Each room is its own gallery. The Aportek Hotel is an architectural oeuvre, designed by a local legend in the field and serving once as an official landmark. It's a boutique hotel owned by the Kea group that also owns Hotel Borg nearby. Both offer refined stays in smart surroundings near the Icelandic Parliament.
As for dining, find plenty of ways to sample Nordic cuisine in Reykjavik, say, meatballs or plokkfiskur, a hearty fish stew. Perhaps Skolabru, a contemporary classic restaurant near Reykjavik's old city main square and the Icelandic parliament, provides the best introduction to Icelandic cuisine – with some twists. It is enjoyed in a traditional wood clad house dating back to 1907. Recommended: sea wolf with mango, chili and ginger sauce, or the grilled rump of lamb with Béarnaise sauce, and the popular chocolate soufflé. Iceland could be called carnivore country when it comes to cuisine. Meats play a mighty role in most meals, seabirds included.
LAX to Stockholm on SAS
SAS started service between Los Angeles and Stockholm in March, after more than two decades. The airline was the first to fly over the Arctic to LA in 1954 and paved the frontier for other airlines in an act that shaved some two hours off the flight time. Now that trip is made in just over 11 hours.
Sweden's capital city is vast and compelling, an archipelago in the Baltic that spreads over 14 islands and offers quaint cobblestone neighborhoods, 13th century buildings, palaces, museums and plenty of ways to get around. Its population mostly minds the service industries, although fiber optics is a fast emerging focus for the country as is wind farming. The air is clean here.
Best things to do in Stockholm? Get the Stockholm Pass to get a quick overview and visit such attractions as the Royal Palace, the Vasa Museum, the Nobel Museum and the SkyView as part of the pass privileges. Take a canal boat tour to view historic buildings and intelligently designed green spaces. Shop in Bibliotekstan and in the city district of Norrmalm. Swedes are finicky about fashion and even have their own Fashion Week each spring.
As for dining, Sweden is a heavy partner in the Nordic Cuisine movement but some of its favorite dishes are exquisitely simple. Cinnamon buns might as well be the national food. Made from traditional lightly sweetened bread dough called vetebröd, these often sprinkled with cardamom, saffron and vanilla, spices said to have been introduced by Vikings trading with Istanbul.
Toast Skagen is also a favorite as a traditional open sandwich dolloped with peeled prawns, mayonnaise, dill and lemon, topped with fish roe and served on crunchy, sautéed bread.
The northern seas are awash in herring, which Swedes have perfected in their use through pickling and smoking. Strömming from the Baltic waters will be breaded and fried, while sill from the North Sea is frequently pickled in a variety of sauces.
Tart lingonberries must be sampled as well. They look like red blueberries and usually show up in jams or cordials. But the Swedes enjoy them as 'raw-blended' jam and use the berries as a condiment with meatballs or as a traditional accompaniment to raggmunk — fried potato pancakes.
Best restaurants to try: Most lists will have Restaurant Mathias Dahlgren, Restaurang Frantzén and Gastrologik on them. Mathias Dahlgren and his eponymous restaurant recently received two Michelin stars. Emphasis is on natural and regional ingredients. Restaurang Frantzén was started by a Swedish football star with a passion for cooking and now Björn Frantzén is regarded as one of the best chefs in Sweden, winning Michelin stars for his work. He promotes creative uses of raw produce. Michelin-starred Gastrologik was started by a protégé of Dahlgren and specializes on new Nordic fare.