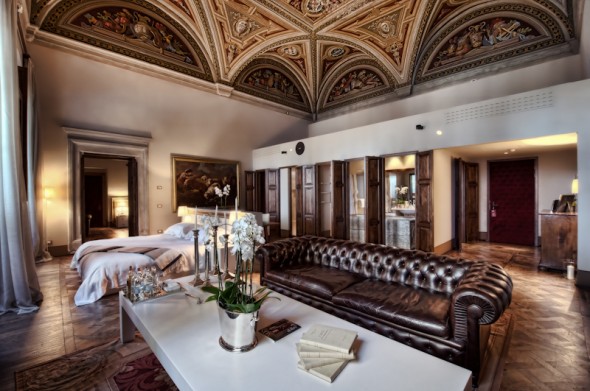 Those entranced by the new series on Starz, Da Vinci's Demons, will want to see the magnificent city of Florence – the city inside the spotlight – for all the magic and artistry that may have been lived by Da Vinci, himself.
Florence is the epicenter of Leonardo Da Vinci treasure, hidden and exposed and ripe for the finding. But where you stay in Florence can be just as important as what you will find. Complementing any exploration into the birthplace of the Renaissance would be a stay at Il Salviatino — where accommodations approach masterpieces preserved through the centuries.
While Da Vinci may not have slept here, Il Salviatino was definitely around during the artista's day. In the 14th century, the manor belonged to the noble Florentine Salviati family, bankers to Pope Sixtus IV. They built this opulent country villa on the outskirts of Florence. Today, it's an imposing mansion with myriad art-infused chambers and eleven acres of sculptured gardens, all reborn in 2010 as one of the finest hotels in Italy and a true treat for all the senses. Il Salviatino is a member of the exclusive Kurtz-Ahlers collection of luxury hotels and resorts.
Complex renovations exposed long lost frescoes painted on ceilings and walls and other hidden secrets as the property transformed into a hotel with 45 exquisitely designed accommodations. Find luxurious linens, valuable antique furnishings, original art, 14th century appointments and a choice of chambers that range from The Affresco Suite (comes with your own private frescoes) to the Salviati Suite with offers a multi-level spaces and private rooftop terrace overlooking Florence to the Tegliacci Suite with its enormous fireplace, to fantastical greenhouses cottages of glass located in the garden.
Dining at Il Salviatino is also an exquisite part of the experience enjoyed through its gourmet restaurant that serves local Tuscan favorites with innovative twists. The hotel holds an annual truffle foraging and wine-tasting celebrations in the fall.
Location for Il Salviatino is a few miles outside of the bustle of Florence in the cypress-covered hills of Fiesole. The hotel offers complimentary transport for guests to the center of  Florence, around 15 minutes away.
Searching for Da Vinci in Florence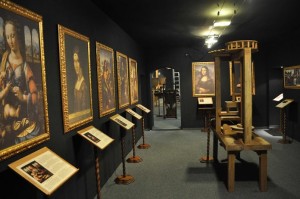 Visitors looking for signs of Di Vinci in Florence may also find a little Giotto, Michelangelo, Dante and Brunelleschi as well, but the life of the extraordinary polymath can be traced in a number of iconic spots in every section of Florence.
The Museum of Leonardo da Vinci, is a good place to start. There, visitors can see life-size models of the artist's ideas, as well as inventions — from the famed glider that sought to copy birds in flight to his war machine designs, specifically a tank carved from wood.
Then there is the Uffizi Gallery (pre-reserved tickets recommended), one of the oldest art museums in the Western world. Da Vinci's "Annunciation" and "The Adoration of the Magi," are on view in a gallery that also houses "The Baptism of Christ," attributed to Verrocchio and da Vinci, and numerous works by Giotto, Botticelli, Michelangelo, Rafael, Titian and Tintoretto
It is said that the Palazzo Vecchio hides a da Vinci treasure: "The Battle of Anghiari" is rumored to be covered by one of Vasari's frescoes (tipped off by the words "Seek and you shall find" in one of his paintings).
Seeking the Art of Fashion in Florence
And then when it is time to return to this century, Florence presents a bounty of modern artwork, found primarily through the artists of fashion — Gucci, Pucci and Cavalli got there starts in Florence as did Ferragamo. Prada, Chanel, Armani and others also keep their signature in the city with glossy boutiques on Via Tornabuoni.
Savoring the Genius in Packaging at Il Salviatino
A stay at Il Salviatino does not require being a Medici. The property is running a number of special deals and discounts this season, including an "I Love Mondays" offer that brings a 50 percent discount on any Monday during a stay of at least three nights. Also, in time for the spring and summer blooms, Il Salviatino is offering a 30 percent discount on Greenhouse Suites with bookings of two nights or more. Average room rates at Il Salviatino start at around $600 per night.
Contact:
Il Salviatino, Florence, Italy

(+011 39) 055 904-1111
[email protected]
www.salviatino.com