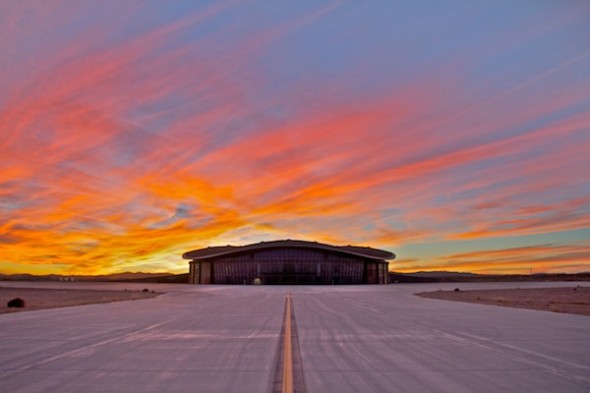 Future Travel has been around forever, — or at least as long as humans, the only creature able to imagine what could be and project time forward, has been living on earth. But future travel is a concept coming into the present only now as Spaceport America prepares to open its doors to the public next summer and present what has always been imagined as the future of travel into 2014.
Spaceport America is not a new concept. It has been in the news more recently, however, for the $209 million and counting that has been spent on creating an 18,000-acre space park in the desert outside of Truth or Consequences, New Mexico and launching commercial and touristic flights into space amid a vast complex of space pads and mission control towers.
No longer a dream or even empty lots of sand and cement, Spaceport America is rising and with it, a new Visitors Center and space tour experience that promises to attract families, tourist astronauts and future rocket scientists to its door when it opens next summer. Here is an inside glimpse. 
The Spaceport America tour, currently a popular bus tour run by Follow the Sun Tours as a three-hour vision into what will be, will soon turn into a six- or seven-hour tour with a host of newly imagined attractions that have the signature of former Disney imagineers and a phalanx of space engineers.
Just a two-hour trip from Albuquerque or an hour's drive from Las Cruces, the tour will start at the Visitors Center where visitors purchase tickets if they have not already done so online, get their "clearance" and obtain their boarding pass. Because the tour is showcasing a real working spaceport, they will need to confirm names hometowns, and email addresses. Also, guests are advised to arrive an hour ahead of scheduled departure.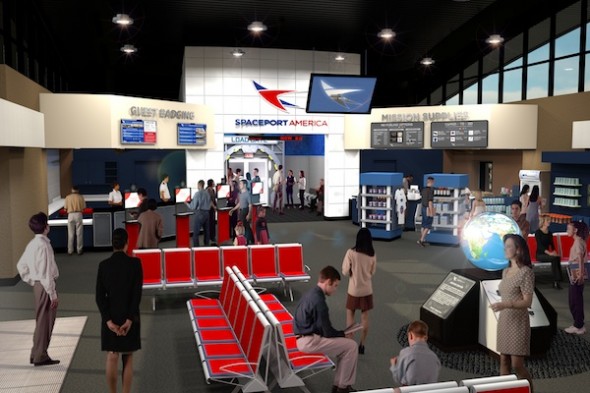 The center is not without its own attractions: exhibits on orbital and sub-­orbital space travel, New Mexico's rich history and contributions to the advancement of space flight, plus a rocket-centered gift shop and café. A Spaceport America Experience Smartphone app with reservation number entered will alert bearers of their departure time and experience to come.
Shuttles take visitors into Spaceport Central where the Quarterdeck is the hub for things like restrooms, gifts and merchandise (exclusive Spaceport America apparel, keepsakes, and mission gear) and travel supplies. Nearby is the Event Horizon Theater and Show Countdown Screen for orientation and preview of what's to come.
While waiting for the next show guests can browse Cosmos Hall with priceless artifacts of human evolution and invention on display from arrowheads and flint stones, to musket balls and broaches, railroad spikes and canteens, crumpled fuselages and blast shards.
Also on hand are plenty of games and challenges: the Launch Window that puts a different part of a commercial space launch into the player's hands. Players can design the spaceship/craft a mission, select the ground/order flight crew to carry out the mission, and make sure the launch vehicle is properly configured.
When the show countdown screen opens it's time to pick up a pair of 3D glasses and enter the theater. The theater also supports live presentations as Spaceport America picks up briefing feeds from JPL, NASA, and other space agencies about their launch activity, satellites, and rovers. Monitors on either side of the main screen provide both English and Spanish captioning, and infrared (IR) transmitters in the ceiling provide a stereo audio signal to infrared assistive listening devices.
The 3D feature shown is called "Aspira," about the inspiring can-­do spirit of the many pioneers at Spaceport America.
Next it is time to experience MissionCore, where guests put themselves to the test as if playing, living, and working in space. They can see how many G's they can handle in controlling a flight wheel and what bearings they have inside a 6-­axis gyro cage as it whirls around in free fall. The younger set gets to run wild in KidSpaceport as they create and live out the missions of tomorrow.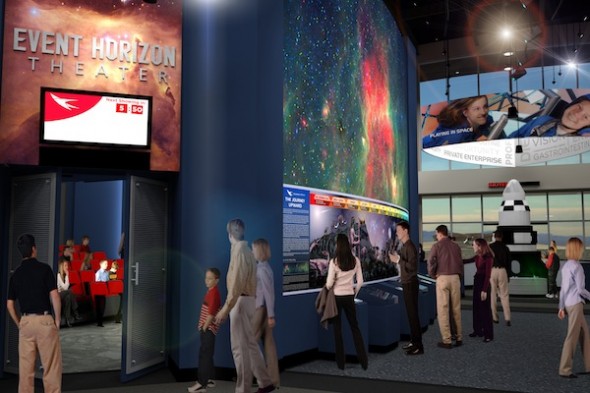 Because Spaceport America is a fully operational spaceport, scientists and technicians are onsite assembling, preparing, and testing payloads prior to being launched into space. At Payload Processing, visitors can watch scientists work on the next instrument packages and experimental payloads to go up into space. A payload specialist will be on hand to explain what guests are seeing through the large observation wall.
Then it is time to launch. Visitors take the Launch Wagon to a nearby site and prepare to send rockets up in the air and payloads out into space. It's not everyday you get to see rockets being launched or a high altitude helium balloon released. Guests get to send up rockets (smaller than the ones that Spaceport America customers send up into space from the Vertical Launch Area just to the south) that share the same propulsion and ballistic properties. While the Launch Wagon sends up rockets several times each day, there's only one high altitude balloon release a day and visitors should not miss that.
Next is the Flightline Tour with its exclusive access to Spaceport America's most restricted areas. At the Spaceport Operations Center, or SOC, a Guide shares tales of what it's like to work at Spaceport America and the many different onsite activities that happen there daily. Security checks to make sure the vehicle's tires are free from debris that could contaminate the Spaceway, and guests drive the Spaceway to the Gateway to Space terminal hangar. The stop at Virgin Galactic's iconic building at Spaceport America at is the tour's halfway point.
Guests head up the Astronaut Walk to enter the hangar facility (the same entrance that Virgin Galactic's astronauts take when first arriving at the building). Inside, the Virgin Galactic's tourist astronauts-to-be (who each pay some $250,000 for the experience) prepare for two days prior to making their flight up into space in the early morning hours of Day 3. Sometimes, the Flightline Tour is held up for a few minutes while Virgin Galactic welcomes a VIP passenger, often celebrities, dignitaries, or just rich people who want to fly into space.
The Gateway To Space terminal hangar facility includes a 4,000 square foot area dedicated to telling the Virgin Galactic story at Spaceport America. Combined with the vehicle tour around the Spaceport property, the entire Flightline tour lasts about an hour.
From here it is back to Spaceport Central where there is a restaurant, gift shop and continuous 2D showings in the Horizon Theater of "Spaceport Today," which showcased imagery from recent launches and space activity.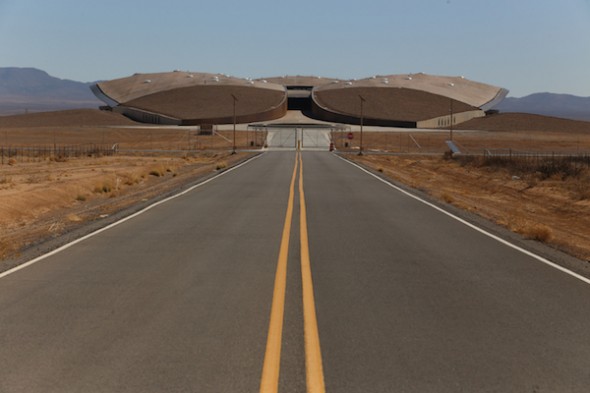 For Now: Follow the Sun Tours runs tours of the Spaceport America site in development from Truth or Consequences, about 30 minutes away. The the pick up/drop off location is the Holiday Inn Express Hotel, which offers a complimentary hot breakfast and afternoon snacks to tour guests.  Also offered: a 10 percent discount on room rates with purchase of a Spaceport America Preview Tour ticket. Call (575) 894-3900.
FTS tour prices are $59 for adults, $49 for teens ages 13-17; and $29 for children 12 and under. Reservations and a minimum of three guests are required per tour. For reservations, call 575-740-6894 or book online at spaceplacenm.com
Future Travel to Launch in 2014 at Spaceport America
Albuquerque: Beauty and Breadth
Quirky Las Cruces Brings Visitors to New Mexico