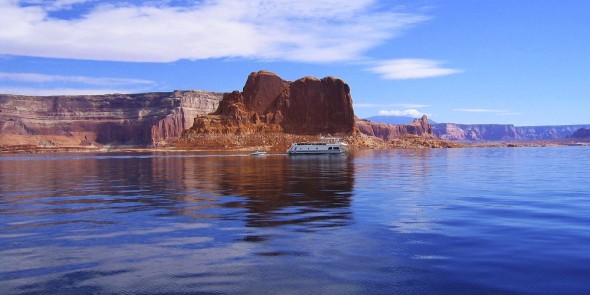 While most travelers are hot for Wi-Fi wherever they can find it and hotels have noted that a strong and freely available Internet connection is the top request from guests, there is one company that sees vacation as a way to "unplug" and is creating the perfect vacation around that concept.
Forever Resorts, which offers an array of houseboating vacations in some of America's most scenic lakes has vacation options that ensure guests will truly get away from a constantly wired world.  Fully-equipped houseboats that sleep eight to 12 passengers ply the quiet serenity to be found in such spots as Cottonwood Cove Resort and Callville Bay in the 2,337 square mile Lake Mead National Recreation Area. These decked-out homes on the water come with all the necessities of living the good life amid wide skies and natural desert beauty: fully equipped kitchens, dining tables and chairs, breakfast counters, wet bars, top-deck sun canopies, private staterooms, swimming platforms, waterslides and outdoor barbecue grills.
Houseboat renters get the operational training they need to run these crafts and a personal orientation by skilled marina staff teaches renters how to pilot, dock and beach a houseboat, as well as the boating safety rules of the lake.
Getting off the Grid
When guests book a houseboat trip either online or via phone, they will be asked if they would like to make this reservation a "digital vacation" (at no extra charge). If they do, approximately 10 days before their check-in date Forever Resorts will email a list of suggested ways to begin the disconnection.
Personally reach out to daily professional and personal contacts to let them know the disconnect is coming. Designate one person to be the "in case of emergency" contact and only that one person should be the one to call.
Shut down email by posting the out-of-office message at least one week before departing. In the message, gently let users know you truly will be out of the office until the return date.
Log off from social media. Post profile photos declaring a "digital detox" to let friends and followers a disconnection is happening without deleting or disabling the account altogether.
If the phone remains in possession, disable all incoming alerts, emails and texts by logging off from social media sites and re-setting apps accordingly.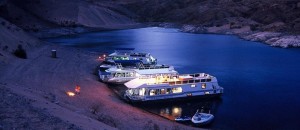 "A recent study by Harris Interactive showed a staggering 61 percent of Americans plan to work during vacation this year," said Darla Cook, spokesman, Forever Resorts.  "That's up from 52 percent found in a similar survey last year and 46 percent in 2011. We're hoping to help reverse this trend and give people the motivation they need to turn off their devices and spend time appreciating nature and each other's company. Houseboats are an ideal place to do both."
Unplug "Ceremony"
Once guests check in to their Forever Resorts houseboating destination, staff will engage the group in the "unplugging ceremony." Guests will gather around a special lockbox where everyone will be asked to turn off all devices at the same time, which becomes a fun audible way to get off the grid and say goodbye. One member of the group will be designated the "key master." The box will remain in the guests' possession throughout the duration of the trip and the idea is for all temptation to be removed. Finally, guests will also receive a special gift bag from Forever Resorts, complete with tastefully bound journals and pens—perfect for jotting down their thoughts the old-fashioned way.
Once comfortably disengaged, guests can explore the 550 miles of shoreline around the lake on 50- to 75-foot houseboat models that start at around $450 per day, depending on season, availability and number of days reserved. Packages and discounts run throughout the year.
One package in particular may be of interest as the marinas used for Forever Resorts are located so close to Las Vegas. The 2014 Sky and Water Enchantment package is a wowing set-up for marrying couples that fly from Las Vegas to Lake Powell for a majestic wedding and reception before pushing on for a seven-day honeymoon with or without the wedding party.
The rate starts at $50,000 and becomes a cost-efficient attention grabber when considering wedding and honeymoon costs. Inclusions:
Roundtrip air travel aboard a private chartered Scenic Airlines plane for themselves and up to 18 guests from Las Vegas or Phoenix to Page, Ariz.
Private Papillon EC-130 helicopter flights for entire wedding party from Page Municipal Airport to the top of Tower Butte. En route, guests can take in the beauty of the region's sculptural red rock formations—part of a landscape that has long been held sacred by the people of the Navajo Nation. Rising to 5,282 feet, Tower Butte is inaccessible by foot and helicopter for its awe-inspiring 360-degree views.
Wedding ceremony conducted by the wedding authority of the couple's choosing.
Helicopter flights from Tower Butte to Antelope Point Marina at Lake Powell.
Power boat transfers for the wedding party to a private, secluded cove on Lake Powell for a candlelit reception on the beach.
Sit-down, gourmet dinner on the beach served by wait staff clad in tuxedos on white linen-draped tables. Includes premium open bar, couple's choice of floral, custom-designed wedding cake, Champagne toast and live band
Seven-day accommodations for bride and groom aboard Forever Resorts luxury 75-foot XTreme houseboat. The houseboat has six private staterooms, two and a half bathrooms, a seven-person hot tub on the top deck, water slide, fully equipped kitchen, all linens, flying bridge with wet bar, flat-screen TVs with DirecTV satellite service, gas barbecue grill and more.
Seven-day accommodations for wedding party aboard 60-foot Eagle houseboats. Each 60-foot Eagle houseboat includes four private staterooms, one and a half bathrooms, flying bridge with wet bar, water slide, fully equipped kitchen, all linens, TV/DVD players with satellite service, gas barbecue grill and more.
Each houseboat will be stocked with groceries, beverages and ice for the week. Alcoholic beverages and specialty items may be added to the order at the time of booking.
Finally, all guests will return via powerboat to Antelope Point Marina. Following coach transfers to Page Municipal Airport, they will board a private chartered Scenic Airlines plane for the return trip home.
Special events, including weddings, in any tribal park boundary, require a Special Use Permit from the park and require up to two weeks for processing. See www.NavajoNationParks.org and click on "Permits and Services."
For more information on Forever Resorts call (800) 255-5561.