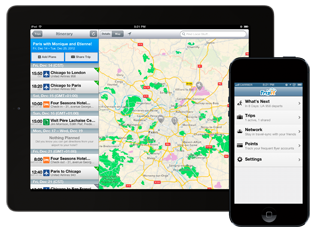 As the world gets ready to welcome a billion Smartphone apps into the world by 2016 (Forrester Research) and downloads of apps in 2013 are estimated to be somewhere between 56 to 82 million (ABIresearch), Travel-Intel offers a quick guide to the best travel apps to consider for planning and traveling.
1) Tripit
This comes as a free app or an enhanced utility that costs $49/yr (free with a Barclay Arrival Card). Enter all your travel plans into neat and easy to follow files. The app notifies you when you need to check-in for a flight and designated parties you choose to share with are notified when a flight has been delayed. Only middle seats? The app notifies you when a desired seat becomes available so you can quickly contact the airline and reserve. It also logs all your mileage for rewards and upgrades and logs in all your hotels, restaurant plans, train tix, etc for an organized agenda. Downside: It does not have relationships with all airline companies and all rewards clubs so some travel plans do not get recorded.
2) GateGuru
This is your airport Bible. Find the right type of food you want (with resto reviews), the types of stores you want, ATMs, gate locations. It's an airport concierge in your pocket and it's free.
3) SeatGuru
In this day and age when you can barely reserve a seat, much less gain information on the airplane's seating configurations, SeatGuru comes to the rescue. Tap in your flight information and voilà! the flight's seating chart comes up. And while it does not tell you what seats are taken, it does show whether that seat you have is a middle seat with a rigid back that's right up against the bathroom or a perfect spot in an exit row. Armed with this app you can head to the gate assistant and request a change rather than simply taking what you get. Free.
4) Splid
While this is a basic photo/audio app the content is all about worst trip tales. It allows users to record their uninhabitable hotel rooms, their cockroach-infested meal and that front desk manager that keeps "yessing" every request with no follow-up action. This is not a "dissing-inspired" crowd source app that allows you to air a hotel's dirty laundry, rather, it creates records that can be accessed only by app owner) and can be used for documentation and possibly the needed proof. 99¢.
5) FlyRights
Got a beef with TSA (Transportation Security Administration)? Encountered an overzealous officer at a U.S. checkpoint that made you stand in that 360-degree X-ray contraption for five go-arounds? While most travelers feel powerless in these instances and know they could be arrested for making the slightest scene, this app injects a tiny bit of personal power into those indignities of traveling by letting flyers record and file their complaints on the spot. The complaint is listed on the app, and can be sent directly to the TSA's official website. Free.
6) Postagram
Got time? Write a postcard – right from your phone. Take a photo of what you want to share about your trip, whether a pretty place or a sentimental spot, write a "thinking of you" message, and send – to Postagram, who will print the piece and send it to the intended via snail mail, the way a postcard should be received. Cost is 99¢ per postcard, with postage and no annoying post office lines.
7) Xe Currency
Not everyone can convert currency in their head and fast enough to ensure they won't be paying $20 for the $2 pair of socks in their hand. This is an easy answer and it works offline as well. In addition, it shows a currency's recent history to allow a traveler to get  the best deal possible out of a currency transaction during the trip. Free.
8) Dcovery
This app helps the pre-trip research go more smoothly by organizing destination articles, maps, emails, websites and travel blogs for easy retrieval. An added plus: Taxi Mode displays the address of where you are going in the local language so the cab driver won't drive you to his favorite rug store. 
 $3.99
9) Skype
This app is a must for anyone who does not want to incur expensive calling charges. The smartphone version of the famed VOIP utility allows you to call anywhere there is Wi-Fi either by dialing or by tapping a registered contact. Free video calling allows you to talk face to face via your smart phone. The targeted caller need not be registered with Skype and can even receive the call on a … remember these? … land line. Charges average pennies a minute. Most of the time, connections are strong and clear. Free.
10) Viator
This app is perfect for those who find themselves stuck in a foreign city with some time to kill or even in a cruise port with no land excursions planned. The app allows you to scroll by location and come up with deals and discounts for local tours to nab. You can also plan tours and activities as you go, according to your next destination. Viator lists local companies and expert guides that have been vetted. It offers a wide register of cities and countries, and thousands of activities and options and at very good deals. It is possible to reserve right from the app on the phone and receive proof of reservation with details. Free. 
Similar Stories: