Virtuoso selected 10 winners from the network's program of 983 hotels, resorts, villas and private island retreats in 100 countries. Award categories and recipients include:
Best Achievement in Design: Dorado Beach, A Ritz-Carlton Reserve – Dorado, Puerto Rico
Dorado Beach, a Ritz-Carlton Reserve is a sleek 115-room retreat with an open and modern design. Once the plantation of the original developer, Laurance Rockefeller, the hideaway features beachfront accommodations just steps away from the Caribbean Sea.
Best Culinary Experience: La Scene, Prince de Galles, Paris, France
The newly reopened 159-room Prince de Galles houses La Scene, led by executive chef Stephanie Le Quellec, whose artistry in the kitchen has earned her a place among today's French culinary stars. La Scene offers authentic gourmet French cuisine in an elegant setting. The dining room is sure to impress with an open kitchen set beneath a curtain of crystals.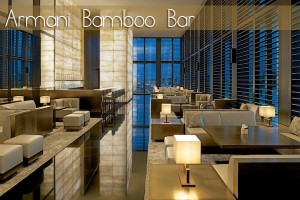 Best Bar: The Armani/Bamboo Bar, Armani Hotel Milano – Milan, Italy
Set high above the skyline of Milan is the Armani/Bamboo Bar – a hip lounge with outstanding service and the perfect place to meet friends, socialize with locals, and enjoy a refreshing cocktail. Embodying the chic style of the Armani brand, the double volume ceiling, louvered window wall, and backlit onyx features creates a sleek, modern feel.
Best Family Program: The Gleneagles Hotel – Auchterarder, Perthshire, Scotland
The 232-room resort in the Scottish Highlands is well known for its three championship golf courses, but other leisure activities fit for the whole family are not to be missed. Activities range from croquet and cycling to fly-fishing and falconry. Families can take lessons at the gundog school, the equestrian center, or the off-road driv­ing program, in which kids can take control of mini Land Rovers.
Best Spa: Spa Mukul, Tola, Nicaragua
Perched on a hill with unmatched views of the Nicaraguan coast-line, Spa Mukul's six casitas harness different ancient healing traditions and therapies. Each casita is home to a different sequence of experiences. The spa includes private steam showers, an outdoor pool, relaxation spaces, and a private garden entry.
Most Innovative Guest Experience: Banjaar Tola by Taj Safaris – Kanha National Park, Madhya Pradesh, India
Banjaar Tola, Taj Safaris' third jungle safari lodge, is a memorable experience for anyone wishing to immerse themselves in nature. The 18 tents are set on a bank above the Ban­jaar River. The sounds of the forest can be heard throughout the jungle, as kingfishers, flycatchers, orioles, and magpie robins come to life at dawn.
Sustainable Tourism Leadership: Hotel: The Savoy – London, England
The 268-room hotel recently underwent renovations that protected cultural heritage, such as eliminating plastic and Styrofoam use, recycling all food waste into renewable energy, and sourcing food and beverages locally and responsi­bly. There's even a 'green butler' on hand to show guests how to sightsee in London in an environmentally friendly way.
One to Watch: The St. Regis Saadiyat Island Resort – Abu Dhabi, UAE
Adding to the St. Regis portfolio, the brand extended its legacy to the capital city of Abu Dhabi, which is booming with rich heritage and cultural attractions. Located 10 minutes from bustling downtown and located on the beach overlooking the Arabian Gulf, the 377-room resort is set to become one of the hottest destinations in the area.
Hotelier of the Year: Francois Delahaye, Hotel Plaza Athenee, Dorchester Collection – Paris, France
Once one of the youngest general managers of a five-star Paris hotel, Francois Delahaye, has brought a remarkable and unforgettable ethos to the industry for more than 20 years.
Hotel of the Year: Mandarin Oriental, Hong Kong – Hong Kong, China
The tallest structure in Hong Kong when it first opened, Mandarin Oriental, Hong Kong still towers above the competition. Located in the heart of the city overlooking Victoria Harbor, the hotel offers more than just luxurious accommodations and outstanding service in each of the 501 rooms, 10 restaurants, and two-story Chinese medicine spa. The enduring combination of modern luxury and ancient Eastern influences continue to make Mandarin Oriental Hong Kong's most popular hotel.
Top Travel Trends for 2013
The international luxury travel network, has also named its the top seven travel trends this year.
Individualized Experiences
No longer is it enough to merely travel to the latest, off-the-beaten path destinations. Personalized travel is the new "luxury."  Experiences have to go deeper and appeal to personal interests. Tailor-made excursions continue to become de rigueur. Travel must also address certain desires and needs whether health allergies or food preferences. Companies are even changing their entire brand proposition to better support this trend.              
Special Interest Travel
Travelers more than ever can connect to a given destination by exploring their passions and interests.
Isramworld, enables travelers to experience the people and unique attributes of a destination.  The company unveiled new Jewish heritage and GLBT tours to Cuba – the #1 Emerging Destination from Virtuoso's 2013 Luxe Report – to experience previously unexplored sides of the destination.
andBeyond Phinda Private Game Reserve launched a new safari concept: it now offers a four-day yoga safari program in South Africa; guests are able to spiritually connect with the magnificent landscape through the open-air yoga.
For stargazers, Six Senses Ninh Van Bay offers an astronomy discovery with Parag Mahajani, one of the most respected field experts in astronomy, for nightly discussions and solar flare sightings by day.
Health and Wellness Travel
Interest in improving health and remaining physically active while on holiday has only continued to increase.
In an industry first, Crystal Cruises is introducing hypoallergenic cabins for guests.
In addition to rolling out a series of new spa offerings with ESPA, Hotel Metropole Monte-Carlo is partnering with the spa company and celebrity chef Joel Robuchon to introduce a new spa culinary experience at Odyssey, his 3rd restaurant within the hotel, designed by Karl Lagerfeld.
COMO Shambhala Estate in Bali has created a new Traditional Oriental Medicine Program in which expert practitioners create a comprehensive and bespoke healing plan based on classical systems of health and longevity, such as acupuncture, herbal medicine, and meditation.
"Culture Brought to Life" Experiences
Art, television, music and books have influenced travel for years, but never before like this. Travelers can now experience the place or time of their favorite artists or characters through exclusive access and unforgettable events.
NoteWorthy Events, the United Kingdom's leading personal travel specialists, has the ability to gain private access to the sold-out Highclere Castle, Hampshire, England – home to the real "Downton Abbey." The company also can provide access "Behind the Getty Gates" of Buckinghamshire, England, to view John Paul Getty II's famed library with literary treasures such as a first edition of William Caxton's printing of "The Canterbury Tales;" Anne Boleyn's Psalter or Book of Psalms and the first folio of William Shakespeare's "Comedies, Histories and Tragedies."
Ballyfin has opened its famed costume department to transport guests through time and allow them to live out their favorite Jane Austen novel against the backdrop of this fully restored manor home.
GoldenEye Hotel and Resort in Jamaica, once the home of Ian Fleming and where he penned all 14 James Bond novels, allows guests to embrace the rich history of his storytelling by staying in his original villa, complete with his writing desk.
Living Like a Local … Only Better
No one knows how to navigate the places of the world better than a local. City hotels are catering to guests' adventurous sides and providing them with authentic and localized experiences.
The Park Hyatt New York's concierge team will direct guests to all of Manhattan's best kept secrets, such as the hottest boutiques for one-of-a-kind pieces.
In London, Rocco Forte Brown's Hotel is introducing a concierge-designed experience exclusively for young adults. Rooms are outfitted with games and snacks, and each teen gets an Oyster Card to go off and explore the city as they please.
Anantara Phuket Villas can arrange visits to the heart of the island's historic district for guests to discover local markets, temples, and interact with descendants of the Koh Sireh people, Phuket's first inhabitants.
Private Residences
In the spirit of living like a local, private residences and villas continue to increase in popularity, with top travel companies enhancing the design, amenities, and services of these offerings.
In South Africa, Singita Castleton will reopen in October. Reminiscent of an African farmhouse, it comprises six individual cottages that are privately staffed with a guide, tracker, and chef.
Villas of Distinction now offers exclusive tours and experiences that can be customized to complement guests' stays in its private residences; travelers no longer have to choose between tours and a villa stay – they can have both.
Destinations Making News … and why the time to go is NOW
Brazil – home of the 2014 World Cup – is the destination on everyone's lips according to Embratur, the country's tourism board. LATAM Airlines Group is announcing new routes to JFK and Miami by November.
Travel to Turkey has increased by more than 18 percent since last year. Turkish Airlines, recently voted Europe's Best Airline at the 2013 Skytrax Passengers Choice Awards for the third consecutive year, saw a 26 percent increase in global ticket sales from the same time period in 2012 – a total of more than 22.4 million passengers. Consumer interest and tourism is also driven by the May 2013 opening of the country's newest luxury hotel, the Shangri-La Bosphorus, Istanbul.
Other articles on Virtuoso Hotels: