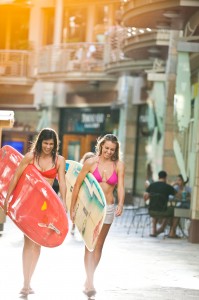 Hawaii is on a high these days with hotels reporting healthy occupancy rates, a destination-branded airline touting double-digit growth numbers and visitor counts that are making life look like its 2006 all over again.
Tourism spending over the first nine months of the year rose 20% from the previous year to $9.59 billion, according a recent reporting by the Hawaii Tourism Authority. And spending is expected reach $13.89 billion for the year, surpassing 2006's record $12.63 billion.
Visitor numbers have been spiking at 10 percent over the same periods in 2011, in track to see 7.8 million for 2012. While much of that has everything to do with ravenous influxes from Japan, China and Australia due to a cheap dollar, the US mainland is contributing its share.
Arrivals from the U.S. mainland are expected to rise 5% this year on par with a recovering domestic economy and increased marketing to the West Coast.
All this is good news to the Aloha state, which saw a steep 15 percent drop in visitors in 2009 due to fault lines in the lax U.S. banking system and the continuing recession that followed. Hotels saw their room rates drop accordingly, down 13 percent on average, according to Smith Travel Research. Those rates are beginning to climb back up and those rooms are beginning to fill again, especially in such popular places as Waikiki where 95 percent occupancy rates are not unusual.
Meanwhile, Hawaiian Airlines is noting 10 percent increases in load factors, citing September 2012 over 2011, revenue per passenger spiking at 27 percent, and capacity increases of more than 30 percent. Naturally, baggage fees have been a solid contributor to these figures.
With interest in Hawaii on the upswing again, Oahu is alive and well with plenty of festivals, activities and entertainment to offer anyone with plans to come this way.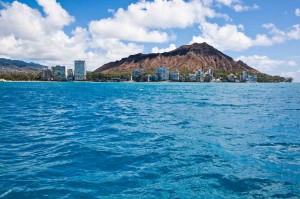 New to Do in Oahu
Hotels & Resorts
• Aqua Hotels & Resorts is managing the 88-room Ewa Hotel Waikiki, located on the Diamond Head side of Waikiki, near Kapiolani Park, Honolulu Zoo and Waikiki Beach. The hotel offers comfortable and affordable island-style accommodations with free amenities including Wifi, daily local newspaper, kitchenette facilities and bicycle and surfboard racks. www.aquaresorts.com
• Embassy Suites Waikiki Beach Walk has added the art of yoga to its list of complimentary amenities. Free weekly yoga classes on the resort's Grand Lanai are taught by a certified instructor and a new in-suite yoga channel with classes streams 24/7 making each suite's living-room space into a private yoga studio. www.EmbassySuitesWaikiki.com
• The Hawaii Prince Hotel Waikiki and Golf Club's new "Ilima Club" offers an extra measure of comfort and service with upgraded rooms exclusively on the 31st floor of both hotel towers, including a private executive lounge. At the Ilima Club guests get such perks as special welcome amenities, upgraded Aveda bath products, daily automatic turndown service, daily continental breakfast in the Ilima Club Lounge, and more. www.PrinceResortsHawaii.com/ilima
The Hilton Hawaiian Village now offers the Waikiki Ocean Club: moored about off shore with a multitude of marine experiences for guests to check out — including paddle boarding, kayaking, helmet dives, snorkeling and jet skiing. The evening brings panoramic sunsets. Once the sun goes down, the party continues with DJ's, dancing, drinks and pupu's. www.waikikioceanclub.com.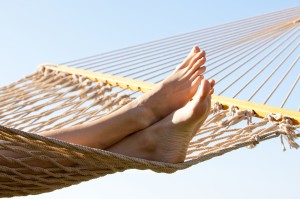 Activities and Entertainment
• The Battleship Missouri Memorial has a new Battleship Movie Behind the Scenes tour. The new tour takes guests on an interactive adventure through areas of Battleship Missouri featured in the summer film release, "Battleship." www.ussmissouri.com
• The Polynesian Cultural Center offers a new IMAX Theater experience through "Discover Hawaii" that puts viewers into the caldera of a fiery volcano. The upgraded venue provides a journey of sight, sound, and senses. www.Polynesia.com
• The Honolulu Zoo has opened a Children's Discovery Forest where families can learn about native Hawaiian forests, local cultural values, and environmental sustainability through three demonstration zones. www.honoluluzoo.org
• The Pacific Aviation Museum's newest exhibit, the "Battle of Midway" features a ten-foot high, three-dimensional display that recreates the ocean battle between the Japanese and American fleets. Visitors can listen to recorded interviews of Japanese and American soldiers in the narration, along with sounds of aircraft diving, bombs and gunfire. www.PacificAviationMuseum.org
• Action-focused visitors can explore an ancient Hawaiian rainforest and set of extinct cinder cones on Bike Hawaii's hike and bike adventure. The tour includes a guided 2.25-mile moderate hike and 5-mile paved downhill bike ride through the Koolau rainforest. www.BikeHawaii.com
• E Noa Tours has a new offering that takes visitors on a journey out to the rugged Waianae Coast, to the Historic West Oahu Riding Stables. There they can choose to ride on horseback to a centuries-old stone corral, a hike to an ancient heiau, or have a Paniolo style picnic lunch. Or they can choose a Twilight Experience, which includes a horseback ride along the beach and a Paniolo BBQ dinner and campfire. www.enoa.com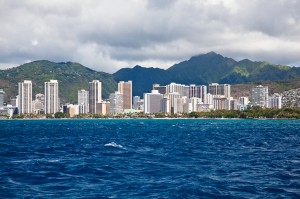 Susan Tanzman's Top Ten Tips for What to Do on Oahu
Susan Tanzman, owner of Martin's Travel & Tours in Los Angeles, is one of the travel industry's foremost experts on Hawaii. Here are her not-to-be missed tips for a visit to Hawaii's third largest island.
1.  Best Lunch: Giovanni's White Shrimp Truck by the Polynesian Cultural Center…Garlic Shrimp is the best.
2.  Best Beach:  Waimanalo.  It is in a residential area but all beaches are public so every fourth house has a side entrance to the beach.  No one is there Monday thru Friday as the locals go to work.  It also has trees that line the beach so there is always a shady area for someone who doesn't want to be in the sun.
3.  Best Donuts: Leonard's Malassades. These are Portuguese donuts that will make you go back for more, and more.
4.  Best Dolphin Swim: Wildside in the Wai'anae Harbor. Swim with the dolphins in the ocean and during whale season to see the humpback whales in the wild.
5.  Best Fishies: Waikiki Aquarium.  This is likely the smallest aquarium in the world, but probably one of the most interesting and educational when it comes to exploring the coral makeup of the islands and what it means to a healthy eco-system.  Also, they are the only aquarium to have monk seals in captivity.
6.  Best Dinner Deal: Side Street Inn near Ala Moana. This may be a somewhat seedy area, but what food!  You can sit at a long table with strangers, see some of Honolulu's great chefs take a load off as they arrive from finishing their restaurant shifts for the night and come here for dinner.  The menu is all Asian food from Japan, Korea, Philippines, China and Hawaiian Cuisine.
7.  Best Opera: Honolulu features a fabulous opera season during the first quarter of the year.
8.  Best Fest: Hawaii's Food and Wine Festival in September is quite unbelievable as it offers great opportunities to taste the food of so many famous chefs from near and far – many who regularly appear on television.
9.  Best Farm to Table Lunch: Nalo Farms
10. Best Take-In: A private tour of the Arizona, USS Missouri, and Ford Island through a knowledgeable and able guide.