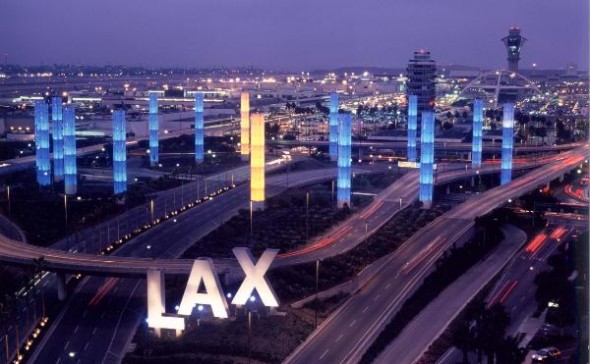 Los Angeles International Airport (LAX) is on budget and on schedule for a long awaited airport upgrade that is turning the primary international terminal into a shopping and dining paradise and a great place to wait for a flight.
The Tom Bradley International Terminal at LAX (TBIT) provides gates and docking for some 30 international airlines and sees some 8.6 million international passengers flowing through its corridors into and out of Los Angeles each year. Soon those corridors will be lofty halls of silver, whites and natural wood accents amid a motif of wave designs over a mélange of expensive designer boutiques and top chef restos.
It's all part of a multiphase, $4.1 billion airport upgrade at LAX that opens to the public next month. And when it's done, catch that plane to Kuala Lumpur could prove to be a challenge.
Tom Bradley Terminal Turns 40
TBIT, which turns 40 next year, was never the toast of LAX. It was built for the 1984 Olympics and stayed in rather drab 1980s functionality for the past for decades until now. When the renovations open for use in Auguest it will be the Los Angeles airport's most lucrative travel gateway and its "crown jewel," according to city officials, "setting a bar for a new passenger experience."
The terminal project includes a million square feet of space and 18 gates. Half of those gates will be able to accommodate the Airbus A380, now largest commercial aircraft and one that can carry up to 800 passengers.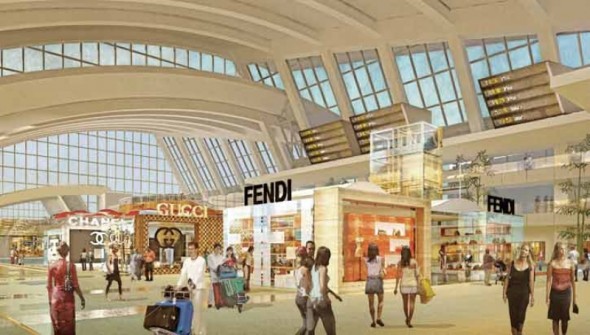 New LAX Terminal Upgrades to Open in August
Then there is the 150,000-square foot, $1.7 billion Great Hall leading to the two concourses of new gates. The 110-foot-high, natural light-filled space is a showcase of public art, architectural and engineering designs by Fentress Architects bearing sleek interior and curved ceilings that evoke thoughts of ocean waves. A digital clock tower rises five stories high by floor-to-ceiling windows that let in the California sun.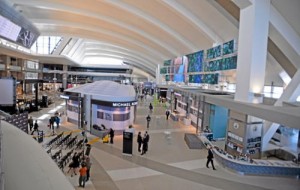 Some 60 retail stores and restaurants here reflect a certain Los Angeles sensibility. Passengers can shop celebrity-style and buy a $30,000 bottle of rare Balvenie Scotch or a jewel-encrusted Vertu cellphone. Gucci, Hermes, Bulgari, Burberry and Michael Kors join Fred Segal, Coach, Kitson, Porsche Design, Tumi, Victoria's Secret, Hugo Boss, the iStore Boutique, and Bliss. A 9,000-square-foot DFS duty-free pavilion will be a flagship at LAX and DFS will introduce its Platinum Services Club in LAX ‐ a personalised shopping and concierge service ifor member global travelers visiting Los Angeles.
Restaurants, too, will bear an L.A. stamp. These include Susan Feniger's and Mary Sue Milliken's Border Grill, Umami Burger, Chaya, Luckyfish by Sushu Roku, Larder at Tavern by Suzanne Goin, ink,sack by Michael Voltaggio, Marmalade Café, and Vino Volo for curated wines.
A "Grab 'n Go" option at the new terminal means passengers can head to Parisian Bar and grab a pricey bottle of Champagne with caviar fixings to match for munching in the plane, or box a wood-fired pizza from 800 Degrees, bag some artisanal cupcakes from Short Cake or the Vanilla Bake Shop, or package some long-haul comfort food from James' Beach.
New Airline Lounges to Debut
The new terminal also means new lounges for first and business class travelers. A series of new LAX super-lounges are scheduled to roll out, including one that will be home to all Star Alliance members, with the operation managed by Air New Zealand when it opens this fall.
The shared arrangement allows for a lower operating costs and longer operating hours as well as added amenities, such as showers.
Star already operates branded lounges at London Heathrow and Buenos Aires. The sprawling space at LAX will have an open-air terrace and a modernist '50s and '60s LA design motif.
Similarly, Qantas partner Emirates will have an LAX luxury lounge near the Star Alliance venue, and a shared lounge for use by China Airlines, EVA Air, Fiji Airways, Philippine Airlines, EL AL, Air Tahiti and Trans Aero is in the planning, although no firms dates are offered. Qantas expects to open the doors to its expanded LAX business lounge later this year, with the first class lounge to follow in 2014 in a staged construction program.
Located on TBIT Level 5, the new Qantas Business Lounge will boast almost triple the capacity of the Red Roo's current crowded LAX lounge.
Qantas is planning a lounge that will also be open to Oneworld airlines members at TBIT. Those members include British Airways, Cathay Pacific, Iberia, Japan Airlines, LAN and Malaysia Airlines.
American Airlines currently offers a large and comfortable lounge next door in Terminal 4, an easy outside walk that will soon be connected to TBIT by a post-security bridge as part of LAX's Phase II plans. Phase II will also include upgraded federal customs and immigration inspection areas.
LAX, the sixth busiest airport in the world and third in the United States, sees some 17 million international passengers each year.  The airport runs 680 daily flights to 96 domestic cities and 930 weekly nonstop flights to 59 cities in 30 countries on 63 commercial air carriers.  In 2012, LAX served nearly 63.7 million passengers
LAX Airport Upgrade to Wow International Travelers