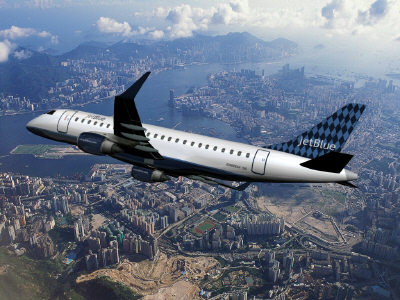 JetBlue is shaking up the electorate with a 2012 seat giveaway just in time to fly away should the wrong candidate win the presidential election in November. In an unprecedented "Live Free or Fly" campaign, JetBlue is helping distraught voters leave the country by giving away 1,006 roundtrip tickets – or 2,012 seats — to any of 21 international destinations (think: Aruba, the Bahamas, Barbados, Bermuda, the Cayman Islands, Colombia, Costa Rica, the Dominican Republic, Jamaica, Mexico, St. Maarten, St. Lucia, and Turks and Caicos).
"We've all heard it said before: if my candidate does not win, I'm leaving the country," says Marty St. George, senior vice president marketing and commercial strategy for JetBlue.
To help harmed voters keep their promise, the often playful airline company has set up a website that allows people to vote (and early at that!) for their favorite candidate, then vote for their preferred destination and sign up to win ticket to fly there. Winners will be able to pack and leave after the election.
"We want to highlight the freedom we have as Americans to exercise our right to vote and encourage everyone to do their part on November 6. Live Free or Fly!" says St. George.
Sign up: http://www.jetblue.com/electionprotection