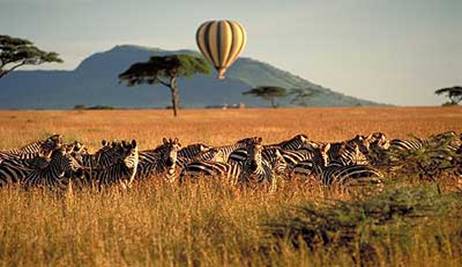 Safari, the term that means "journey" in Swahili is a ubiquitous term on the African continent. A dip into primordial African may be just what is needed for stressed out workers who want to get in touch with their own spirits while wandering the wider, more mysterious ways of this world beyond steel and glass.
Kenya
Kenya has had a good half century of tourism to get safaris right and does so with jungle and savannah lodges that have seen their share of celebrity guests and ways to keep visitors comfortable in luxurious surroundings without sacrificing sense of place. At least eight national parks provide the animals, the rutted roads, the knowing guides and stunning panoramas. And some, like Tsavo, come with large legends, such as nine-foot man-eating lions.
Lodges in Kenya range from romantic hunting lodges — Victorian style bungalows with fireplaces at the Fairmont Mt. Kenya Safari Club once owned by actor William Holden, to rustic but comfortable tented camps.
Most lodges will come with all meals, morning and sunset safaris that track cheetahs and leopards through rivers, cliffs, acacia thickets and into wide savannahs. Guides are so familiar with the terrain and its inhabitants they often know the animals by name. Open vehicles make it easy to film without interruption. Expect breaks for breakfast and tea in places where the silence seems to shout. If possible, go on a night safari. That is when animals are most active.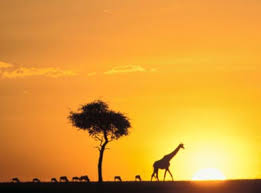 Tanzania
Tourists flock to the plains of Tanzania's northern Serengeti mostly during the high season (July to October) for the famous wildebeest migration.
What Tanzania has that no other African landscape offers is Ngorongoro Crater – literally a fishbowl of nature's wildlife in Africa contained on a 100-square-mile natural enclosure. If you only have a day and want to cross off every living thing on your list, this is the place. Down side: you're not alone. Every safari operator in the area, large and small, will have a vehicle on the run tracking this lion or that elephant. If an exciting visual is made, announcements are blasted through a cacophony of hand radios and it won't be long before a crowd of land rovers will be joining in on the kill.
Top lodge to consider in Tanzania: Four Seasons Serengeti. Opened last December, this 77-room resort has the sumptuous African design elements within stunning open room settings for intimate views into the wilds of nature. It's about toddies in the pool while the lions roar, between came drives.
South Africa
The safaris here are as varied as the sunsets. They can be as tame as a fenced 49,000-acre backyard to the Long Lee Manor House in Shamwari, or as wide open as Kruger National Park with its variety of lodging. Roads through the parks are usually paved enough for people to do their own game drive, as long as they stay on the road while watching rare rhinos, antelopes and giraffes wondering through.
Some of the world's best game lodges here.
Recommended: Singita, Sabi Sabi, Phinda, Londolozi and (fave!) Ulusaba Rock and Cliff Lodges owned by Richard Branson. No matter what, it will involve a short private flight from Johannesburg or Cape Town to a runway in the bush. From there, it's the call of the wild while all possible cares are met. Expect expert safari guidance several times a day (including walking safaris and night safaris), gourmet dining and baboon incidents.
Botswana
Botswana is best known for its vast wilderness and roving elephant herds. The Okavango Delta is easily the most popular spot with its abundant year-round water supply that brings on the beasts. Dry season (May to October), see giant herds of elephant, antelope, buffalo, and zebra coming to these watering holes. But for a dryer time, consider the Kalahari Desert for healthy populations of lions, cheetahs, and jackals. Nomadic San bushman lead walkabouts and visits to Stone Age rock paintings.
Namibia
This region is the new darling for hip and well heeled who have been everywhere else. While you can find wonderful savannah safaris to catch the big five, Namibia's dunes are possibly the most alluring element of this region, especially along the haunting Skeleton Coast.
Seven Sensational Safari Companies to take you there
Family-owned, luxury scale. Specializes in Africa, from Cape Town to Kenya.
Trusted Africa specialist that runs regular departures from Madagascar to Mali and from Cape Town to Addis Ababa
New private jet touring company that takes 50 people in style from Ft. Lauderdale to Africa and all over Africa: Cape Town to Marrakech to Madagascar on three week safaris.
Based in Los Angeles and in the business for four generations. Runs tours from Cape Town to Cairo and includes exotic segues to the Seychelles, Mozambique, Uganda and Mauritius.
Former owner of African Travel set up a new enterprise that focuses on Botswana, South Africa, Zimbabwe and Mozambique.
Private jet journeys through Namibia and South Africa
Customized and scheduled guided travel through Kenya, Tanzania, South Africa, Namibia, Morocco and beyond by rover or private plane.