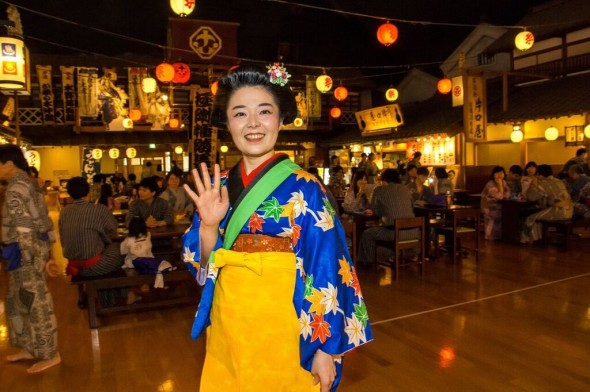 By llene Perlman
For those who may have a full day in Tokyo, or even a week to see all the offerings, consider soaking up the options with a few hours in a Japanese Onsen.
After that initial first-day jet lag daze, a true way to gain insight into one of the favorite leisure time activities of the Japanese is to spend time at the ultimate Japanese hot springs spa (onsen) theme park called Ooedo-Onsen Monogatari. It opened in 2003 and has been going strong ever since. This over-the-top experience will appeal to everyone. It's a Disney-like park of hot springs health and fun in the Odaiba area of Tokyo and includes a variety of hot springs, a game and food mall, a variety of spa services and lounges, and a roster of daily performances.  
The experience begins by checking in at admissions (the onsen is opened around the clock except from 9 to 11am when they close to clean)). Here you pick out your favorite Yukata (a Japanese robe that comes in 10 different colorful and detailed patterns), which is the uniform outfit for wandering the park, relaxing, dining and everything in-between. There are instructions to help you wear it properly so that, as a visitor, you will fit right in with the locals. You will change in to your Yukata in the locker room as street clothes and shoes are not allowed beyond this point. Socks or slippers will do just fine.
After your clothing transformation you will walk through your dressing room out onto the main thoroughfare to an area called Edo-Town. This massive courtyard is supposed to be a transformation to Japan's shogunate Edo period. The initial entrance is a sensory delight of colorful lanterns, aromatic scents and an arcade soothing, mystical sounds. Dressed up storefronts and huge, big-eyed  animi graphics line the lanes.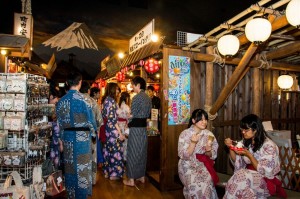 First you need to decide what activities to enjoy and, although the choices may seem overwhelming, anything you start with will be a new experience.
Best recommendation? Begin by dipping in one of the many baths. The choices include natural hot springs, be they open air, bubble bath or rock salt themes. The baths are all separated by sex as guests disrobe as they enter the waters. For those unfamiliar with Japanese baths you actually do a pre-wash (similiar to a bath where you scrub and clean your entire body) and then plunge squeaky clean into the hot springs. Attendants on hand help with this process and make it clear that spotless skin makes for the cleanest of waters for everyone.
Beyond the baths, a paved pebble path leads up to the Japanese Garden-themed footbaths offering a mindful Zen-line walk that stimulates your feet as you meander onward. In the gardens find coed foot pools where hundreds of little fish nibble at the soles of your feet taking off dry, flaky skin.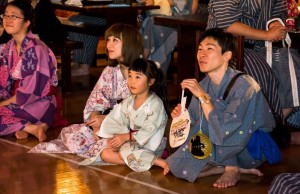 Clean and well-nibbled, it's time to return to the festival-themed mall and wander the rows of busy  carnival type games and arcades – a great place to gain a sense of place and people watch. The carnival atmosphere eventually pours into a stage area where Kabuki-style actors tell tales of traditional Japanese life and crowds take in the spectacle. Behind the crowds are low tables and this is the area for dining. Food options throughout the mall run budget to fancy, noodles to omakasa. Street foods and casual dining might mean ramen and udon noodle dishes, yakitori (grilled chicken satay) and sushi. But here, as in many restaurants throughout Japan, you can splurge on Kaiseki cuisine in private tatami rooms. Kaiseki is a traditional multi course dinner with meticulous preparation and stunningly beautiful presentations. Worried about your wallet? No problem. Casual comfort means all amenities and services are paid for with a transit pass, managed on check-in and check-out.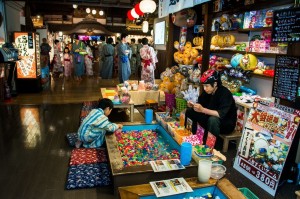 As this is a spa, beyond the frenzy of activity and dining you will find a variety of lounging and relaxation areas. One resembles a cabin of first class plane seats with smart TV monitors for entertainment. Individual massage chairs dot the quiet areas.  And a variety of special therapeutic spa treatments (which will cost extra) await, whether foot, full body and head massages, facial treatments and even use of a Precambrian Himalayan rock salt sauna.
One guideline to keep in mind here and throughout the onsens of Japan is that they forbid entrance in the face of visible tattoos. The outdated custom bans inked visitors to show that Yakuza members (Japanese gangsters) will not be found on their premises. Yakuza are famous for their tattoos (similarly to the Russian mafia), which members must wear. For those bearing tattoos on their body who are pretty clearly not members of a gangster clan, the TattooSpot.com website identifies what onsens in Japan do accept guests with body art.
The Japanese love family friendly entertainment and this place was no exception. But don't fret about loud children. They are quiet and well behaved, especially in the relaxation areas.
With a day pass you can stay at the onsen park until 2 am. Overnight guests of the park can stay as long as they wish. Next store is a pet spa if you want to drop off your dog and treat and give him some of the same services (possibly onsen soaking would not be welcomed, but a back of the ear rub down would ensure a mellow pet on return).
So once you have mastered the art of donning a Yukata and have proper bathing etiquette down, you have the run of this onsen theme park for as long as you desire. This is one-stop pampering at its best.
Click here for more information on Ooedo-Onsen Monogatari.
Ilene Perlman is a photographer and photo journalist based in Boston, MA. Her work can be found at www.ileneperlman.com.