Every year studies fly about vacation deprivation and the gillions of vacation days America's workers are wasting by staying on the job. But for 2016, an annual study of vacation habits among employed adults in North America is also looking at workers in South America, Europe, and Asia and how their vacation days are handled.
The study, sponsored by Expedia, found that America again trails much of the world in work-life balance on the metric of paid vacation. Americans received 15 paid vacation days from their employers in the past year, and took only 12.
With three days unused, this means American workers effectively failed to take approximately 375 million paid vacation days within the past year.
"We've been looking at vacation and work life balance for more than a decade now and while many of the employed adults we survey agree that regular vacations are important for their general health and wellbeing, there are still plenty who have trouble maintaining the important balance between work and life," said John Morrey, Vice President & General Manager of Expedia.com. "We believe vacation, no matter how you define it, is critical to maintaining this balance and we hope that Vacation Deprivation serves as a good reminder to take a few days off and disconnect."
Paid Vacation: A Right in Europe, a Luxury in Asia

Across Europe, paid vacation days are very much a right. The study found that Spanish workers are given 30 days off and take all 30. The same is true of the Finnish and French. Italian and German workers are given 30 days of vacation and take 25 and 28 of those days, respectively.
Being given 30 days off for vacation isn't exclusive to European nations, however. Brazilians take their full complement of 30 afforded vacations days, as do residents of the United Arab Emirates.
North American countries, specifically the United States, Canada, and Mexico, earn about half that time off work. Study respondents in each nation report having 15 days available, and take 12, 14 and 12 days in turn.
North American paid vacation habits most closely resemble those in Asia. Vacation Deprivation revealed that South Koreans are given 15 days and take only 8, the least among the 28 countries surveyed. The Japanese take 10 of 20 days available, Malaysians take 12 of 16 possible days and Thai workers take 12 of 15.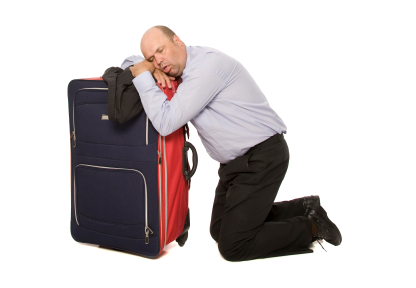 Vacation Deprivation: A State of Mind

Despite having 30 vacation days available to them, 68 percent of Spanish and United Arab Emirates workers feel "very or somewhat vacation deprived," the most among all respondents. A full 25 percent of Americans described themselves as "very vacation deprived," the highest percentage in the field. Only 6 percent of Norwegian and Swiss respondents said the same.
Guilt and worry prompt many workers to skip vacation. In particular:
Nine percent of Americans said they worried that taking their full allotment of days off "will be perceived negatively" by their employer.
About 14 percent of Americans reported feeling high levels of guilt, with 6 percent of Americans claiming to feel so guilty that they simply take no time off whatsoever.
A full 29 percent of Americans reported that they typically go one year or longer between vacations.
More than one in five (22 percent) U.S. employees feel they should wait a year or more into a new job before taking a day off.
Despite these worries, American bosses are perceived to be largely supportive of vacation. Seventy-five percent of Americans felt that their employers are "supportive," in contrast to bosses in Finland (29 percent), Spain (37 percent) and Brazil (42 percent).
Vacation as an Incentive, Key to Happiness

When asked which perks employees would value most during compensation negotiations, more vacation time ranked highly. The study found that:
Additional vacation was the second most prized work incentive, cited by 21 percent of Americans, trailing "flexible work hours" (22 percent) and edging "ability to work from home" (19 percent)."Better insurance" ranked fourth.
Across all 28 countries, only Americans, at 17 percent and Canadians (11 percent) had "better insurance" desires in excess of 10 percent. The global average was 5 percent.
Just under a quarter of Americans (23 percent) strongly agree they deserve more vacation days then they are given.
The same percentage of US workers reported that the prospect of additional vacation days would motivate them to change jobs.
About 15 percent would even agree to a reduction in pay for more vacation time.
Roughly 28 percent of Americans say they are "more easily aggravated" at work if they do not, or cannot, take enough vacation time.
Nearly four of ten U.S. workers (38 percent) admitted to making vacation plans during the work day, just under the global average of 40 percent.
Disconnection is Desired but Difficult

Among these 28 countries, 10 percent of workers, on average, said they check email "multiple times per day" on vacation. Slightly more than one-third (34%) of Americans claimed to "never" check email on vacation. "Disconnecting from work" ranked third on the list of what makes Americans happiest when they are on vacation, trailing "exploring somewhere new" and "spending time with those I am travelling with." The Swedes and the Danish were least likely to check email at on vacation, while workers in Hong Kong, India, UAE, and South Korea were most likely to check at least once per day.
About 46 percent of Americans said they would give up social media for a week for one extra day of vacation. More than half of Americans (51 percent) would avoid alcohol, 41 percent would abstain from coffee, 29 percent would skip television and 28 percent would give up sex. About 21 percent of American survey respondents said they would forego the internet entirely for one additional day off. A full 8 percent vowed not to shower.
Vacation Practices by Country

Country
Vacation Days Offered
Vacation Days Taken
Unused Days
Australia
20
15
5
Austria
25
25
0
Belgium
24
23
1
Brazil
30
30
0
Canada
15
14
1
Denmark
25
25
0
Finland
30
30
0
France
30
30
0
Germany
30
28
2
Hong Kong
14
14
0
Ireland
21
21
0
India
21
15
6
Italy
30
25
5
Japan
20
10
10
Malaysia
16
12
4
Mexico
15
12
3
Netherlands
25
22
3
New Zealand
20
19
1
Norway
25
25
0
Singapore
18
14
4
South Korea
15
8
7
Spain
30
30
0
Sweden
25
25
0
Switzerland
25
25
0
Thailand
15
12
3
UAE
30
30
0
United Kingdom
25
25
0
USA
15
12
3
Note: As of September 2016 Bureau of Labor Statistics reported that just under 125 million Americans work full-time.