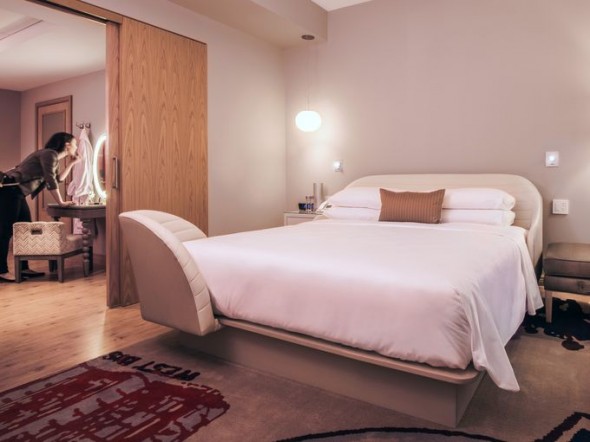 Virgin Hotels is offering guests daily car service to select areas in Chicago in a top-of-the-line red Tesla Model S. Guests wishing to tool around Chi-Town in style can simply ring the concierge and a Virgin Hotels representative will drive them to their destination.
The car service keeps the Virgin philosophies of sustainable functions and product use at top of mind at the new Virgin Hotel property that opened in Chicago this month. The new hotel is the first in the Virgin Hotel chain and the Tesla amenity, an electric car given kudos for its performance as the fastest accelerating four-door vehicle these days, is part of an initiative that also includes extensive green roof plantings, ample LED lighting sources, Energy Star kitchen appliances, daylight sensor lighting controls and more.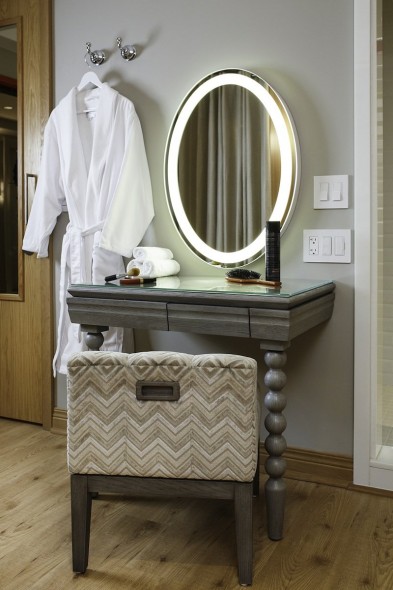 As Virgin Hotels launched in Chicago in early February, the company unveiled its extensive renovation of the 27-story, circa 1920's Dearborn Bank Building in the Loop area of Chicago that was restored to much of its original neo-classicism glory. The registration desk is the original 1920s lobby cigar bar from the building's former life. The two-story Commons Club lounge on the original bank floor keeps its coffered plaster ceiling.
The stylish property contains 250 rooms that owner Sir Richard Branson calls chambers, each with a full partition to separate the entry and dressing/vanity area from the bedroom. Expect to find certain "female" touches, such as extra lights for make-up and a bench element in the shower. Red mini-fridges offer snack items that cost a dollar rather than $5 or $10 and there are no early check-in/ late checkout fees to add nuisance time to an invoice.
Wi-Fi is free and plentiful at all speeds; bottled water is free and guests choose to work in-room (chambers are designed to be ergonomically com comfortable for work at desk or bed) or in social settings set up around the lobby and such spots at the "Shag Room."
"It's been a long held dream to start beautiful, comfortable, fun hotels for guests and give them what they want and need while being gentle on their wallets," Branson said in a press release at the time of the hotel opening.
Business travelers and millennial-range leisure travelers might be the ideal demo for this property, which will soon have five restaurants to its credit: Miss Ricky's is a 23-hour diner and rooftop lounge that will open next month, a European-style coffee shop and a wine bar will add to the Commons Club (sporting a members-only feel with a menu by Rick Gresh, previously of David Burke's Primehouse in Chicago), along with room service.
Guests can check in by kiosk or iPad carrying registration angels and then engage their requests and needs through an app called Lucy through their stay.
The Virgin Hotel Chicago is the first of a chain that is expecting to see openings in Nashville and New York City over the next few years – no word of Teslas with those chambers to come, however. The property upholds a trend that is quickly bulking into a crowded market. "Lifestyle" hotels are the latest buzz in hospitality as Hilton introduces Canopy, Marriott rolls out Moxy and AC Hotels, Kimpton joins InterContinental, Hyatt announces Hyatt Centric and Hampshire Hotels discuss plans for Augustus Hotels and Unscripted Hotels.
The chambers at Virgin start at $209 and go up to $1,200 per night for a penthouse suite.
Contact:
(312) 940-4400
(855) 946-6600
www.virginhotels.com
Similar Stories: