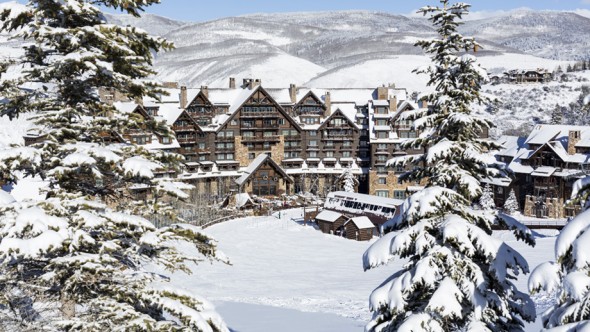 Avon, Colorado, the gateway to the Beaver Creek Resort, is the home of the most expensive ski hotel in the USA, according to a new survey conducted by ElegantRooms.com. The survey compared the hotel rates during February and March 2014 of all luxury hotels situated inside U.S. ski resorts.
With an average rate of $1,179 per night for a standard double room, the Ritz Carlton Bachelor Gulch leads the rankings. Only slightly cheaper is the St. Regis Deer Valley resort, located in Park City, Utah. At $1,174 nightly, it ranks second most expensive on the survey. Meanwhile, Aspen, Colorado's Little Nell rounds out the Top 3 with an average overnight rate of $1,047.
Nine out of the 10 most expensive hotels are found in either Colorado or Utah. The only exception is Wyoming's Amangani hotel, located a short shuttle ride away from the Jackson Hole Mountain Resort. To stay in a standard double room there, guests will have to shell out $1,040 per night.
Following are the rankings of the 10 most expensive luxury ski hotels in the United States. The rates listed reflect the average price for the least expensive double room at each hotel, for the period spanning February 1 to March 31, 2014.
Ritz Carlton Bachelor Gulch (Beaver Creek, CO) $1179
St. Regis Deer Valley (Park City, Utah) $1174
The Little Nell (Aspen, CO) $1047
Amangani (Jackson Hole, WY) $1040
Montage Deer Valley (Park City, Utah) $985
St. Regis Aspen (Aspen, CO) $967
Hotel Jerome (Aspen, CO) $861
Washington School House (Park City, Utah) $850
Viceroy Snowmass (Aspen, CO) $749
Park Hyatt Beaver Creek (Beaver Creek, CO) $739
Similar Stories: