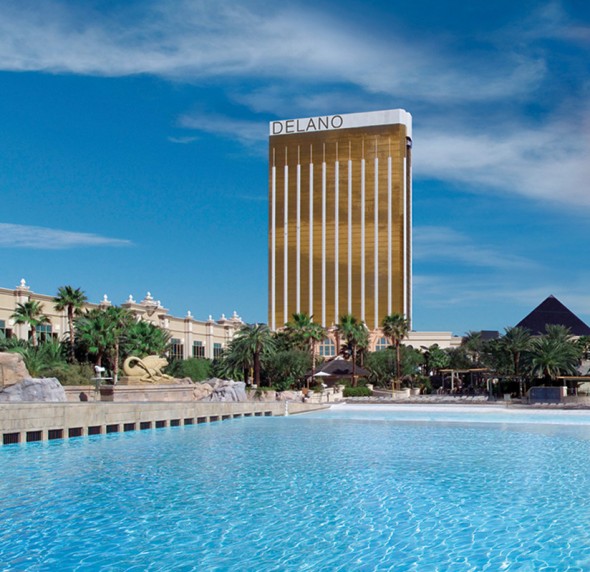 If any destination can make something old into something new it is Las Vegas and that is exactly what has happened this month with the opening of the new Delano Las Vegas where THEhotel once stood.
No knock downs were necessary for this. The 24-story, 1117-room tower behind Mandalay Bay was ripe for the remaking following a partnership between Morgans Hotel Group and MGM Resorts.
The all-suite hotel maintains much of the same luster as its former entity. It's connected to Mandalay Bay and keeps the The BATHHOUSE Spa and Alain Ducasse's restaurant appeal, although Rivea will be the next evolution for what was formerly MiX.
However, The Delano brings plenty of its own South Beach personality to Las Vegas as well. Out are the musty browns and leathery looks that THEHotel, a business-focused enterprise used to appeal to the hardened business traveler. The new spirit is one of light and airy earth tones and design concepts and a focus on all things fun over getting things done.
Design elements include Delano's signature window sheers, crisp white linens, oversized tufted headboards and photography of seductive underwater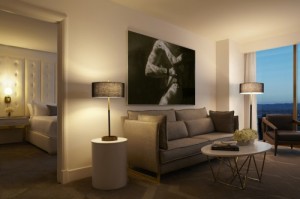 scenes. Rooms here offer some of the highest standard room square footages of any hotel in the city (725 square feet). Each one-bedroom suite in this all-suite property features a private bedroom, bold lighting fixtures and a spacious spa-style bath. With a 46″ flat-screen TV, wet bar, desk and its own powder room, the adjoining living room presents a plush retreat that doubles as an entertaining area or impromptu meeting space. Delano Las Vegas also features Panoramic Suites, luxurious Delano Penthouse Suites and the exquisite Delano Penthouse Lofts.
Guests enter the Delano through a dramatic stone entryway and meet a striking installation of a 10-foot tall, 126,000-pound divided boulder sourced from the Nevada desert. Onward to the reception area guests will see a gravity-defying art installation comprised of hundreds of small rocks by renowned Korean artist Jaehyo Lee.
Dining and lounging happens at such venues as 3940 Coffee + Tea, serving exotic teas, freshly squeezed juices and artisan-roasted coffees in a comfortable retreat.
Then there is a spot where historic farmhouse meets urban eatery. Della's Kitchen fuses responsibly sourced ingredients with a chic, industrial aesthetic. The cafe features a menu centered around local and regional ingredients, including a variety from nearby hydroponic farms and Delano Las Vegas' own greenhouse, which supplies herbs for breakfast and lunch menus that toes the line between healthy and decadent.
For cocktails, it's Franklin, where rare, premium liquors, more than two dozen craft beers by the bottle and a selection of wines-by-the-glass highlight the cocktail-centric drink menu. Guests get their small bites and appetizers here and these can range from fried pig's ears to charcuterie. As day turns to night, Franklin buzzes with live entertainment throughout the week.
Atop Delano Las Vegas and with extraordinary views of the Las Vegas Strip, is Rivea, which will debut in 2015 and serve French and Italian cuisine creations by chef Alain Ducasse. Until then, guests can enjoy the unmatched views and Ducasse's fare at miX restaurant and lounge.
Meanwhile, BATHHOUSE Spa continues to carry the Las Vegas tradition of offering unsual spa treatments in stunning settings.  The BATHHOUSE menu includes Global Journeys through India, Asia, Europe and a "Taste of the Islands." The spa's two-story, 14,000-square-foot oasis includes 13 treatment rooms, separate hot-and-cold plunge pools, hot whirlpools, eucalyptus steam rooms, redwood saunas, relaxation lounges, vanity rooms, a nail salon and state-of-the-art gym.
In 2015, Delano Las Vegas will introduce Delano Beach Club, a pool experience just steps from the sand and surf of Mandalay Bay Beach. Delano Beach Club will provide hotel guests with a dedicated, exclusive pool environment, embracing the laid back South Beach lifestyle.
Naturally all this is just steps away from the 3,309-room Mandalay Bay resort and its 24 restaurants, 10 lounges, three pools and two show stages.
But unlike Mandalay Bay, Delano guests get to bring their canine companions for some Vegas-style pampering and TLC. The Delano has a selection of dog-friendly suites that are provided with a dedicated doggie menu and butler services. The Doggie Delights Menu includes an array of meal options like Fido's Frittata (egg white frittata), Fowl Play (broiled chicken breast with steamed haricot verts and roasted potatoes) or the Bark-A-Roni (macaroni, bechamel, cheddar cheese and all-beef hot dogs). A designated Doggie Butler can offer the range: from walks to grooming and more.
While leisure is in focus, business must go on and With 20,000 square feet of meeting space within the tower the Delano can produce environments for inspired business activities and group gatherings. For instance, the tower's 1,257-square-foot Sage Living Room, outfitted in signature Delano décor, becomes a place for an impressive meeting or chic business gathering. Guests also can create their own ambiance in any of the 31 meeting rooms and four boardrooms. An additional 16,000 square feet of space for breakfast and lunch meetings is located on the top floor with panoramic views of the Las Vegas Strip.
Currently, nightly rates average $189.
The Delano
(702) 632-9444
www.delanolasvegas.com
Related Stories: