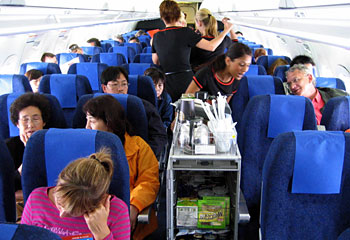 If you are an average airline passenger, the middle seat is not looking so bad these days. That is because it is a seat – on an airplane that is flying to the place you hope to go. That does not mean you will get there as expected, at the time you wanted, in a whole piece or without an unexpected assault or two on your wallet. But the good news is: you are still flying.
Why do air passengers need to give such big thanks to small things? Because for airline travel, the overall news is not so good. Fares are rising, planes are shrinking, routes are disappearing and travel is suffering.
The Federal Aviation Administration released a report last week that says it all, couched in some rosy revenue growth projections for the airline industry. Looking at the industry's growth through 2032, the administration projects the commercial airline industry will be flying more than a billion passengers in three decades, up from the modest numbers of 731 million in 2011. And it discussed the airline industry's return to profitability after a rocky four years of falling revenues and passenger numbers. But that was perhaps before the nation's gas prices went to more than $4 per gallon.
For now, shrinking capacity coupled with crowded flights continue to cloud the forecasts as the industry piles on the fare increases (last year along there were nine, according to the Airline Reporting Corp or ARC) and tickets become harder to secure and higher to purchase. As rising fares field less and less of the rising costs of operations, fees will come to the rescue.
"During times of economic instability and distress, the industry has found ways to increase revenue. Air carriers are charging fees for services that used to be included in airfare (e.g. meal service), as well as for services that were not previously available (e.g. premium boarding and fare lock fees). The impact from these recent initiatives gives reason for optimism," the report says, although whether passengers can share in that optimism is a separate question.
Oddly, the crowded and fee-laden flights have not stopped the cash register from ringing at travel agencies around the U.S. The consolidated dollar value of ticket transactions for the first two months of this year are up by more than 10.7 percent over the same period last year and have risen more than 23 percent since the same period in 2010, according to ARC reports.
Are travelers changing their tune when it comes to traveling in times of $4 a gallon gas?
Peter Yesawich, who presents the annual National Travel Monitor, a survey of some 2500 households about their travel and travel planning habits, noted in his 2008 report that if gas prices hit $3.50 a gallon travelers would change or alter their travel plans in some way and if gas prices rose above $4 a gallon travelers would make significant changes to their plans, including cancellation in the extreme.
However, as of 2011, that prediction changed to: "Travelers still rely on recommendations from family and close friends in decision-making, and if the price of gasoline reaches $4 a gallon people will adjust their plans but still travel."