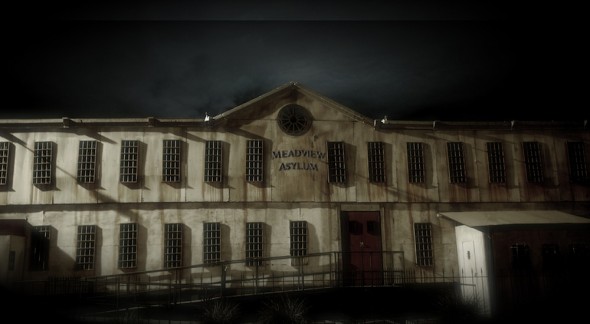 Halloween will not go unghosted this year. There are too many places to find hauntings, horrors and ghostly mayhem – and some of these places are truly scary.
Among them:  The Trans-Allegheny Lunatic Asylum. It's guaranteed to make believers out of the most hardened of ghost hunters. 
Wisdom has it that you know you have walked through a ghost when your hair stands up on end; the room takes on a perceptible sudden chill and goosebumps form up and down your arms.
At the Trans-Allegheny Lunatic Asylum in Weston, West Virginia (One hour outside of Morgantown, WV: Two hours from Pittsburg. PA; 4.25 hours from Washington, D.C.) the experience is truly commonplace.
The lumbering, four-story  Victorian Civil War era structure is a veritable warehouse of ghost stories and ghost activities that vary according to each floor and each wing and the stories they tell.
Long a hospital for the insane, the ill or just misunderstood, its isolated the hospital treated – and mistreated – residents from 1864 to 1994. Today, it is still in the treatment business – treating curious and steeled visitors to a sordid history of a time when aberrant relatives were "sent away" and forbidden to maintain contact with family members; of a time when lobotomies and electric-shock therapy were de rigueur; and a time when overcrowding (the facility was designed to house 250 patients but had more than 2,400 patients at its peak) was an accepted practice.
For those who want to slip through a paranormal door and enter the world of this unseen past, the asylum runs eight-hour ghost tours — and encounters are all but guaranteed.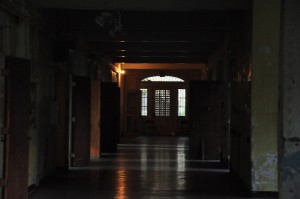 "There was a little girl who died here – there are no records, specifically, but she likes to make herself known," says Bethany Cutright, a former ghost guide who still works at the asylum. "She approached one of our staff once and said she lost her mother but then disappeared. When we try to contact her we get responses."
Sometimes it's crying or knocking or the inexplicable movement of an object. Doors open, footsteps approach, talking and answers to questions bellow from nowhere or show up in voice recordings. Quiet groups get stronger activity than noisy groups. The 4rth floor seems to be the most active spot as it contained patient housing for many years. Some spirits are what Cutright calls "intelligent." They seem to be aware of the present and even answer questions posed by the ghost hunters. Other spirits seem to be stuck in time, residual presences caught in a strange eternal eddy of energy.
"The gut is the best tool," Cutright adds. "You have this overwhelming feeling that someone is behind you or that you are being watched and you want to get out of there fast."
Ghost hunting visitors have eight hours to wander the halls that contain old living quarters, operating theaters, staff quarters, administration offices, isolation units, even a morgue … and they can wander alone if they choose or with groups that never exceed ten people. But best to stick with the guides, Cutright adds. "They know the hot spots and they know the triggers."
Recommended tools of the tour: a K-II EMF detector to determine tell tale spikes in electromagnetic energy (can be borroed for free at the asylum – first come first served). Also a flashlight — not only useful for navigating dark hallways in the middle of the night, also also something spirits like to play with and often turn off and on at will or in answer to questions. "They are curious about these gadgets as they come from a previous time," she says. Also, bring a sensitive voice recorder for sounds and voices not audible to the ear. An Ovilus or Spirit Box is also useful.
Finally, do not be alarmed if a spirit follows you home. This is common but does not last long. Use sage to clear the room before you leave the hospital and ask the spirits not to follow.
Cost: $100 per person ($150 pp for private ghost hunting groups with a minimum of 10 people)
Ghost Tours Around the U.S. 
Other ghostly encounters await in a multitude of places this month. The following is a recommended round-up by travel experts at The GO Group.
While San Diego may be known for surf and sunshine, its Ghosts and Gravestones Tour tells of a darker side. Participants head back time and learn of the spirits of the characters who still  haunt the neighborhoods. The 90-minute tour takes visitors through Old Town, through El Campo Santo Cemetery and the infamous Whaley House – the most haunted house in America, according to the Travel Channel. Tours run Thursday, Fridays and Saturdays through mid- Oct.
Providence Rhode Island offers a lantern-lit Ghost Tour that takes paranormal enthusiasts through the streets of the historic East Side. Guides will tell stories about local murders, suicides and unusual deaths that have left the victims to roam the streets in ghostly forms. Tours take place nightly now through November, starting at 7 p.m.  Summer tours start at 8.
Known for its gangsters and violent past, Chicago is home to many ghosts and wandering souls who have not crossed to the other side. Chicago Hauntings offers narrated, historically-based ghost and paranormal tours to haunted spots throughout Chicago, including murder and disaster sites; a serial killer's body dump; haunted houses and abandoned graveyards. Tours are offered every evening, year round..
New Orleans is one of America's most haunted cities and the Haunted New Orleans Tour in the French Quarter won't disappoint.  Participants will see the Haunted Mansion on Royal Street, where the victims of criminal Delphine LaLaurie are said to still scream and cry at night and the home on Dauphine Street to hear the story of the Sultan's ghost. If it's a rainy evening, tour takers might hear Pere Dagobert, the French monk whose singing is said to haunt New Orleans rain. Tours are offered daily, year round, and last two hours.
Related Stories: