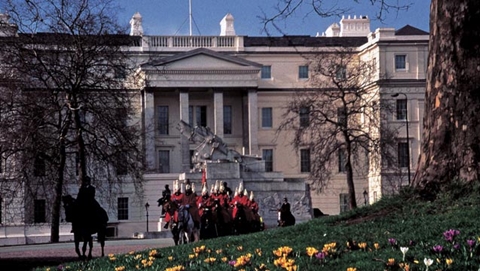 Summer in London can be a glorious time. The days linger deep into the evening with festivals and concerts all around the city. The vibrant gardens of London are all abuzz and in bloom, ripe for summer's relaxing pace.
To celebrate summer 2015 in London, the iconic Lanesborough opens this month on its Hyde Park grounds following a two-year closure and makeover as part of its new branding in the Oetker Collection.
The Lanesborough's stately presence in prestigious Knightsbridge overlooking Hyde Park — and an easy stroll from Harrods, Harvey Nichols and chic Sloane Street — make it the perfect place to have a London vacation loaded with tradition and history.
The property was an aristocratic manor before it opened in 1733 as a hospital. It served as such until it was vacated in 1980 and scooped up by Rosewood Hotels & Resorts, which gave it a top to bottom refurbishment and opened it as a hotel in 1991. The Lanesborough became a St. Regis in 2001 and then became a member of the Oetker Collection in 2009, when it also announced the launch of Aspleys, Michelin-starred Heinz Beck's first culinary foray outside of Italy.

Now ready for its close-up and well anticipated debut as London's latest luxury property, the Lanesborough is opening with 50 rooms and 43 suites befitting the standards and tastes of royalty – including the 24-hour dedicated private butler service such elevation invokes.
With interiors by late interior designer Alberto Pinto and an assortment of room and suite categories that fill the range of demand and interest (The Royal Suite can include seven bedrooms and bathrooms in its 4,800 square foot spread and comes with complimentary chauffeured Rolls-Royce) it is possible to check in as a royal subject but stay as royal family. You would be in good company. The Lanesborough has hosted its share of visiting royalty, international politicians and celebrities. The hotel is overlooked by the Apsley House across the way — official home of the Duke of Wellington.
Dining also speaks to a clientele of discerning tastes. A luxury hotel must have a buzzworthy restaurant, and at the Lanesborough this is aptly found at Apsleys. The restaurant, opened in 2009 by Heinz Beck – known for his three-stars Michelin status for his cuisine at La Pergola in Rome, Italy. Aspleys was awarded its first Michelin in January 2010 after only five months of operation.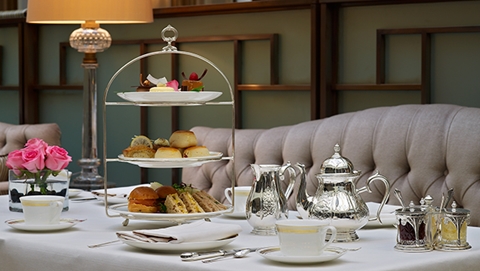 Come for dinner or come for tea. Aspleys provides all the pomp along with the freshly baked scones, thick clotted cream and homemade fruit preserves. High tea simply does not get better than this.
Libations can also happen in The Library Bar with its stunning selection of vintage cognacs and custom cocktails. Churchills have a place at the Lanesborough as well and can be enjoyed to the fullest in The Garden Room – the first and most prestigious smoking venue in Knightsbridge. Cubans are on tap and include a supply of Pre-Castro cohibas.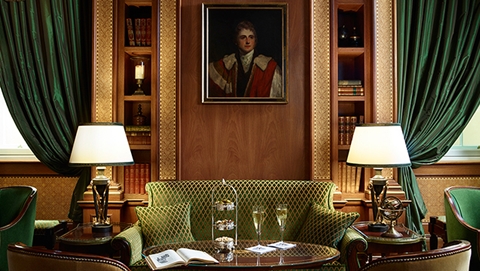 Entrée into this world starts at around $900 per night. The Lanesborough is now taking bookings for stays starting on July 1 and beyond.
Touring London
For those who want to experience British history, a stay at the Lanesborough might be mixed with a chance to tour the paths of some of the great leaders of the empire.
The London Pass sightseeing card offers just such an opportunity.
Winston Churchill at the Churchill War Rooms
Visitors can head for Westminster and explore the Churchill War Rooms — the original Cabinet War Rooms that were the base for Prime Minister Winston Churchill (1874-1965) and his Government during the Second World War. Visitors to the Churchill War Rooms can learn about every stage of his life and career, but the highlight for many is the Transatlantic Telephone Room where he held regular conversations with President Franklin D. Roosevelt.  Entry to the Churchill War Rooms is included with the London Pass.
The Duke of Wellington at Apsley House
Famously known as 'Number 1 London', Apsley House was the home of Arthur Wellesley, the first Duke of Wellington (1769-1752), following his victory over Napoleon at Waterloo in 1815. Prime Minister from 1828 to 1830 and again briefly in 1834, Wellington enlarged and enriched Apsley House with a magnificent art collection which can now be enjoyed by visitors.  Works by Goya and Rubens, plus mementoes from the Iron Duke's military career are among the highlights.  Entry to Apsley House is included with the London Pass (and is located, very conveniently, right across the street from The Lanesborough).
Cardinal Thomas Wolsey at Hampton Court Palace
Lord Chancellor and chief minister for 15 years, Cardinal Wolsey (1473-1530) was England's most powerful man during the reign of Henry VIII (with the sole exception of the King himself, of course).  In 1514 Wolsey acquired Hampton Court Palace, transforming it into a home of such magnificence that it eclipsed Henry's own palaces.  Despite many subsequent works, one of the best surviving parts of Wolsey's Hampton Court is Base Court, the vast outer courtyard he built to house his guests.  Entry to Hampton Court Palace is included with the London Pass.
Margaret Thatcher at the Imperial War Museum
Prime Minister from 1979 to 1990, Margaret Thatcher (1925-2013) was the "Iron Lady" people either loved or hated. Her hard-line approach made Mrs. Thatcher a rich source of satire and now visitors to the Imperial War Museum can see some of the more comical versions of Britain's only female Prime Minister. London Pass holders receive a free guidebook when visiting the Imperial War Museum.
Visitors should also see the National Portrait Gallery and the infrared portrait of controversial Lord Protector Oliver Cromwell, which was deliberately over-painted with an image of one of his political rivals.
A one-day pass costs $82 per adult; a two-day pass costs $111, and a three-day pass runs $133, for entry to more than 60 major attractions in London and fast-track entry at some of the most popular attractions.
Contact:
The Lanesborough
Hyde Park Corner
London, SW1X 7TA, United Kingdom
(800) 999-1828
[email protected]
www.lanesborough.com