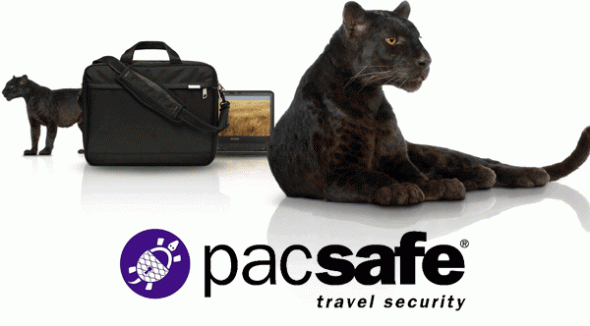 At the Travel Goods Showcase 2015 in Las Vegas last week smart luggage was all the rage. You would think the travelers among us are gearing up for their tenures as spies. Key must-haves with luggage items, carry-on packs, even wallets, were anti-theft protections, no-nonsense GPS technologies and luggage locks that only safe-crackers and TSA authorities can dislodge.
However, for those slightly spaced-out travelers who are prone to leaving their luggage in train stations or on the beach as they succumb to that urge to jump into the ocean, the news is good. Companies like Eagle Creek, PacSafe, Royce Leather Tracker, Hontos and Andiamo have your back.
Eagle Creek and PacSafe are among the companies bringing out wired mesh anti-penetration products in convenient, ergonomic and stylish designs impervious to casual theft attempts.
Eagle Creek introduced its super light and smart Secure Deviate Travel Packs – a large adjustable pack with a detachable daypack using breathable, but water resistant materials designed to deter thieves and protect digital signals. PacSafe has an array of goods that all, in some way, ensure zippers and bag surfaces are puncture proof, straps are knife-proof, pockets are digitally protected and all bags can be locked around a chair, a pole, a tree – whatever is handy.
RFID is a big word these days around bags and wallet designs Radio Frequency Identification technology is used to track sensitive data in such items as credit cards and passports, and can be easily scanned by passing strangers. RFID blocking materials infused into the fabric of items likely to be carrying these chips go a long way in blocking ID theft without adding in weight or cost.
Passports and credit cards can be well protected with a convenient passport holder by iWallet. The item offers biometric fingerprint locking as well as RFID blocking and Bluetooth tracking (through Smartphone pairing) – even giving an alert when the item leaves a pre-defined perimeter.
Most luggage manufacturers at this trade show offered locks – lots of locks – some that require a TSA key and others that require a series of passwords and fingerprint checks managed through a Smartphone app.
One such company, Hontus, a shining star this year hailing from Milan but distributing in the U.S. through Planet Traveler. They put their new Space Case models in a Plexiglas column to be seen but not touched. The shiny, lightweight roller comes with a built-in biometric lock, global tracking, auto-weight sensors, a lithium charging pack, and, if you have to start the party wherever you hang your hat – Bluetooth speakers. You will need to download a proprietary app for most of that functionality.
Similarly, Andiamo introduced IQ, a lightweight "smart bag" that runs with a remote locking device, built-in digital scale, secured Wi-Fi hotspot and spot for global SIM card use for international connectivity, compact charging batteries, and distance alerts to track luggage at airports and hotels. All is managed through a multi-use travel app that offers packing tips and other travel-enhancing features.
Travelers who want to track their luggage and not worry about the other bells and whistles can use services such as LugLoc, which uses Bluetooth and GSM technology but costs $70 plus additional usage fees. Trakdot is a bit cheaper with annual service fees of $20 beyond the $50 gadget price.
For those who would rather wear their things than check them, Stuffa showed a line of vests and jackets with as many as a dozen stuffable compartments for clothing and accessories, providing the traveler does not mind looking like an egg.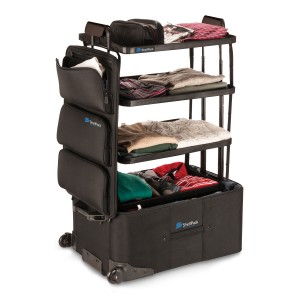 And for those road warriors who do not want to unpack at all, an expandable suitcase from Shelfpack.com expands up a few feet from the bag into four shelf compartments where folded sweaters and pants can be managed and other garments pack easily into an array of accessible pockets.
Convenience and comfort items for travelers were also on view, whether the latest purses, pillows or wearable scarf/cushions.
Purses are always big at these shows and the focus is on security, durability and zipper designs (finding a travel purse that won't fall off or bunch up on shoulders, however, is a continued challenge). What was somewhat new this year, however, was the cool charger purse. Cool was the operative word for Urban Junket, which outfits their lines with a special power source built into the purse design. The battery, called the Joey, stays in a case that keeps it cool and attaches to a convenient input/output device that can charge phones and tablets on the go or plug into a computer for further charging. The durable device is TSA-safe and keeps a charge for up to 10 days. Further, it is removable and can be used with other purses.
For flight comfort, Restahead out of Denmark showcased a headrest solution distributed through Victorinox (think: Swiss Army knives) that folds into a sort of tent-shaped hammock for the neck, hitting accu-pressure points to relax the neck; or also serving as a roll-up pillow for lower back support, while weighing less than a cup of coffee and folding into a bratwurst-sized roll.
Another headrest for the plane is the Hypnap, a neatly folded, lightweight triangle contraption that expands into what looks like the headrest part of a portable, forward-leaning massage chair. The user fixes the adjustable Hypnap to the tray table, leans into the padded plastic rim and, voila! Let the relaxation begin.
Travelers can turn their flight pillow into a fashion accessory with the SleeperScarf. The cotton wrap contains an inflatable pillow and comes in an assortment of colors. Passengers simply wear their scarf, inflate the pillow part wherever they may be sitting and then drape the scarf portion around them like a blanket.
Most of these items are either on shelves or planned for imminent distribution through retail stores and aggregators, such as Amazon.
Similar Stories: