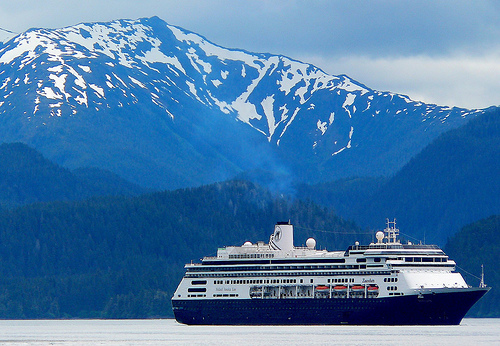 Holland America is allowing would be world cruisers to take the world in whole or little chunks on its new 2014 world cruise schedule. Cruisers can spend from 14 to 28 weeks sailing the far and exotic corners of the globe with Holland America in four geographically themed segments – three of them departing from U.S. ports.
On Jan. 4, 2014, Holland America's ms Amsterdam kicks off the new year with a 113-day journey that calls at 38 ports across five continents. The Grand World Voyage is just one of four Grand Voyages featured by the line in 2014. Amsterdam and ms Prinsendam each sail two itineraries designed to meet bucket list destinations for travelers with the ease and luxury a cruise vacation brings.
Following its 68-day Grand South America and Antarctica cruise in January, Prinsendam will begin its eastward voyage across the Atlantic for a 57-day Grand Africa and Mediterranean Voyage. In September, Amsterdam departs Seattle, WA on a 78-day Grand Pacific and Far East Voyage.
Holland America Line's Grand Voyages make taking a longer cruise vacation easier and more affordable and a world cruise vacation more palatable.
For those guests residing in the United States, these cruise vacations are made more convenient because there is no need to fly internationally to board the ship if taking the full cruise — except on the Grand Africa and Mediterranean Voyage. Whether visiting one or several global destinations, the voyages feature famous landmarks, new destinations and extended time in port with late departures, overnight calls and overland tours.
Each Grand Voyage also offers grand experiences on board. Guests can relax and unwind during leisurely days at sea, taking advantage of the extra time to indulge in a massage at the Greenhouse Spa, take in a lecture by a renowned expert, enjoy a cooking demonstration by a celebrated chef in the Culinary Arts Center, learn how to share photos at a class in the Digital Workshop powered by Windows®, or simply lounge on deck and watch the world sail by.
Evening shipboard activities shine as well with local cultural entertainment. Festive gala balls and formal nights create memorable moments, along with an exclusive Captain's Grand Voyage Dinner for full-cruise guests. Dining is elevated on each Grand Voyage, with menus that change daily and are seldom repeated, featuring local ingredients and regional cuisine.
When the
 Amsterdam departs Jan. 4 on its 2014 Grand World Voyage it sails roundtrip from Fort Lauderdale, Fla. Rather than taking a traditional course back through Europe, Amsterdam crosses the equator four times and sails a route that more deeply explores the Southern Hemisphere.
The ship begins the journey by sailing west with a daylight transit of the Panama Canal followed by two full overnights at Callao, Peru. After calling at several scenic islands in the South Pacific, Amsterdam continues along the east coast of Australia up to Micronesia, the Far East and Indian Ocean. Adding to the adventure, the ship then travels south to explore several ports in east, south and west Africa before crossing the Atlantic Ocean to the Caribbean en route back to South Florida.
Eight segments ranging in length from 20 to 86 days are available from departure ports along the route for guests who have less time to travel. The seven overnight calls included in the 2014 Grand World Voyage give guests an opportunity to visit Machu Picchu from Callao (Lima); snorkel on the Great Barrier Reef from Sydney, Australia; shop at the night market in Hong Kong, China; and go on a safari from Cape Town, South Africa. Additional overnight calls include Papeete, Tahiti; Victoria, Seychelles, and Singapore.
Grand South America and Antarctica
Prinsendam returns to South America, Antarctica and the Amazon in 2014 on a 68-day itinerary sailing roundtrip from Fort Lauderdale Jan. 5. After passing through the Panama Canal, the ship will reach South America's Pacific coast and continue on to circumnavigate the continent.
During the voyage, Prinsendam will spend seven full days cruising the Amazon River and four days of cruising through Antarctic, weather permitting. The 2014 itinerary also features overnight calls at Manaus, Brazil, in the Amazon; Rio de Janeiro, Brazil; Buenos Aires, Argentina, and two full nights at Callao (Lima).
Segments of 32 and 36 days between Fort Lauderdale and Buenos Aires also are available.
Grand Africa and the Mediterranean
Immediately following its Grand South America and Antarctica Voyage, Prinsendam departs on a 57-day Grand Africa and Mediterranean Voyage that sails from Fort Lauderdale to Civitavecchia (Rome), Italy.
The ship visits the Caribbean before crossing over to Africa and making calls at Cape Verde, Gambia and Dakar. Following the Canary Islands, Prinsendam explores northern Africa, Spain, Italy, Montenegro, Croatia, Greece and Turkey. Calls in the Holy Land allow for a visit to the Dome of the Rock in Jerusalem, Israel, or the Giza Pyramids in Alexandria (Cairo), Egypt. An overnight call at Venice, Italy, allows ample time for shopping, exploring and a traditional gondola ride.
A 27-day segment from Fort Lauderdale to Barcelona, Spain, and a 30-day segment from Barcelona to Civitavecchia (Rome) are available. This voyage can be combined with the Grand South America and Antarctica Voyage for an extended 120-day cruise.
Grand Pacific and the Far East 

In fall 2014, Amsterdam will wrap up the year with a 78-day Grand Pacific and Far East Voyage sailing from Seattle, WA to San Diego, CA. Departing Sept. 21, the ship takes a northerly route to Alaska before slowly discovering Japan, South Korea, China, Vietnam, Singapore, Jakarta, Bali and Indonesia. The voyage continues to Australia before circling back and visiting ports in the South Pacific and Hawaii en route to San Diego.
This voyage includes eight overnight calls along the way: Tokyo, Japan; Incheon (Seoul), South Korea; Xingang (Beijing), Shanghai and Hong Kong, China; Singapore; Sydney, and Honolulu, Hawaii.
Holland America's World Cruise Rates
Rates start at $19,999 for Amsterdam 's 113-day Grand World Voyage; $13,399 for Prinsendam's 68-day Grand South America and Antarctica Voyage; $9,999 for Prinsendam's 57-day Grand Africa and Mediterranean Voyage, and $11,499 for Amsterdam's 78-day Grand Pacific and Far East Voyage. Cruise fares are per person, double occupancy. The four grand voyages are available to book for the full cruise or in segments ranging from 27- to 86-day sailings.
While at port, guests can choose from a multitude of diverse shore excursions including Overland Adventures, off-the-beaten-track explorations, Signature Collection private-car touring and exclusive Medallion Collection excursions.
Contact:
(877) SAIL-HAL (877-724-5425)
www.hollandamerica.com
Holland America's World Cruises for 2014