How important are mobile apps in hospitality? According to the J.D. Power 2017 North America Hotel Guest Satisfaction Index Study, mobile apps are becoming as central to the hotel guest experience as soft pillows, extra towels and a competitive price. However, when it comes to online and direct bookings, the jury is still out.
The study, released last week, shows that the integration of mobile apps into a hotel stay is associated with higher guest satisfaction and makes guests more willing to share their positive hotel experiences on social media.
However, there is a downside to this as greater use of mobile devices. Booking through apps often means booking through an online travel agency (OTA), which is associated with lower satisfaction. The industry is currently emphasizing direct booking, where a hotel guest rents a room directly through the hotel rather than another way. Pushing for more guests to become rewards members will likely enhance this effort. While OTAs remain popular among many guests, there are some disadvantages to their use, such as the need to deal with a third party if problems arise with a reservation.
"As mobile usage becomes increasingly ubiquitous for guests, the challenge for hotels becomes twofold: First, they must persuade guests to book directly with them, and second, they must encourage easy utilization of this technology," said Rick Garlick, practice lead, travel and hospitality at J.D. Power.
Antidotes could lie in a hotel's ability to forge direct relationships with guests or for human travel agents to get more involved with booking hotels for consumers.
The study, now in its 21st year, measures overall guest satisfaction across eight hotel segments: luxury; upper upscale; upscale; upper midscale; midscale; economy; upper extended stay; and extended stay. Satisfaction is calculated on a 1,000-point scale.
Following are key findings of the 2017 study:
Direct booking: When guests book through an independent travel website or mobile app (e.g., Expedia, Travelocity) instead of directly with the hotel, they are more likely to experience a problem and to be less satisfied with their stay.
Membership matters: Hotel rewards members are far more likely to book directly with a hotel or on a loyalty member site than those who are not members (75% vs. 47%, respectively), and their satisfaction is higher. The number of those who book through OTAs is increasing (19% in 2017 vs. 16% in 2013), despite the concerns some guests have ranging from earning hotel rewards to strict cancellation policies.
Mobile mania: In 2014, 14% of online reservations were made using mobile means (smartphone or tablet), and now that percentage is 25%. Those utilizing mobile reservations are more likely to be younger or business travelers.
Not so mobile mania: Among guests who have a hotel's app on their mobile device, 38% don't use it during their stay. Only a tiny percentage of check-ins (4%) and check-outs (1%) occurs through mobile apps, but when it is used, it is associated with higher guest satisfaction.
Trying the app: Guests who download and use a hotel's mobile app are more satisfied and have greater loyalty to that brand. While only 19% of all guests have downloaded a hotel app, 70% of rewards members have done so.
Social media surprise: Despite the perception that people posting to social media only do so to complain, guests describing their experience via these channels appear to be more satisfied overall. At the same time, those who do experience a problem are extremely likely to post to social media (86%).
Social media in mind: Slightly more than half (52%) of guests have read a review of a hotel, industry news or an online forum in the past month, and 46% of those guests wrote a review in the past six months. Review readers and writers are also more likely to have higher guest satisfaction.
Hotel Segment Rankings
"While The Ritz-Carlton and JW Marriott rank highest in the luxury segment, both of these Marriott-affiliated brands appeal to different types of customers," Garlick said. "It's important to remember that this study measures guest satisfaction among a hotel brand's own customers and doesn't directly compare hotel brands to one another. Often, the type of guest becomes an important element in determining satisfaction rankings."
The following hotel brands rank highest in guest satisfaction in their respective segments:
Luxury: JW Marriott and The Ritz-Carlton1 (tie)
Upper Upscale: Hyatt
Upscale: Hilton Garden Inn (for a second consecutive year)
Upper Midscale: Drury Hotels (for a 12th consecutive year2)
Midscale: Wingate by Wyndham (for a third consecutive year)
Economy: Americas Best Value Inn
Upper Extended Stay: Staybridge Suites
Extended Stay: Candlewood Suites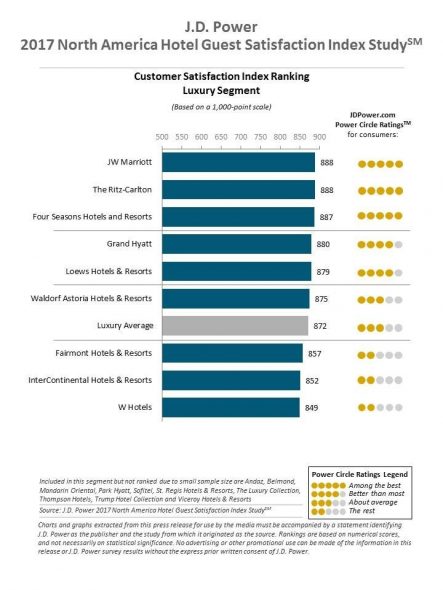 The 2017 North America Hotel Guest Satisfaction Index Study is based on responses gathered between June 2016 and May 2017 from more than 63,000 guests in Canada and the United States who stayed at a hotel in North America between May 2016 and May 2017.
Related Stories: