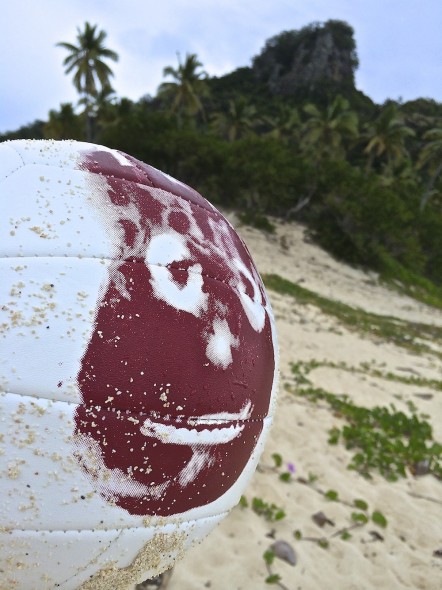 It's not quite your own private island – but it is close. Castaway Island resort in the Mamanucas of Fiji is your own island, shared with up to 150 other vacationers on a tiny island truly in the middle of nowhere. But the blue haze at the edge of the Pacific and infinity is a 360-degree reminder of just why people come all this way.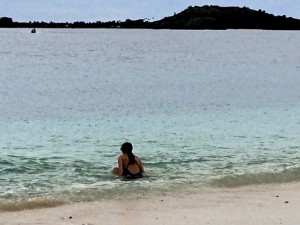 The people you do see are few. The "bure" accommodations you inhabit are private and free standing. The beaches are all shared, but few souls will be walking them. In this far corner of the universe you can be as alone as you like and still be within shouting distance of civilization.
Castaway Island, now owned by Outrigger Enterprises Group, is not quite the island you imagine when you think of Tom Hanks and his two-hour silent monologue of a movie as the single survivor of a plane crash on a small island paradise. But it is close – an hour speedboat ride away, to be exact. The film, "Castaway" was made on a nearby uninhabited island where guests of Castaway Island Resort can go to snorkel and sunbathe. Some "Help Me!" rocks are in place in case a plane happens to fly by and the snorkel guides keep a facsimile of the "Wilson" ball on hand for added company. It's not hard to imagine Hanks, who stayed at another nearby island resort, basking in the waves there while prop hands put all the palm fronds in place.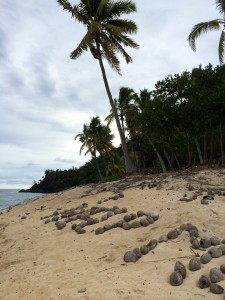 But the snorkel guides have other plans. Turns out there are plenty of choice places to immerse among these islands and a gorgeous reef exploding with iridescent sea life is in a spot just beyond.
That is what a stay at Castaway Island becomes … a series of special surprises, upending expectations one after another in a medley of amazing moments.
Take the culinary experience. This is not the all-you-can-mash-up you might be expecting. Oh, there is a buffet available and families enjoy the ease of it. But there is also something else.
It's called 1808 and it is the creation of super-chef Lance Seeto. The PNG-born Australian transplant now calls Fiji home and has taken it upon himself to change the way Fijians – and the people who visit – eat.
His signature restaurant is at the resort: 1808, is so named for the year the first Chinese arrived in Fiji aboard the American brig Eliza after being shipwrecked off Nairai Island. And so begat the merging of cultures and cuisine.
Seeto does unusual things with his food choices and food preparation – using seawater, for instance for added flavor and brine; using local fish caught in the waters nearby; using island-made tofu from soy grown from Fijian fields and sourcing spices from organic island spice farms. His oeuvres borrow from Fijian/Polynesian and Melanesian and Micronesian food traditions and end up in such dishes as green bamboo steamed fish in scorched coconut milk with charred sugarcane blossom, served in the sugarcane shell.
Beef and lamb are not off the table, but come from Tasmania and New Zealand. His work is getting noticed at home and abroad as he was recently dubbed culinary ambassador for Fiji and has been making the rounds in local and international cooking shows. His menu at 1808 changes seasonally or with the items at hand and becomes a true treat that is included with all-inclusive package rates offered. The setting is washed in candlelight with a background of ocean waves. Desert is usually something sinful – possibly involving a tower of chocolate and amazing cake inside.
Dining and lounging is spread out over several venues – a café and bar and then a patio bar. Pizzas, burgers, casual fare is available. Poolside gelatos get attention, as do the margarita manicures and massages in a quiet poolside cabana. Guests can spend their days at the pool – there are two: one for families and one for adults separated by waterfalls. A small spa with two treatment huts offers added pampering.
The island's 147 acres turns out to be quite ample for the 66 freestanding thatched bures dotting the beach. Each has its own porch, a day-bed area separated from the king bed by a bamboo wall. An ample bathroom with private commode, two sinks and tile shower room big enough for two is a welcoming discovery. And the air-conditioning and high ceiling fans can be put to use at night. No televisions here, just the sound of the waves and stars that burst from a sky vacant of light pollution. Each bure has a front area hammock and access to plastic lounge chairs on the beach. The sand is white and soft here (many beaches in Fiji are covered in rocks) and the ocean is calm enough for swimming in high tide.
Kids get all the attention they want at the Castaway Kids Club, from doting Fijian moms and dads who are practiced in the art of play. Parents can use that time to take a snorkeling or diving excursion (there is a handy wall menu of activities and prices conveniently near the reception desk), or get their workout in by taking the 3.5-mile (roundtrip) hike up the mountain abutting the resort to two amazing lookout spots.
While the resort loves honeymooners and even offers weddings on a scenic point jutting into the ocean, families have a firm fitting on the island and make up 65 percent of Castaway's guest profile.
Rates start at $522 for up to two adults and two children, inclusive of snorkeling equipment throughout the stay, use of non-motorized water sports equipment (catamarans, kayaks, windsurfers, glass bottom boat, stand up paddleboards and spy boards), and use of tennis court with racquets and balls. For daily meal plans add $54 per adult per day ($26 per child) or chose from a variety of meal/accommodations packages.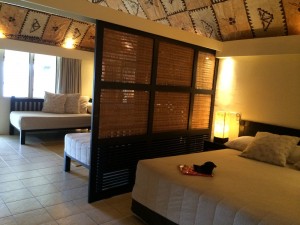 Getting to Castaway Island is half the fun. Daily South Sea Cruises catamaran ferries depart Denarau near the main city of Nadi on Veti Levu island (where Fiji's international airport is located) three times a day and take just shy of two hours to reach Castaway Island Resort (the ferry stops at a hodge podge of poplar islands in the Mamanucas). Pacific Island Air and Island Hoppers provide the 10-minute air alternatives for those who want to maximize their time at the island.
Contact:
(+679) 666-1233
(800) 733-2107
Castawayfiji.com