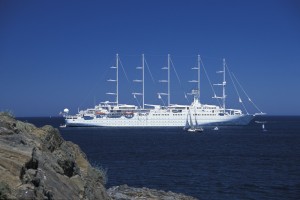 For cruising the open seas, sometimes there is nothing like a small ship experience. They can get into places large cruise ships cannot and they have a sense of causal spontaneity about them no matter where the oceans take them. Windstar Cruises has this down.
Windstar Cruises operates a fleet of small luxury cruise ships known for their intimate yacht-style quality and voyages to the world's best small ports and hidden harbors. Vessels carry 148 to 310 guests and cruise to 50 nations, calling at over 100 ports throughout Europe, the South Pacific, the Caribbean, and Central America. In February, Windstar expanded its fleet with the purchase of three motorized, all-suite ships with a capacity of 208 guests each and plans for 2014 voyages that are on sale now.
These include four new itineraries for European voyages and Tahiti, and nine new ports of call as sailings head through Italy and Malta.
The four new voyages include:
Sicilian Splendors
Sail around the Isle of Sicily and see the ruins of Pompeii and Capri's Blue Grotto as well as baroque marvels and the breathtaking beauty of the Amalfi Coast, on the Wind Surf during this 10-day sailing round-trip from Rome, Italy departing October 29, 2014. The new voyage visits five new ports including Catania, Porto Empedocle, and Trapani, Italy; and Valletta and Gozo, Malta; as well as Lipari, Sorrento, and Capri, Italy. It also spends one romantic night at sea. Highlights include: the ancient city of Syracuse in Catania; historic tapestries and armor in Valletta's Palace of the Grand Masters; and some of the world's best-preserved Greek ruins at the Valley of the Temples in Porto Empedocle.
Gems of the Adriatic
View the stunning Greek Isles, the Ionian Islands, and the Croatian Riviera as privileged yachtsmen see them on this eight-day voyage on board Wind Surf departing from Venice, Italy on October 5, 2014 and Athens, Greece on October 13, 2014. This Odyssey across the Adriatic includes three new ports of call including Butrint, Albania; Brindisi, Italy; and Hvar, Croatia; as well as visits to Gythion, Greece; and Dubrovnik and Rovinj, Croatia along with one relaxing day at sea. Iconic sights include the Parthenon, St. Mark's Square, and the richly layered history of Butrint. Enjoy relaxing moments in seaside tavernas, and scenic views of the Wind Surf from hilltop fortresses.
Best of Europe's West Coast
From the soulful strains of fado to a stout Irish Guinness, Galicia's famed seafood to the granite castles of Brittany, this eight-day voyage on board Wind Surf departs from Lisbon, Portugal on July 4, 2014 or from Dublin, Ireland on September 4, 2014. It visits Porto, Portugal; Vigo, and A Coruna, Spain; Brest, France; Isle of Scilly, Cornwall, England; and Waterford, Ireland. Highlights include: Lisbon's ancient Belem Tower; more than 3,000 prehistoric standing stones of Carnac in Brest; the extraordinary Abbey Gardens on the Isles of Scilly; the world's largest collection of Waterford Crystal in Ireland, and the beautiful Bay of Biscay between France and Spain with its large population of whales, dolphins, and porpoises.
Dreams of Tahiti
Windstar Cruises returns to the paradise of Polynesia as Wind Sprit, the line's newly renovated 148-passenger sailing yacht, for seven-day voyages from Papeete, beginning May 2, 2014. It stops in the Society Islands of Moorea, Taha'a, Raiatea, Hauhini and Bora Bora. The graceful sailing yacht is perfect for experiencing the ease of Tahiti. Dreams of Tahiti cruises sail from May 2 to November 7, 2014.
In addition, voyages for the newly acquired yacht, formerly Seabourn Pride, will be announced in the coming months. Pride will be the first ship of the three-ship purchase announced earlier this year to enter into Windstar's luxury fleet in April of 2014. Following a Windstar branded renovation, the Pride will set sail a month later in May 2014.
Contact:
(800) 258-7245
WindstarCruises.com