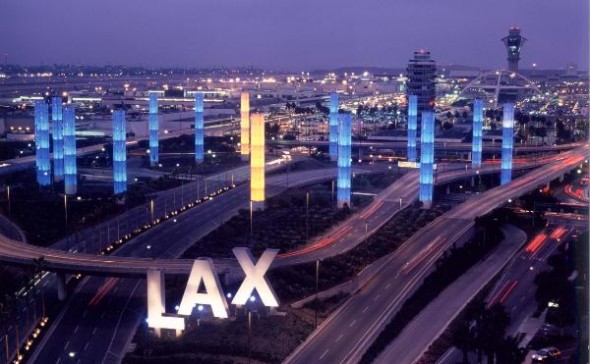 Los Angeles International Airport is getting old. And she is also getting a new "do." A massive public works project that began in 2006 is right in the middle of its rise with the recently opened Great Hall at Tom Bradley International Terminal (TBIT by any other name). The LAX project will be all buttoned up by 2020, completing one of the largest public works project the city has seen.
For an airport that sees 66 million passengers moving through its nine terminals each year, the $7 billion+ public project is leaving few corners unexamined, from working toilets and escalators, to children's play areas, to grassy spots for Spot, and banks of charging outlets. Here's a quick look at what's moving ahead at the nation's third largest airport: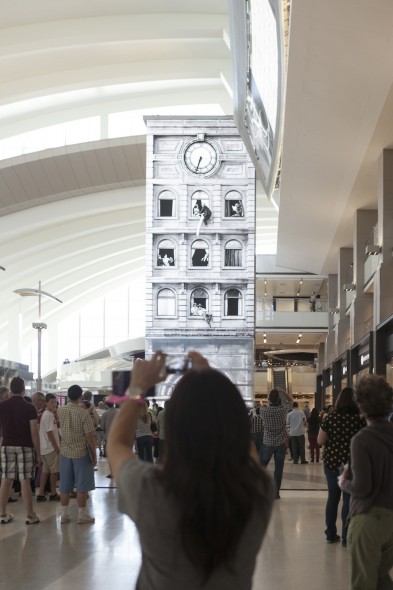 The Tom Bradley International Terminal is receiving the lion's share of the lift efforts. Already the main terminal here shines with some wowing art spectacles and architectural feats as well as a plethora of good shopping. The Westfield Mall group and DFS have chimed in with some great retail experiences that include complimentary whiskey and scotch tastings at all hours, complimentary make-up sessions, and even hand massages (don't walk too fast through the make-up area of the Duty Free Shop! – Ask for the "Two Minutes to Beauty" treatment — you don't even have to buy a product for this).
Los Angeles-based icons, such as Kitson and Fred Segal, offer some only-at-the-airport products at comparable or, sometimes, better prices than their outside stores. And there's plenty to ogle even if the pocket book stays put: $45,000 solid gold Vertu cell phones, a $46,000 of Balvenie scotch (one of only 88 bottles in the world), Hublot watches (prices hidden).
It's all in the Great Hall that opens up to 110-foot cathedral heights. The 150,000 square feet of newly revamped space also contains a line-up of impressive dining options and a constantly morphing floor-to-ceiling art piece/video column that is simply mesmerizing to watch.
There will be six sparkling new VIP lounges open when all is done: SkyTeam, Emirates, Etihad, Oneworld, Star Alliance and one unaligned shared lounge. Currently, the new SkyTeam and Star Alliance lounges are now open. Star Alliance is a showpiece here with commodious first and business class spaces and a designer fire pit on an outdoor cocktail patio overlooking the LAX runway.
The terminal is revamping in the gate areas with roomier waiting spaces that can easily load and unload the new mega-jets; upgraded customs and immigration areas; and new secured interior corridors to Terminal 4 where America Airlines and Qantas are based, and Terminal 3 (JetBlue, US Airways, Virgin).
Other LAX modernization projects on the books include moving walkways to gates in some terminals, in-line baggage systems at all terminals, new customs and immigration processing designs as well as passenger departure area amenities at Terminal 5 (Delta), and a general upgrade in looks and function at Terminal 2 (Air New Zealand, Air China, Air Canada).
Getting around LAX, currently managed by cars, cars, cars, commercial vans and city buses, is not much different than moving around L.A. at present. Either you drive or you wait. You can also walk and get those 10,000 Fitbit steps in (give yourself points for dragging luggage). And not surprisingly, the city has not bothered to build light rail or subway connections to LAX, believing that such monies would be wasted in the car-addicted Southland.
Some proposed blueprints in place, however, ponder the possibilities of adding a connecting rail from a nearby light rail or subway line to an LAX People Mover — a rail spur that would have two to four stops at the airport. Such plans were raised in better days, however, and languished within repeated calls for further study. We can hope for a light rail plan revival while the newly lifted LAX prepares for its close-up.
Related Stories: