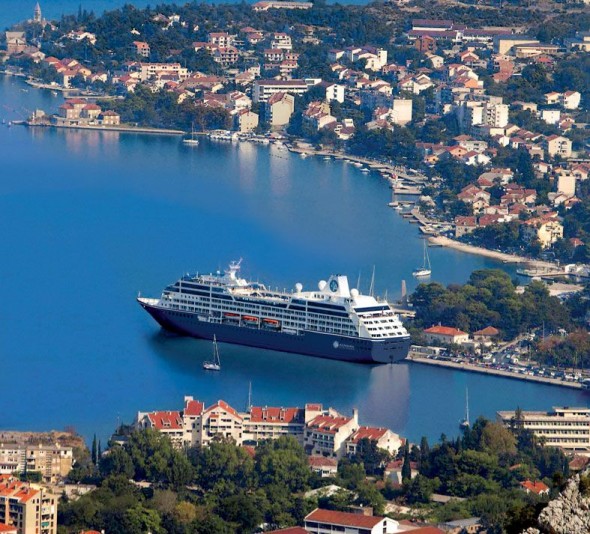 By Bill Becken, Senior Editor
Luxury cruise line executives have a major challenge: to devote appropriate time and energy to oversight of strategic marketing and sales, on the one hand, and maintaining credible luxury operations, on the other. It turns out for both purposes the line must foster and coordinate homeports, itineraries, newbuilds, and newly renovated ships; appealing online, social media and travel trade relations; and so many other efforts. That well-suits someone like Larry Pimentel, with more than 25 years of luxury travel experience. He is regarded both as a veteran of, and an irreverent sage commenting on the state of, high-end cruising.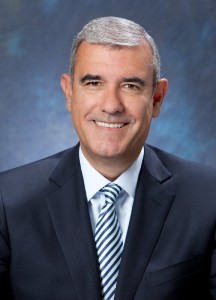 Pimentel has been president and CEO, Azamara Club Cruises, for almost three years. Before that, he spent nearly ten years as president and CEO of Carnival Corp.'s Seabourn Cruise Line; another three in the same role at Carnival Corp.'s luxury Cunard Line; was president, CEO and co-owner, SeaDream Yacht Club; and he once headed Classic Hawaii, a high-end vacations company. What's his spin on how well and profitably Azamara fills its luxury niche?
He acknowledges that Azamara is in the luxury category, but hardly regards that as a freedom pass from currying favor with a variety of alluring "demos" among the line's clientele. "We're a smaller two-ship, all-inclusive luxury brand," he says, "but with a total of 69 voyages this year aboard our two European boutique hotel-style, 694-passenger, Renaissance-class ships"–the Azamara Quest and the Azamara Journey. "On an average-per-diem (APD) basis, our price point is a luxury price point. But one can certainly say that our brand has found its place at the ultra-top-end of the premium market, too.
"So that's definitely an interesting profile. We have guests filling both niches, both spaces. What is the net? That Azamara simply and singularly offers destination-immersive luxury." Its ships, Pimentel points out, sail out of estimable ports in the Mediterranean and Black Sea like Rome, Athens, Barcelona, Monte Carlo, Istanbul, and Venice; ports in Asia and the Pacific like Singapore, Hong Kong, Beijing (Tianjin) and Mumbai (Bombay); and ports in Europe and the Baltic, such as Southhampton, Hamburg and Copenhagen.
Azamara's itineraries for late 2013 and early 2014 include 7- to 16-night Mediteranean voyages; 9- to 14-night Northern European voyages; 12- to 17-night voyages in the Far East; and 11-night Caribbean cruises. "All of our 2014 voyages feature late night and overnight stays in ports," says Pimentel.
As well, itineraries are designed so that travelers are able to combine two or more consecutive voyages without repeating a port call. There are one-off specialty trips, too, such as 10- or a 12-night trans-Panama Canal voyage–between Miami, FL and Costa Rica–and an 8-night West Coast Wine cruise.
"In truth, market designators are outdated," adds Pimentel. "Just consider how the design concept of ships has morphed over the years. Many people would say that Royal Caribbean International, our parent company's (RCCL's), flagship line, is a mass-market line. They would say that its Celebrity Cruises is a premium brand. Yet Celebrity Cruises now aspires to 'modern luxury.'
"And just look at the room categories on a Royal Caribbean Oasis-class ship. You can't honestly say that their loft, at around $20K a voyage, is mass-market. So more recently the products built have been built more vertically. That makes for a very dynamic cruise market, one with many more guest profiles."
Authenticity is Key
"Our research shows that at least 20 percent of our guests are first-time cruisers. That tells us that a vast portion of the market yearns for an authentic experience, not a contrived one. So that's what we give. What's authentic can be subjective, of course, but we think it lies in sampling regional cuisine; exploring a city as locals do; and, most relevant to the cruise business, spending more days/nights in port."
In particular, Azamara has exclusively offered as many as two to three per port) and night touring, says Pimentel—pretty much more overnights than other cruise line. "This is hardly what passes for usual in passenger shipping," he notes. "The business model is that a ship moves out directly after a call, giving way to onboard revenue sources. Whoops, our model is different. Night touring in particular is generally not available on, or from, ships in port. Nor are there many cruise ships likes ours—that is, small and agile enough to go deep into the recesses of destinations."
Pimentel points to yet other currents among luxury cruise customers. "Economic and geopolitical conditions are leading people to be very conservative, insisting on value. But that's just where we can excel, since luxury cruises are usually all-inclusive–guests' hotel stay, airport transfers, entertainment, and tours (excursions) are bundled. Depending on what's included and the price, a cruise line can make a customer feel he/she is getting a very good deal."
Pimentel is convinced Azamara excels in attracting customers due to another characteristic: "Simple uniqueness," he says. "We've put our ships at unique, classic events. The Grand Prix. Carnivale in Rio de Janeiro. Night events, like cocktail parties for guests at European museums; or visits to the world's best art exhibits after hours, for the maximum in intimacy.
"We've done this and more around the world. So our product is uniquely different. Not to mention we are constantly renovating our ships (which are about ten years old). Altogether, we have managed to achieve consistently increasing APDs and an ever-widening client base. That's because of our unique offerings."
Which brings Pimentel back to the question of who Azamara's clients are. How does the cruise line more precisely define its clients—that is, view the segments or strata within its existing market? How are Boomers and Gen X/Y members addressed differently?
"More than ever, for a given chronological age," says Pimentel, "guests behave younger—due to watchful eating, more exercise, and other preventive health care. That implies a lot as to the kinds of things they regard as critical on a cruise. Ships have adjusted not just to the drive for wellness, but to wellness itself. So, as just one example, spas are getting bigger, their treatments more unique. That's a trend that will most certainly continue.
"As well, the newer segments are more apt to visit newer, late-arriving destinations, you might say—inevitably they go to cool, hip places, like Cuba. If/when Cuba in particular opens, so many of our guests will go there. Especially Americans who've always longed to visit there but weren't allowed. That anticipation will be as strong, I think, among Gen X/Y travelers as among Boomer travelers, I'd say.
"Another thing for sure: GX and GY do things electronically. They're such a connected group. They and their younger counterparts grew up with personal technology. Whereas Boomers had to adapt to it (if well). This means that our products must be very high-tech driven–our future products even more so.
"We must address, for example, a guest's insistence that a purchase, to be done online, is all about the guest, about speed, about their receiving as much relevant information as possible so as to conclude their business with us, right now, online. We all want things to come up instantly. So another trend is increasing the speed both of our shipboard and shoreside online services. For example, dinner reservations will be taken electronically from cabins, presentations about shore excursions mediated online. Certainly decisions about the excursions can be made that way. Those selections, like the cruise purchase itself, will be done online, interactively."
Similar Stories: