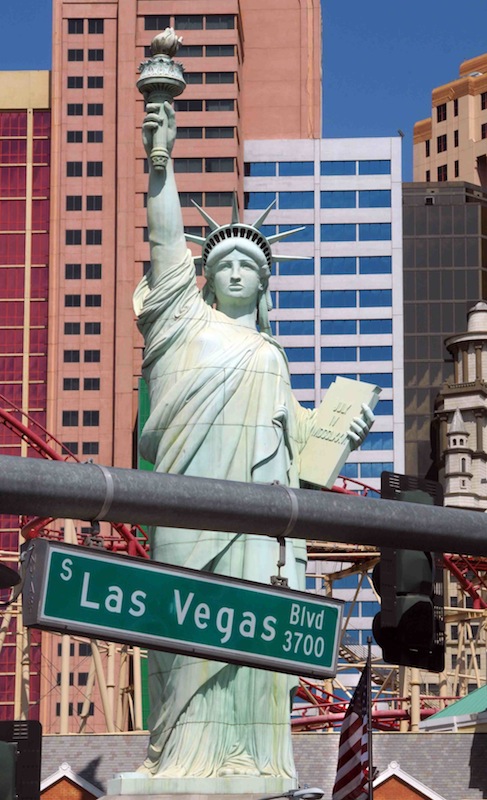 What's old is new again in Las Vegas. This concept heads beyond cool Rat Pack wannabes and the latest Naugahyde designer diner to what is now a spate of new hotels, attractions and shopping lures that have opened in the past year or are getting set to make their neon debut. The following offers the latest tally of amazing feats ahead for Las Vegas.
Most buzzworthy on the 2014 roster is the High Roller at Linq, a dining and shopping segue at mid-strip that will draw crowds – 40 per pod – into what will be the largest observation wheel in the world (for awhile, at least) when it opens this spring. The 550-foot High Roller out sizes the London Eye and the Singapore flyer as only a $550 million Las Vegas project can. When it opens in March, 28 glass tech-forward spherical cabins will take tourists on a 30-minute scenic viewing of the Strip. As the focal point of Caesars Entertainment's Linq project, the wedge between the Flamingo and Harrah's will also bring a spate of dining options and such fun spots as Brooklyn Bowl, a mega bowling alley and concert venue based on the insanely successful New York version.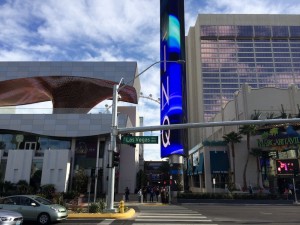 New Hotels in Las Vegas
New hotels are also looking skyward, including the latest luxury hotel to open on the Strip: Nobu. The concept of a hotel within a hotel is the first hospitality venture for Nobu Matsuhisa (famed sushi chef and restaurateur who claims such fans as Madonna, David Beckham and Kate Winslet) and the second for film star Robert De Niro (who also owns the Greenwich Hotel in NYC's Tribeca), as it plays out in 181 luxury rooms and suites in what was formerly the Centurion Tower at Caesars Palace. Designed by the Rockwell Group (Andaz, Aloft and W hotels) the rooms are small by most standards these days, but are fit with high-count cotton linens and wraps and Japanese sensibilities. Rack rates start at $249 and perks include VIP access to the Nobu restaurant, as well as to Pure Nightclub, and free access to QUA Baths & Spa and the fitness center. (702) 785-6677. www.nobucaesarspalace.com.
Across the street, the former Imperial Palace became the hip and Gen X/Y centric Quad hotel. Out came the dated Chinese nick naks and iconic balcony Astroturf and in came smooth lines and earth tones. Its top benefits are location and price (walk-up rates of $47). (800) 351-7400. www.thequadlv.com.
At Mandalay Bay, the Delano, a take off on the chic and luxurious Miami Beach Delano, has taken what was THEHotel to its next iteration. The remodeled and rebranded Delano Las Vegas will open in late 2014.
At the other end of the Las Vegas Strip the cranes are cranking with the redo of what was the venerable Sahara Hotel that is quickly morphing into the SLS Las Vegas. The new $415 million SLS Hotel will feature 1,600 rooms and suites, chic shops and intensive nightlife destinations that is the style of parent company SBE Entertainment. Los Angeles-based SBE runs more than 60 culinary establishments in Southern California and has SLS-branded hotels in Los Angeles, New York and Miami. It is expected to open next fall with a 60,000-square-foot casino and a dining line-up that includes Danny Elmaleh's contemporary Mediterranean restaurant, Cleo.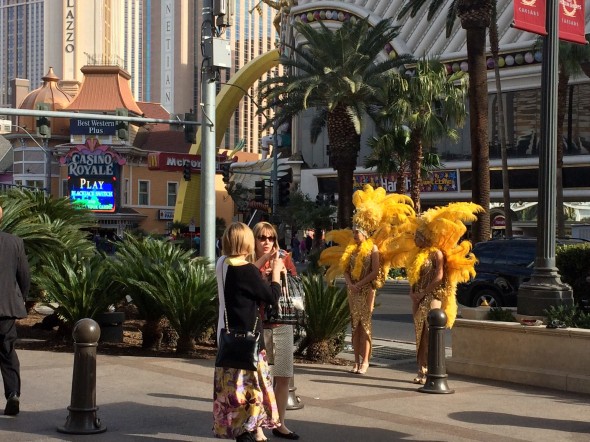 Further afield, Downtown Las Vegas is seeing a continued renaissance that includes the opening of the Downtown Grand Hotel where the Lady Luck once stood, as well as the Mob Museum (an excellent take-in) and countless cool bars, tony shops and chic eateries. The revival and opening of the 629-room Grand Hotel is part of a vision and energy to Downtown Las Vegas tied to Zappos CEO Tony Hsieh. The company moved to Downtown Las Vegas and found it fertile territory for youth markets and art revivals. An arts complex called the Container Park opened late last year as a conglomeration of shipping containers holding galleries, bistros, shops and bars, with an outdoor theater for concerts and plays.
Latest Attractions in Las Vegas
Meanwhile, some mixed-used attractions are moving forward between New York-New York and Monte Carlo. The streetscape there will spring to life with an elaborate urban park and entertainment district full of bars, restaurants and shops. Hershey's is weighing into the mix in a big way as only chocolate inspired entertainment can in Las Vegas. A new two-story Hershey's Chocolate World flagship spot will complement an adjacent 20,000-seat AEF sports and entertainment arena that will play host to NHL and NBA teams, boxing, mixed martial arts, awards shows and concerts. The new plaza is expected to open this spring.  
Nearby, Bally's Hotel & Casino is busy scrapping its front lawn – formerly a series of moving walkways that brought people from the sidewalk into the casino – into the Grand Bazaar Shops. Some 150 shops will cover the two acres at the Bally's entrance. The centerpiece of this range of retail riches will be the Swarovski Crystal shop, which will feature a 4,000-pound Crystal Starburst tower that will light up every night at midnight when the Bazaar opens late this year.
Tropicana Las Vegas also looks mall-ward as a 275,000 square-foot shopping district at the front of the property along Las Vegas Boulevard prepares to open. Dozens of stores and restaurants will spread along in three stories where the former porte corchere once welcomed cars when it opens in 2015.
For those looking to get wet, a hefty new water park prepares for its debut this spring. Cowabunga Bay Water Park in nearby Henderson, about 20 minutes away, will be a 23-acre park with several one-of-a-kind rides couched in a 1950s and 1960s-themed experience. The $23 million venue will feature more than 25 water slides and attractions, including a 35,000-square-foot wave pool and a 75-foot horizontal looping water slide and will be counted as the largest water-themed attraction in the state.
But those who like their thrills on the dry side can head to Downtown Las Vegas and other parts of the city to experience ziplining under the neon. Slotzilla at the Fremont Street Experience is preparing to open this winter as a 12-story monster of a ride. A bi-level super-sized slot machine serves as the launch pad for a powered-pushed zipline attraction. Riders can choose to launch from the upper platform at 128 feet or from the lower platform at 70 feet. The high riders will zoom 1,700 feet along the Fremont Street canopy at 35 mph. Lower level riders will speed some 800 feet to the mid-point landing platform.
Closer to the Strip, Voodoo Zipline at Rio will launch flyers some 490 feet above ground for spectacular views of the mountains and Strip. The Voodoo ride takes off from the Rio's penthouse Voodoo Lounge and heads to the Ipanema tower at speeds of 33 mph. The line is expected to open this spring.
For more information on what's new in Las Vegas, contact the Las Vegas Visitors Authority: (702) 892-0711; www.lvcva.com.
Recent Stories on Las Vegas: