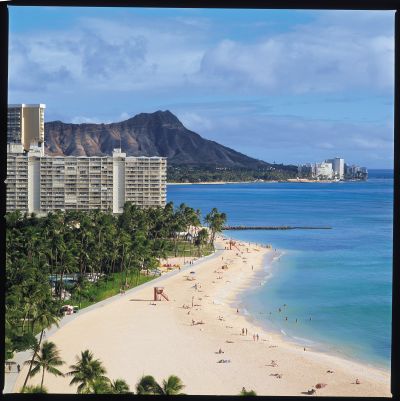 Anyone who has traveled to Hawaii or through the Pacific with an eye on where to stay has come across the now ubiquitous brand of Outrigger Hotels and Resorts. The company, which is nearly synonymous with Waikiki, got its start in 1947 when Roy and Estelle Kelley opened their first hotel, The Islander.  The Outrigger Waikiki opened in 1967 as the first hotel to bear the Outrigger name.
Today, Outrigger is still owned by the Kelley family and is going strong with an ever-expanding assortment of owned, managed and partnership properties that extend from Hawaii to China.
"Outrigger is the largest locally-owned hotel operator," says Barry Wallace, executive vice president of hospitality services for the Outrigger Enterprises Group. That is because Outrigger came in at a time when development on Waikiki was possible. During the years, as tourism to Hawaii took off with the growth of accessible leisure air transport in the 1960s and 1970s, that opportunity closed up. Today the room count on Waikiki is capped at 30,000 with more than 25,000 of that number accounted for. That means whatever fills the two-square mile imprint of Honolulu's star tourism district has to become new again every few years.
For Outrigger, the most recent indication of that continuous wave can be found at the 524-room Outrigger Waikiki on the Beach.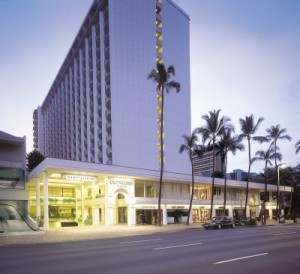 New in Waikiki
The eight-month project, completed well before the original two-year projection, has brought a remodeled pool and expanded pool-deck area, upgraded guest rooms and suites (including new glass railings to all oceanfront rooms and suites), new doors, new key systems, and a warm, earth-tone feel throughout. A newfangled spa will open early next year.
New amenities include complimentary Wifi throughout the property and in all the guest rooms, plus free local and long-distance telephone calls to the U.S. Mainland and Canada, daily newspaper, use of the fitness center (open 24 hours), and complimentary cultural activities. Rates start at $259.
A daily activities roster contains such features as ukulele lessons, Hawaiian storytelling, jewelry making and hula lessons. And the property still runs its signature vow renewal program, allowing guests to renew their vows in a beautiful oceanfront setting twice a week on Monday and Thursday mornings at 7:45 am. (Couples must sign up at the hotel's concierge desk by 3 p.m. the day prior to the ceremony.)
Wallace positions the owned Outrigger brand at an "upper four-star" level, of five but the brand has been working with some new concepts in hospitality to grow beyond ownership. It currently manages an Embassy Suites in Waikiki as well as a Holiday Inn there, called the Waikiki Beachcomber. It owns Outrigger Waikiki as well as Outrigger Reef on the Beach on the narrow strip of shore known as Waikiki Beach. From there it's more apartment-style layouts with Outrigger Luana Waikiki, Waikiki Shore, and Regency on the Beach. Other properties under the Outrigger banner on Oahu include four Ohana properties on Waikiki and a smattering of other properties, including a Courtyard by Marriott, a Best Western, and the landmark Ala Moana Hotel.
Asia in View
But Outrigger's growth in Asia is the latest focus, says Wallace. In 2006, Outrigger started launching management and outright ownership deals to place the brand in such destinations as Hainan Island in China; Koh Samui, Phi Phi Island and Phuket in Thailand; Bali and Viet Nam. These now add to a portfolio that also includes Outrigger properties in Fiji, Guam and Australia.
"In a five piece model Outrigger is at top of the fourth piece. And our Outrigger product on Waikiki is now up to the level in rooms and service that we are seeing in Asia markets. We have 31 different properties in Hawaii alone, if you count all the condo properties, resorts, and vacation ownership properties on four islands. We used to think of Outrigger as one hotel with 20 reception desks. But now it is not that way. We have many different products in a wide portfolio. For instance, Ohana. That's a solid mid-priced brand in Waikiki. Clean, simple, easy fun as the logo goes," says Wallace.
Next up is the 254-key Laguna Beach Resort in Phuket. The 21-year-old Andaman Sea beachfront resort on Nang Tao Bay is expected to become an Outrigger in January. The property joins Outrigger Laguna Phuket Resort and Villas that Outrigger has been managing since 2009. No plans for renovations or redevelopment have been announced so far.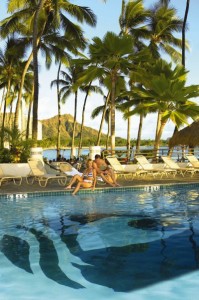 For more information contact www.outrigger.com. (800) OUTRIGGER (688-7444)
** Agents can check into becoming an Outrigger Hospitality Specialist at www.OutriggerAgent.com