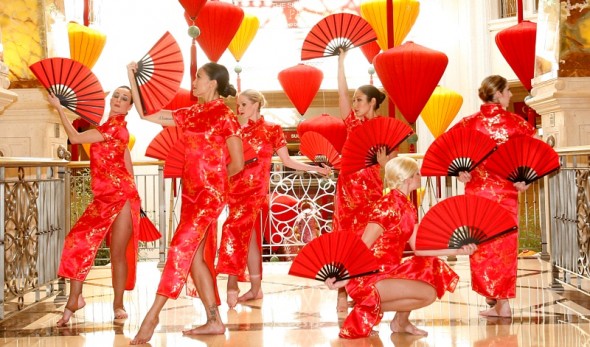 Las Vegas is as much about luck as it is about neon and as the Year of the Horse approaches, the figures of fortune are on fire in this city. The Chinese New Year that promises to bring good things to all who celebrate it is in full swing around the city. Dragons be gone. The stallion has come to Sin City.
Las Vegas will celebrate Chinese New Year, Jan. 31 – Feb. 16, with a dazzling collection of symbolic decor, traditional Chinese cuisine and activities to commemorate the Year of the Horse.  This year's equine sign is significant because it celebrates strength and resilience. The Year of the Horse is also an excellent year for travel, making Las Vegas the ideal destination to launch this new year.
Festive Decor & Entertainment around Las Vegas
Conservatory & Botanical Gardens at Bellagio has a new exhibit with a fabricated three-tier mountain featuring eight massive stallions – as the number eight represents good luck. The East Garden presents a prosperous money tree with oversized gold coins hanging from branches. Live performances of traditional folk and pop music with authentic Chinese instruments including the erhu, ruan, and pipa take place in the South Garden from 5-6 pm daily.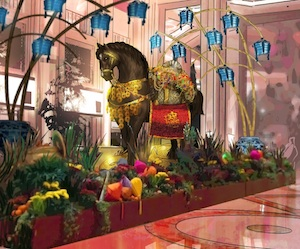 At the Venetian and the Palazzo, the Year of the Horse kicks off with a spectacular dragon dance on Jan. 31 at 3 pm starting at the at the Venetian porte cochere, making its way through the casino to The Waterfall and Atrium Gardens of the Palazzo and beyond. Some of the art to be seen in the exhibit that opened New Year's Eve includes giant horses and intricate deigns for the holiday fabricated and installed by TKO, Orange County, CA-based global art consultants.
"PANDA!" takes the stage at The Palazzo Las Vegas, with a run through Feb. 28. The audience watches an epic journey that follows the heroic quest of LongLong, a warm and caring panda on an adventurous mission to rescue his beloved Peacock Princess who was kidnapped on their wedding day.
Wynn Las Vegas brings 800-pound Tang Dynasty horse sculptures painted red and gilded in gold leaf. The sculptures will be on display through Feb. 14.
Downtown Festivities 
This year, The Smith Center for the Performing Arts offers two special shows that will highlight the spirit of Chinese New Year. On Feb. 16 at 7:30 pm "TAO: Phoenix Rising" takes the stage with a night of Taiko drumming and innovative choreography. Shen Yun performs from Feb. 21-23. This show brings to life 5,000 years of Chinese civilization through classical Chinese dance and music.
The Fremont Street Experience will host "Chinese New Year In the Desert" Feb. 7-9, including a concert series with special guests Victoria Wei Zhong and Henry Chuc, plus Lotus Flowering/Thai Folk Dance, a Muay Thai exhibition and other cultural music and dance performances.
Lion & Dragon Dances Line-Up in Las Vegas
Jan. 31 – 3 pm at The Venetian Las Vegas: A traditional Dragon dance and eye painting ceremony with firecrackers and festive decorations to celebrate the Chinese New Year.
Jan. 31 – 6 pm at MGM Grand: Lion-dancing pioneers Yau Kung Moon will perform a traditional Chinese lion dance that starts at the main lobby and carries through the casino.
Feb. 1 – 4 .pm at Bellagio: A lion and dragon will prance their way through Bellagio's Porte Cochere welcoming guests.
Feb. 1 – 6 pm at Wynn Las Vegas: Guests can experience the traditional dragon dance, which will start at South Valet at Wynn. The parade will wind through the Wynn Casino before making its way to Encore. The procession will feature a 90-foot-long-dragon, eight lions, firecrackers and special acrobatic performance.
Feb. 1 – 5 pm at Flamingo Las Vegas: Traditional lion dance through casino floor.
Feb. 1 – 6 pm at The Quad Resort & Casino: Traditional lion dance through casino floor.
Feb. 1 – 7 pm at Harrah's Las Vegas: Traditional lion dance through casino floor
Feb. 3 – 6 pm at ARIA: Traditional lion dance that will start at the main porte cochere and head through the casino
Feb. 5  – 7:30 pm & 10 pm at Gold Coast: Traditional dragon dance through casino floor. Guests will also enjoy trees filled with candy and tangerines.
Feb. 8 – 12 pm at Planet Hollywood Resort & Casino: Traditional lion dance through casino floor.
Feb. 8  – 1 pm at Paris Las Vegas: Traditional lion dance through casino floor.
Feb. 8 – 2 pm at Bally's Las Vegas: Traditional lion dance through casino floor 
Feb. 8  – 5 pm at Caesars Palace: Traditional lion dance through casino floor.
Feb. 12  – 7 pm at Rio All-Suite Hotel & Casino: Traditional lion dance through casino floor.
Lucky Menus
 Some of this year's festive Asian menus include Dragon Noodle Co. & Sushi Bar at Monte Carlo, which will feature a $29 dinner with three dishes.
Rice & Company at Luxor Hotel and Casino has a four-course meal that features signature selections, including the wicked roll, egg drop soup, kung pao chicken, beef and broccoli, and garlic shrimp with vegetables. The meal ends with the dessert duo of exotic fruits and berries with chocolate passion.
Guests looking for authentic Asian fare may visit Wynn Las Vegas' Wing Lei, for a dim sum lunch buffet from Jan. 30 to Feb. 9 from 11 am to 3 pm
Tea lovers can head to the Mandarin Oriental Las Vegas Tea Lounge. Chinese New Year-inspired pastries, handmade fortune cookies and the traditional Chinese coin in an authentic red envelope will be the highlights of the traditional tea ceremony. Afternoon tea service will be served by staff trained in the art of the traditional Chinese Tea Ceremony and are delighted to share the history of Chinese New Year with guests. Specialty menus are also available at MOzen Bistro and Mandarin Bar.
Other Chinese New Year menus will also be available at FIN at The Mirage, The Grand Wok and Sushi Bar and Pearl at MGM Grand. A special Lunar New Year menu is also being planned at Ming's inside Harrah's Las Vegas Hotel & Casino, Nobu at Nobu Hotel inside Caesars Palace along with Beijing Noodle No. 9 and Express Court at Caesars Palace.