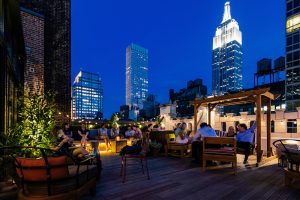 By Stacey Zable
The Refinery Hotel set in the heart of New York City's Fashion District is not only conveniently located walking distance to many of midtown Manhattan's attractions, but is also an interesting attraction in its own right. Transformed into a 197-room boutique hotel, the Refinery was once the Colony Arcade Building, a 20th century high-end millinery factory and tea salon. In addition to providing guest rooms, the hotel offers on-site entertainment and dining in the form of a signature restaurant, lobby bar with live jazz, and an indoor/outdoor rooftop lounge.
As a boutique property, the Refinery excels in personal service. You are greeted with a smile and a complimentary welcome water bottle any time or glass of wine between 5 and 7 pm.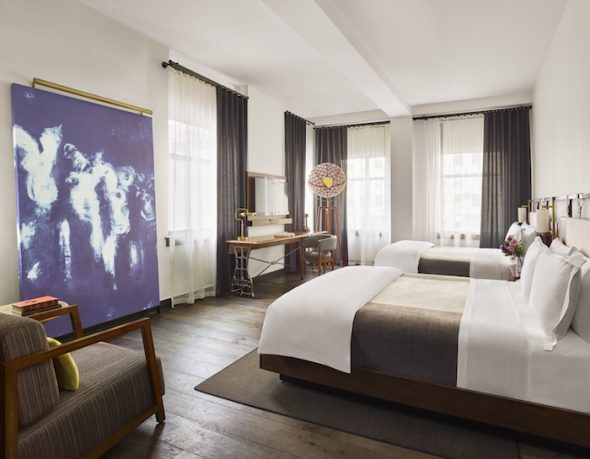 The Refinery's Large Guest Rooms
The 197 loft-like guest rooms and suites boast 12-foot ceilings with contemporary décor that also brings in the hotel's history as early-19th century milliners and hat factories with such touches as dark brushed oak hardwood floors and writing desks that resemble early 1900's sewing machines. A black and white newspaper on the desk not only informs guests about the hotel's offerings but also offers a glimpse into the building's past with articles on its history as well as vintage ads from its factory days. Modern-day offerings include The White Company bathroom amenities, exclusive to Refinery Hotel, as well as Wi-Fi, 42-inch flat screen LCD HD TVs, custom designed linens and bedding from Frette, custom-designed bathrobes, iHome docking station, charger, radio, and alarm clocks.
The Refinery Hotel's Location
The Refinery Hotel is located at 38th Street near 6h Avenue, making it walking distance to Times Square and Broadway theaters. It is only a few blocks from Bryant Park and the Empire State Building. Nearby subway and bus access can easily get visitors around the city to other sites and attractions.
Dining at The Refinery
The hotel's restaurant, Parker & Quinn, attracts not only hotel guests but locals and visitors looking for an excellent meal for breakfast, lunch, and dinner. It also handles the hotel's daily room service. The vintage feel of the hotel continues at the large restaurant with designs that harken to the 1900s with a bit of modern day thrown in. Elevated pub-style leather booth seating, red leatherback stool seats, gilded mirrors, and marble bars are paired with an open kitchen. Menus are dominated by American dishes made with locally-sourced ingredients.
Nightlife near The Refinery
Guests may be steps from the theatre district and all that NYC offers in terms of music and evening excitement, but the Refinery Hotel offers its own slice of New York-nightlife without ever having to leave the building. Winnie's Jazz Bar in the lobby (named after the owner of the tea salon in the original Colony Arcade Building) provides nightly live jazz performances (except Sunday) in an intimate space. The Refinery Rooftop features a retractable glass roof making it a year-round must with local jazz performers and live DJs adding to the fun. Cozy touches that come with a view of the Empire State Building include swing chairs, sofas, and a lounge area with fireplace, fountain, brick walls, and ceilings made from wood from the building's original water tanks. Pair the craft cocktails with the lunch or light evening menus.
Room rates: starting at $459, double, per night.
Contact: (646) 664-0310; www.refineryhotelnewyork.com
Stacey Zable is the Family Travel Editor for Travel-Intel. Visit her site at staceyzable.com.
More Stories by Stacey Zable: