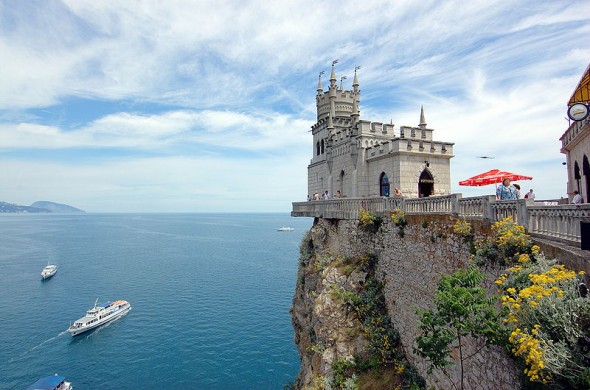 With tensions mounting in the tenuous bonds between the U.S. and Russia and the former Soviet states, tourism has, surprisingly, not been taking the hits. Travel-Intel talks to Douglas Grimes, President and founder of MIR Corp., one of the leading operators of travel to Russia and the Ukraine for the past quarter century to find out what travelers are demanding for booking travel to this region.
1) In light of the destabilization of the Ukraine and the tragedies that have followed, how safe it is these days for North Americans to travel to Russia?
Daily life in Russia goes on normally, and we expect that to continue. MIR trips to Russia are taking place as scheduled and have operated without interruption. We do not see anything at this time to indicate any security or operational issues that would impede trips for leisure travelers bound for the cultural centers of Russia and along the Trans-Siberian Railway or elsewhere in Russia (other than the border area with Ukraine, of course, which is not a tourism area anyway).
2) Is there demand? Have you seen a surge in cancellations following the Malaysia Airlines incident?
In terms of demand, we continue to receive inquiries and requests for more information on trips for 2015, including to Russia. This time of year, being a bit between seasons, is historically a softer booking window for us in general so it's harder to ascertain if or precisely how much demand may have been impacted. But we have not seen a rise in cancellations in the past weeks.
3) How are you handling tours that touch on the Ukraine?
Itineraries that originally included Crimea have been redesigned or put on hold. Some travel to parts of Ukraine such as Kiev and Western Ukraine remain scheduled.
4) What are your most popular tours to Russia and the former Eastern Bloc countries?
The Trans-Siberian Railway trips (we have many) and trips long the Silk Route ("Journey Through Central Asia: the Five 'Stans") and the South Caucasus (Georgia, Armenia, Azerbaijan:  "Treasures of the South Caucasus") have been top sellers for many years and continue to garner significant interest.
5) What kinds of special permissions and visas are required these days for Americans and Canadians who want to travel to these lands?
For Americans, visas are required for Russia and 3 out of 5 of the Central Asian 'Stan countries (Uzbekistan, Tajikistan and Turkmenistan.  Kyrgyzstan and Kazakhstan are visa-free for US travelers – the Kazakhs have just recently made this change effective July 15).
6) Did you have any tours or travelers in contested regions since the ousting of the former Ukraine president and subsequent incursions by Russian-backed rebel forces?
We have not had travelers in contested regions of Crimea or Eastern Ukraine since the ousting of the president in Ukraine. While Crimea was a more common travel destination, Eastern Ukraine never was for us.
7) What types of tours are travel agents most inclined to book?
Private journeys to all MIR destinations as well as Trans-Siberian trips tend to be trips that agents book regularly.
8) What types of tours to Russia would you like agents to know about that they might not know about and that would make great products for their North American clients these days?
MIR created a new (and award winning) trip for 2015:  "A Chronicle of Russian Cuisine & Culture"
Russia is the largest country on earth – and as such, there is amazing diversity here – and in all seasons. MIR offers custom travel to nearly every corner of Russia and offers a series of group tours that span the country from North to South and East to West. Aside from cultural classics in the West and continent-spanning Trans-Siberian rail journeys, there's even more to experience.  One area most travelers don't really know much about is Siberia, and its UNESCO World Heritage site, Lake Baikal.
MIR has a wide range of options here including eclectic cultural journeys such as:
9) In light of the disruptions in the Ukraine, what other areas of that region are you likely to promote instead?
Central Asia, Iran, the Balkans, the South Caucasus, Mongolia, Central/East Europe, the Baltics, China and Tibet.
10) What kind of customer is usually the traveler that wants to go to Russia and some of the regional countries you serve?
Russia has so much to offer that the appeal runs deep and wide: from those interested in history, art and culture, to those interested in natural scenery and the great outdoors. If there is a common trait among MIR travelers, perhaps it's that they are inquisitive. Those who seek to understand the cultures–past and present.
11) For your tours serving these areas please give us some ballpark numbers:
Average number of people in a group
Depends on the group of course. Our series of small group tours is capped at maximum 16 (with some departures capped at 12). Group sizes on small group trips are typically in the range of 6-16 travelers. Custom trips range widely since MIR will work with a solo traveler or a choir group of 100 – and any group size in between.
Average cost per person per day, land only
Since we handle custom travel as well – catering from 3 to 5 star ranges, there's no one size fits all number. Russia is more expensive than many people expect, largely due to the accommodations. Hotel demand still far outstrips supply in some categories in both Moscow and St. Petersburg; and Moscow as a business capital also drives prices for the mid-week traveler who has to compete with executives traveling for business. Central Asia, specifically Uzbekistan, remains our best-value destination.
Types of hotels
3-star local boutique hotels to five-star properties and points in between.
Meals covered most days
On group tours yes: the majority or all meals are generally included, depending on the tour. For custom FIT trips, generally breakfast only, unless otherwise requested.
Airlines used or recommended, and airports used for tours to these destinations
Nearly all major carriers from the US, Europe and Asia fly to Moscow and St. Petersburg. For trips to Central Asia, there are fewer options, with Lufthansa and Turkish Airlines offering the greatest number of options into the 'Stans.
12) Finally, why should travel agents trust and book with MIR Corp.? What do you do that other travel companies don't when it comes to taking travelers through Russia and former Eastern Bloc?
MIR specializes in this part of the world, and has done so exclusively for 27 years. We don't do the whole world. MIR, the name means "peace" and "world" in Russian, is a U.S. based award-winning company staffed by knowledgeable travel planners, many with decades of first-hand experience in Russia, Central Asia and Central/East Europe. The full-service (one-stop shop) approach we take to helping agents and the fact we can provide a choice of a selection of finely-crafted escorted group tours plus customized travel to every MIR destination, really sets us apart.
You might say MIR offers agents the best of both worlds: all the assurances of working with an experienced American based travel company staffed by experts with first-hand destination expertise; plus all the benefits of on-site quality control from the MIR affiliated field offices located in Western Russia, Siberia, Ukraine and Uzbekistan.
Related Stories: