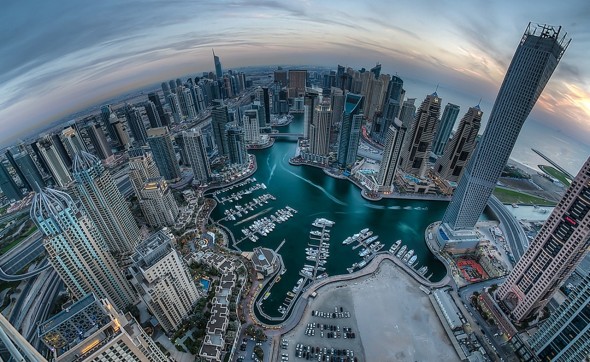 Dubai: City of Gold on stye Arabian Sea …
Looking more, at times, like a film set dreamed up by Stephen Spielberg or George Lucas than a modern city on the sands of the Arabian Gulf, Dubai begs to be noticed. And succeeds. Where Egypt built its monuments to the dead, Dubai raises its towers — each bigger, broader and more brazen than the last — to the living, as an iconic city eternally in search of itself and knowing the answer lives in the next amazing thing.
"When Burj Dubai was first planned, it was to be a 90-storey structure, but Sheikh Mohammed asked us, 'Why stop there?'" said Mohamed Ali Alabbar, Director-General of Dubai's Department of Economic Development said in an interview.
The once backwater pearl-diving port found diamonds in oil development and turned those diamonds into golden sands that shape this desert in cemented steel and glass as one industry after the other makes its Euro-Asian hub on this Persian Gulf peninsula. Within the metropolis of nearly 2 million souls are such places as Media City, Internet City, Healthcare City and Studio City – the largest film backlot in the world, as well as NASCAR City, Dubailand themepark city to add to Dubai Sports City, Industrial City and other superpods of commerce and entertainment. But tourism is Dubai's true gold and it is manifesting its might through an unending lineup of five- to seven-star city and beach resorts, some five dozen luxury malls, a skyline filled with the tallest buildings in the world and construction projects counting more than a fifth of the world's available high rise cranes.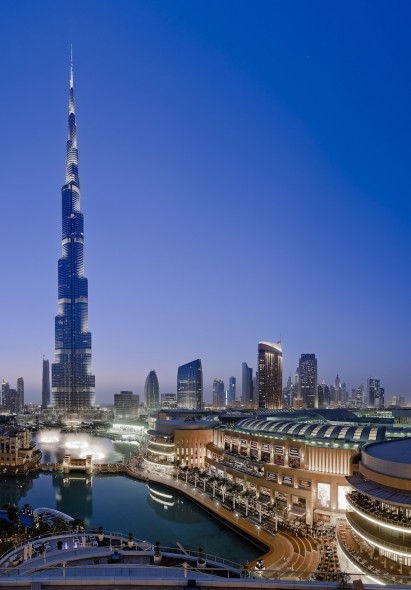 The effect is dizzying. The iconic Burj al Arab, once the tallest building in the land, now nods to the Burj Khalifa Dubai, the tallest building in the world at 2,717 feet (consider what a half mile straight up might look like). At the base of the tower is Dubai Mall with 1,200 stores fronted by amazing water shows, courtesy of WET Design — the force behind Bellagio's fountains and Mirage's volcano. The Mall is only one of 95 luxury shopping megaplexes tucked away inside modern marvels of marble and glass throughout the city.
But why stop there?
The city most recently claimed the sea as its next frontier with a series of man-made island developments in the shapes of palm trees and planets. New hotels are opening just about every week, all with a unique story to tell.
The Palm Jumeirah marked the first of many luxury properties in that area when it opened 2009. The resort corridor connects to the Jumeirah Beach mainland by causeway and monorail. That property, a Sun International brand, brought its characteristic awe (think: Sun City South Africa, Atlantis in the Bahamas) in the form of a mesmerizing aquarium with guest rooms, corridors and attractions looking onto the mysteries of the deep. Not surprisingly, a 40-acre water-themed adventure park filled the backlot with extraordinary rides fashioned around the motif of ancient Mesopotamia.
In the years since the city began its powerful tourism push in the mid 1990s it has become a repository for flagship properties for known and new hospitality brands: Armani, Raffles, Starwood, Element, Pullman, Anantara, the Address, Venu, Yotel, One and Only, Vida, Versace, Cavalli  … and each must demo its standout elements, whether in forward technology amenities, seven-star accommodations or wowing attractions. It started in 2000 when the sail-themed Burj Al Arab opened as a tower in the ocean and was the tallest building in the world at the time (1,090 feet), replete with bi-level, amenity-filled suites with dedicated butlers and nightly rates of $1000.
International operators control about 68 percent of Dubai's 93,000 hotel rooms. By next year that number is expected to rise to 121,000, and will hover at the highest price points: around $1,200 a night or as much as $10,000 for a suite. The city has possibly the highest concentration of five-star hotels in the world and, even at these rates, occupancy levels citywide remain at 80 percent.
Dubai is on track to attract 20 million visitors by the year 2020, a not so lofty goal for a remote desert backwater that is completely invested in keeping ahead of the next big thing. Medical tourism will get a big boost here, as Dubai becomes a hub for cost-effective elective surgeries all managed through a sophisticated system of top-rated hospitals and cooperating luxury resorts. And, not surprisingly, Dubai has become home to one of the world's highest saturations of plastic surgeons.
The city is also becoming a hub of international culinary sophistication. Many of the world's top chefs have showcase kitchens there (think Jean-Georges Vongerichten, Jason Atherton, Gary Rhodes, Pierre Gagnaire, Richard Sandoval, Vineet Bhatia … the list reads like movie credits on a James Cameron epic). Recommended new restaurants include Em Sherif at The Address Downtown for top flight Lebanese cuisine. La Petite Maison at the Dubai International Financial Center offers casual and fresh Mediterranean cuisine. Coya at the Four Seasons serves up legendary Latin American fare. And for those looking for casual, local and ambient samplings, Baker and Spice's Farmers' Market on the Terrace at Jumeirah Towers is an outdoor bazaar of farm fresh produce and fresh baked goods in the shadows of palms and the company of locals.
While there is much to do in Dubai – much of these culturally focused, such as watching a symphony performance, engaging in a local arts exhibition or wandering through heritage museums in the old quarters of Al Bastakiya, shopping is the big Do in Dubai.
Shopping is to Dubai what pools are to Las Vegas – everything is happening at the mall. In fact, shopping is such a piece of the Dubai pie that a month-long annual festival is dedicated to it every February. The city comes alive with shopping events everywhere and chances to win a Rolls here, a solid gold brick there, and Persian carpets by the boatload.
In a city that boils in the summer, activities require all the cool that cheap oil and air conditioning can bring. And that cool includes multitudes of stores showcasing catwalk fashions that appeal to the well-heeled expats that live there (home to 200 nationalities, 75 percent of Dubai's populace is not from Dubai) and the even better heeled Emiratis who crave the latest designs even if they do have to wear them under the black shroud of burkas.
Malls of marble and gold are gathering places for families and friends and usually contain differentiating icons and attractions to keep them full – the Dubai Mall contains a ski slope, for instance, or for those preferring desert environments, visitors will find the Isabel Marant shop there sells ancient Greek sandals.
But not all that glitters in Dubai is gold. For those who would rather take their chances on designer accoutrement that is not really designer-done, Dubai has what is, in this author's opinion, the best selection of "fakes" in the world. Find these stores scattered around the old neighborhoods in Downtown Dubai. Do not be afraid to ask shopkeepers what designer treasures they may be hiding and do not be afraid to dicker on prices.
The gold in Dubai, however, IS real and the streets are lined with it, especially if you visit the Gold Souk, abutting the Spice Souk downtown. The quality is usually 24 karat, sold transparently by the ounce at internationally set rates with no added charge for workmanship. Diamonds, too, come at a discount and bargaining is certainly expected. This is the place to load up. The baubles make great gifts and, of course, you can say you got a great buy in Dubai.
Getting there:
Emirates is the national carrier and offers nonstop flights from nine U.S. gateways, soon to be 10 when Orlando comes on in September. Others are Dallas/Fort Worth, Houston, Los Angeles, New York JFK, San Francisco, Seattle, Toronto, Boston and Washington Dulles. A code share agreement is in place with JetBlue.
More information: www.visitdubai.com
Related Stories: