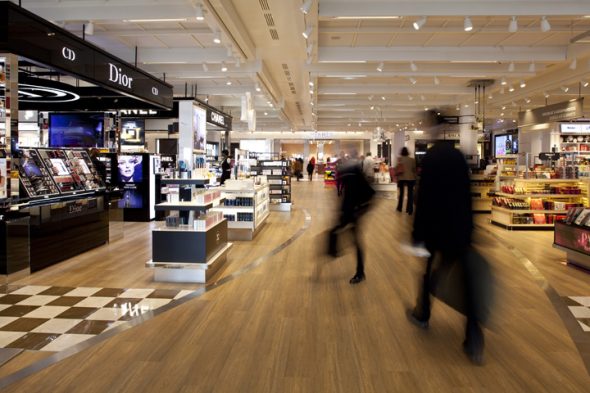 Airports have often been tabbed as destinations in themselves but a new study shows that Airport layovers are now becoming a thing – a piece of the enjoyment travel is supposed to bring.
Forget about queues, delayed flights and lost luggage, more than half (53%) of the frequent travelers polled in a study published last month by Priority Pass, a popular independent airport lounge access program, believe that the airport is something to be enjoyed, with 56% admitting that they would be encouraged to arrive at the airport early to take advantage of duty free and shopping discounts.
The study of almost 3,000 respondents in the UK, UAE, USA, Germany, France, Singapore and Hong Kong reveals unusually positive attitudes when it comes to the airport experience.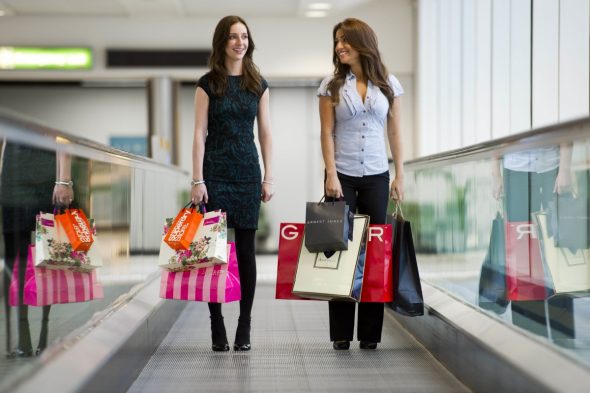 Airport Uplifts through Retail Therapy
The survey sheds new light on the behaviors of consumers at the airport. Two thirds of respondents (64%) agreed that they like to access a bargain at the airport with 35% looking for something luxurious that they would not ordinarily buy. The latter reinforces previous identification of an emerging group of travelers, "The Conspicuous Consumer" who doesn't mind showing status, who seeks luxury at affordable prices and shares their exclusive experiences with friends.
"We may be witnessing an important shift in mind-set when it comes to the airport experience," says Stephen Simpson, Global Marketing Director for Priority Pass. "Today's frequent flyers no longer view themselves as passengers merely transiting the airport but as consumers seeking more rewarding travel journeys."
The airport does not simply provide an opportune moment for last minute shopping; for business flyers, he says, it has become a sanctuary ahead of a long flight thanks to the convenience of the airport lounge. Nearly two thirds (59%) of frequent business flyers consider access to a premium airport lounge to be an 'important' or 'very important' factor when selecting an airport, with 40% admitting to going straight to the lounge and avoiding the shops altogether.
Rise of the Digital Flyer
Separate research carried out by Priority Pass surveyed the world's most affluent consumers and confirmed the rise of the "digital" flyer. Half of European travelers (50%) believe that digital boarding passes and e-tickets make the airport experience much easier, with 24% of travelers using airport mobile apps; a figure that rises to 41% of frequent business flyers.
There is clearly a growing impetus to provide a seamless digital experience at airports, driving new levels of customer service, while reducing the stress of travel and providing a more personalized and intuitive passenger experience. Priority Pass offers a Digital Membership Card for simple, speedy access to most lounges in the program tha can be managed through a smartphone or tablet. The survey revealed that the Conspicuous Consumer also expects to be "always on" and able to take advantage of offers, exclusive benefits and share their travel experiences via social media.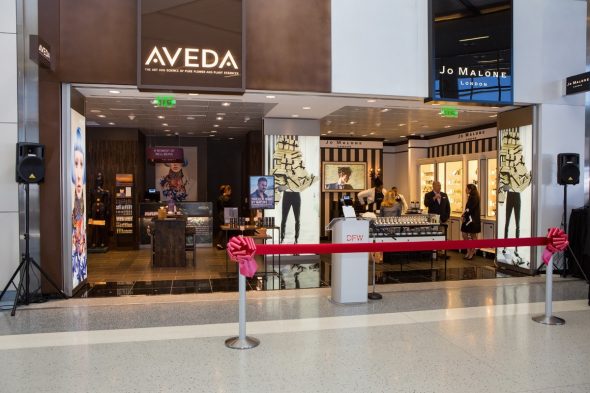 Airport Layover: Relaxation, Retouches and Redo's
In a new development that is not so surprising given the amenities airports are now expected to offer, Aveda, Jo Malone London and MAC Cosmetics have made a new home in the Dallas/Ft. Worth Airport (DFW), bringing new luxury beauty options to customers traveling through International Terminal D. The three stores — all of part of the Estée Lauder brand portfolio – each have two locations at D18 and D25, respectively. DFW Airport has added a number of retail and dining options to International Terminal D, including Coach, Hugo Boss, L'Occitane, Montblanc, TUMI, Sky Canyon by Stephan Pyles, III Forks Prime Steakhouse and Dylan's Candy Bar. In 2015, DFW selected TRG Duty Free Joint Venture to design and operate new, state-of-the-art duty-free shops in International Terminal D beginning in 2017.
Having a brand hair salon means waiting and layover time can be used to fit in those beauty appointments that cannot be squeezed in ahead of time. Travelers need not worry about cosmetics or skin care products they forgot to bring and the airport becomes another place where relaxation and purpose combine.
"This significant advancement in retail elevates DFW Airport into the top echelon of global retail innovation," says Olivier Bottrie, president of Travel Retail Worldwide at Estée Lauder. "Visitors to these stores will be able to experience the most recent product introductions from these brands and receive a range of services particularly convenient for the traveling consumer."
The Airport Experience Survey research was conducted through an online survey in UK, UAE, USA, Germany, France, Singapore and Hong Kong with 2,906 respondents during January 2016.
The Mass Affluent research conducted in January 2016 surveyed 6,125 respondents across 10 countries and regions – UK, US, India, France, Brazil, Singapore, mainland China, UAE, Australia and Hong Kong.