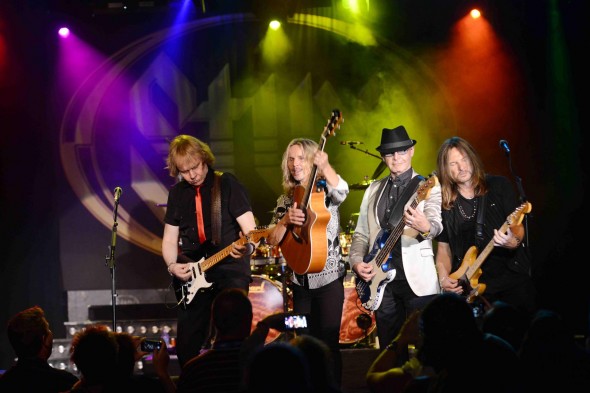 By David Yeskel
In a continuing effort to ratchet up the quality of its onboard entertainment offerings, Carnival this year introduced the Carnival LIVE Concert Series, an initiative that appears to be paying dividends among the line's core passenger base while also appealing to first-time cruisers.  While onboard Carnival Inspiration's 4-day Baja Mexico cruise from L.A. last month, I joined 900 other rocking souls to experience '70s pop-rock band Styx perform in the ship's theater during a port call in Catalina Island.
Launched in early 2014, the Carnival LIVE Concert Series is a unique twist in onboard entertainment, essentially offering passengers the ability to see a marquee act perform in the relative intimacy of the ship's main showroom at a cost of $20 – $40 per person for general admission.  The combination of the showroom size (900 – 1,300 seats, depending on the ship) and the low ticket price (as compared to land-based, live concerts) offers a value proposition that certainly favors the guest.  Note:  for 2015 sailings, the general admission ticket price range will be $35 – $60.
Although I harbored no expectations of how the actual experience would play out onboard, I was ultimately impressed by the concert experience and the somewhat-delicate nature of handling the concert ticket haves and have-nots.  Since the acts perform in the ship's theater when the ship is docked (or anchored) in port, only passengers have the ability to purchase tickets and attend the shows.  The first-come, first-serve policy obviously benefits those who book their cruise early, and can thus buy their concert tickets online, pre-cruise.  On my sailing, there were about 240 concert tickets still available at boarding time, but heavy onboard promotion ensured that those were quickly scooped up.  Guest Relations staff were then left to diplomatically inform potential ticket-buyers that the event was sold out, much to their disappointment.
Prior to the 9:30 p.m. show, those with VIP tickets ($100 – $150 in 2014; $125-$250 in 2015) gathered in a small lounge for a private meet-and-greet with the band before taking their seats in the Paris Show Lounge's first three rows.  As Styx took the stage, their devoted fans – many of whom booked this sailing because of their allegiance to the band – roared their hearty approval.  And those in the VIP section of the theater didn't spend much time actually sitting in their seats.  Styx's sound has held up well, with early band members Tommy Shaw and James Young alternating as frontmen while faithfully performing some of their most beloved hits, including "Too Much Time on My Hands" and "Renegade."
Other acts appearing across the fleet during 2014 include REO Speedwagon, Kansas, LeAnn Rimes, Trace Adkins, Jewel, Lady Antebellum and Daughtry.  Performances by Journey, Little Big Town, Smokey Robinson, Styx and Rascal Flatts will highlight the spring 2015 concert series.  For the remainder of 2014, Carnival LIVE concerts will be held aboard ship in one of only three ports:  Nassau, Bahamas; Cozumel, Mexico; or Catalina Island, California.  St. Thomas will be added to the series in 2015.   In no case do the performers actually sail; they board the ship the night of the concert, then depart immediately after the show.  A full schedule of Carnival LIVE concert sailings, recently updated for departures through June, 2015, can be found here.
Sailing roundtrip from Los Angeles (port of Long Beach) on year-round, 3- and 4-night Baja Mexico itineraries, the Carnival Inspiration, along with sister-ship Carnival Imagination, are two of the line's older, Fantasy-class vessels.  Each carrying 2,048 passengers, the ships appeal to first-time cruisers eager to experience cruising without breaking the bank – or burning too much vacation time.  And since no other line has a year-round, short-cruise presence on the West Coast, Carnival dominates this market.  Even so, Carnival management has long insisted that their primary competition isn't other cruise lines, but rather Las Vegas and Orlando.  And these two ships are positioned, priced and operated to take on the drive-in, Las Vegas market head-to-head, with per person rates starting as low as $40 per night.  Short cruises have always been party-hearty ventures – cramming in all the fun in a short timeframe – and the experience here is no different.  And while these ships certainly lack many of the features and functionality of the line's newer tonnage, the value offered by the low per diems were an obvious draw and left even experienced cruisers I spoke with satisfied with their experience.
Judging by the range of acts on the Carnival LIVE schedule, it's obvious that the line has carefully curated the concert series to appeal to multiple demographic segments, thereby broadening the passenger base.    And based on what I experienced, that's a win-win for all.
David Yeskel is a veteran cruise industry reporter. Follow David Yeskel, The Cruise Guru, on Twitter at @CruiseGuru_
Related Stories: