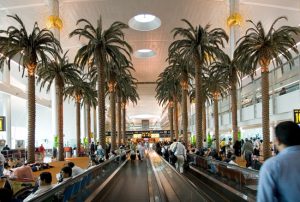 If you have to be stuck in transit for hours or even a day you might want to consider these airports for making time fly. Sitting at an airport is familiar business for those who fly a lot and cancelled flights, missed connections and lazy travel agents can turn a simple trip into a lesson in Chinese water torture.
But airports have caught on to the all too common dilemma of long layovers and have turned their facilities, in varying degrees, into shopping meccas, fitness corners, efficient spas, and quasi hotels.
If you are traveling internationally, airports are mini-tax free metropolises where you can buy anything from Persian carpets, Cuban cigars, Beluga caviar and gold by the ounce to a name-brand lipstick without breaking a sweat. If you are traveling domestically you may be lucky to find five minutes of complimentary Wifi or a place to charge your phone, but some airports are trying to change that.
Buy Buy Dubai
The international airline terminal at Dubai International Airport (DBX) is a mile-long aisle of style end to end with such designer shops as Tiffany, D&G, Fendi, Nike and shops selling gold by the bullion or brick competing with, well, those standard duty-free juggernauts.
It's a mini Rodeo Drive where, if gold, diamonds, Godiva chocolates or beluga caviar don't do it for you, perhaps a Starbuck's or a plain Pinkberry with coconut and strawberries will.
The airport offers a hotel, rentable by the hour for $50 during the day, $60 at night; or by the 24-hour period for $334. And with it comes Internet and use of a business center. And plugs.
However, in this forward-focused country that sells bejeweled Vertu phones in casual airport kiosks, plugs for charging said phones are at a minimum and highly sought by today's charge-hungry travelers.
What can be found easily enough, however, are welcomed phalanxes of lounge-style chairs, often occupied by restful travelers. The Marhaba Lounge costs $45 and accepts any class of passenger into its lair for a variety of sandwiches and fruit, with PCs at the ready, and comfortable loveseats available. Also enjoy the boosted Internet (the pubic Wifi is free but not powerful).
Passengers can wander through a fake woodsy park in the middle of the terminal or have photos taken with you buddies at a pro photo stand. Find all those Apple iPod accessories that manage to get lost in transit. And yes, you can have liquor. Authorities in Dubai tend to look away when it comes to hotels and airports.
Beating the Heat in Bangkok
Suvarnabhumi Airport (BKK) Airport opened in 2006 — a modern megalopolis with a name that means Golden Land. Today, that airport is hopping with all manor of shops, restaurants, and, thankfully, spas.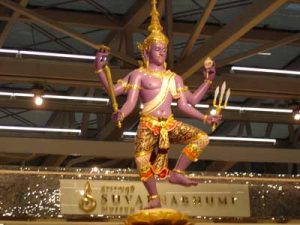 Wifi here is free and works but you need to get a code from one of the many information kiosks scattered around the international terminal.
Then there is the price test. While Thailand is a value destination where the dollar and Euro can buy a lot of tuk tuk time, quality fake watches and steaming pad thai, prices in the airport are pretty standard international airport prices. Name brand luggage with warrantees can be found for under $100 in many stores. Name brand purses? Well, not so much. But name sports accessories often see sales.
Delicious Thai dinners cost about $12. And a Subway franchise serves up a satisfying turkey sub for $4.
It's the hour-long foot massage that can be had at any of four spas that comes up the winner in the airports-to-be-stranded-in contest. The massage cost about $20 on a lounge chair in a non-private salon room with many such chairs. No lingering, though.
Finally, sleep. At various ends of the corridors large rambling spaces contain large Jens Risom chairs, comfortable couches (and wall plugs).
At Suvarnabhumi, it is possible to bypass the airport experience and head into town by the rail link between the airport and Makkasan terminal in the city. Lockers at the airport can accommodate medium-sized bags and the 28.5 km trip into central Bangkok takes 15 minutes by express train and 30 minutes by commuter for just a dollar or two.
Inching Away the Hours at Inchon
Inchon gets the Oscar for great airport acts and wowing international passengers out of their lengthy layover blues. Just as transit passengers are getting their walking legs back as they enter the international terminal a kiosk stands in bold lettering: Transit Tours Information.
For anyone with more than a few hours to kill, HanaTour runs an airport concession that takes these air passengers into Seoul and shows them a good time. As Seoul is some 50 miles from the airport, you really need at least 6 hours to be able to say you saw Seoul on your time between flights. There is a Best of Seoul tour that takes in the Changdeok Palace, the Jogyesaa Temple and hip 'n happening Insadong for artful shopping. A Myeong-dong Tour heads to Gwanghwamun Palace, Cheonggyecheon Stream that flows through the downtown business district and Myeong-dong, the Fifth Avenue of Seoul.
Another tour takes you to the DMZ for a quick gander at North Korea, if shopping and temples are not your passion. Most tours cost between $20 and $50 per person, often with English-speaking guide, a VIP comfort bus and lunch. If you only have three hours you can go local and tour the area around Incheon. If you have four hours and $1,800 to spend you can have a full medical workover at Inha University Hospital. All tours have scheduled departure and return times.
Less adventurous passengers can avail themselves of the complimentary showers on the third floor (small towel included). Follow up that shower on one of the four free massage chairs placed in a quiet space nearby. Or snooze away on several zero gravity loungers. Energetic travelers can hang in the business center with complimentary computers and Wifi.
Further down the hall find a library, a hotel (six hours for $56), a bar and café all quiet and barely populated as this level is one up from bustle of the airport's duty-free malls. Passengers flying Asiana can cash in on the airline's policy to provide a free hotel room with layovers exceeding eight hours. Or accept the 30 percent discount given to all passengers to use a comfortable airport lounge. Thus, for $20 for Asiana passengers or $33 for others a stately lounge can be enjoyed for five hours (although no one is counting).  Find a massage chair as well as a bank of computers, plenty of table space, couches, CNN, magazines in English and a fantastic buffet selection of healthy food: seaweed soups, fresh salad fixings, sandwiches, a variety of hot veggie and meaty Korean stews, and libations that include beer and wine. Explore the spa across the hall and deliberate over getting a manicure for $20 or a shiatsu massage for $40.
Downstairs on the second level, the corridors crowd with shoppers avidly hunting and actually finding bargains among the designer goods. But within the frenzy are pods of peace: places where one can paint and create. The airport offers special zones for passengers to try their skills at creating traditional Korean artworks with worktables, materials and local artists to explain it all. Children join the adults in learning how to mix stamp prints with watercolors. Elsewhere a violinist and cellist may be performing on a stage by an electronics shop. Elsewhere, catch a procession of men and women intricate traditional garb launching into a colorful performance on Korean piety.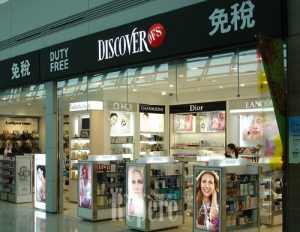 American Sigh
Airports in the U.S. are much less grand than these international counterparts. Hopefully, for American passengers, those 8-12-hr layovers abroad turn into 2- to 3-hour layovers, if not taking the ever-delayed bottom barrel carriers that charge you to take a purse aboard.
But a few airports stand out for offering a little extra something to the passenger experience while adding a health benefit or two.
Both Dallas-Fort Worth International Airport and San Francisco International Airport turn up the chi with complimentary yoga rooms in their terminals. At DFI it's Tmerinal D, gate D40. At SFX, it's in Terminal 2 just past Security. These are only studios, though. You have to BYOC (bring your own class).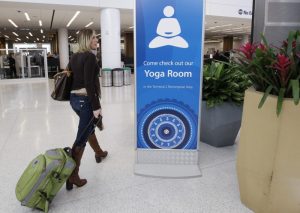 var _gaq = _gaq || []; _gaq.push(['_setAccount', 'UA-31024633-1']); _gaq.push(['_trackPageview']);
(function() { var ga = document.createElement('script'); ga.type = 'text/javascript'; ga.async = true; ga.src = ('https:' == document.location.protocol ? 'https://ssl' : 'http://www') + '.google-analytics.com/ga.js'; var s = document.getElementsByTagName('script')[0]; s.parentNode.insertBefore(ga, s); })();
Meanwhile, for those passengers who need a little direction, several airports, including Indianapolis, Cleveland, St. Louis and DFW, have rolled out colored walking paths through different terminals in half-mile lengths in case the pedometer breaks. Terminal walkers will no doubt bypass the Cinnabuns counter for choices of yogurt and fresh fruit, now more of a staple at U.S. airports.
McCarran International Airport in Las Vegas was, until recently the proud possessor of America's only airport gym and workout club. But the facility shut for lack of use. Probably because it was in the basement, far beyond the ring of slots, and virtually unknown to anyone but locals.
Stuck gym rats, however, can find the nearest workout room from the airport they're caged in, even if it means grabbing a taxi and braving that security line again, through this helpful, just-in-time website www.airportgyms.com.