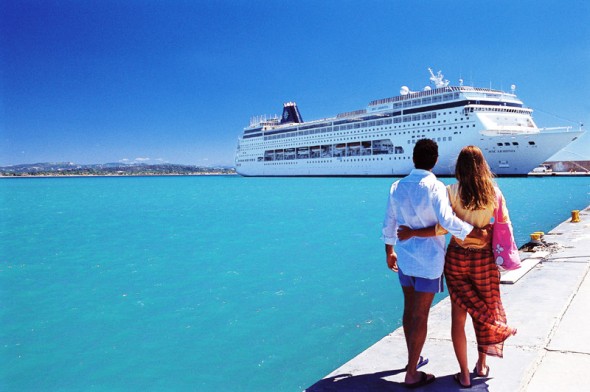 These days, with hundreds of cruise ships vying to catch the eye and interest of travelers, a travel agent's expertise is invaluable when sorting through the myriad choices facing consumers in this ever-expanding universe of cruise options.  Consumers should seek out a cruise specialist to help guide them to a ship that's the right fit for them.  For travelers who aren't savvy about the cruise industry's offerings, buying a cruise from an impersonal Online Travel Agency or OTA is a crapshoot that can result in a vacation that underwhelms, or worse, under-delivers their expectations.
As recently as five years ago, a cruise itinerary was paramount in a consumer's decision process.  But more and more, cruise ships are now destinations unto themselves, with myriad dining, entertainment and activity options that surpass anything a land-based resort can offer.
In many cases, the ports of call are a secondary decision point. With up to 20 restaurants, activities like ropes courses, water slides, wave machines and even skydiving simulators, modern, mass-market cruise ships offer their passengers a completely encapsulated vacation experience.  In fact, some passengers no longer leave the ships while in port, preferring to take in the ship surroundings over a new city or beachfront destination.
There are some three dozen cruise lines, including adventure ships and river cruise companies, under the banner of CLIA: the Cruise Line Industry Association. The lines vary in size, numbers, themes and purpose, making cruise choices more complex than ever. While some vacationers just want a 24-hour party at sea, others will want to put thumbtacks on a map and see as much as they can of a destination before heading off to the next port. Others are looking to have a dignified travel experience without packing and unpacking more than once, while still other vacationers see the value of a family vacation where everyone is engaged and entertained in a relatively safe environment.
David Yeskel, a.k.a. "The Cruise Guru" offers these tips and considerations for those who may choose to cruise in the coming months. His underlining piece of advice: not all cruises are created equal and not all cruises are alike. Know what you want first for the fit to be right.
What are the top things to consider when searching for a cruise?
More and more with all the cruise choices available, travelers need to find the cruise that is the right fit for them, and this is becoming increasingly difficult because of the number of options available. Travelers need to focus on what is important to them.
What kinds of activities do you want to have access to on the ship? Ropes? Flow rider surfing and water slides? Or something slightly more sedate without the amuse park on the top deck?
Those are the two main concepts to consider when making a determination. There are really three broad segments in the mainstream ocean cruise industry: mass market with ships like Carnival, Royal Caribbean and Norwegian (those are the larger 3,000+ passenger ships with most activities and the amusement park top decks).
The premium segment is about the ships that are slightly smaller, say 1000-3000 and higher crew to passenger ratios. They are known for offering better cuisine and better service.
Then you have the luxury segment and those are typically ships carrying less than 1,000 pass with higher ratios in space and crew to passenger figures, and even more laser focus on cuisine and cultural experiences.
What are some popular cruise choices for the winter season coming up?
The Caribbean is always most popular cruise region in winter and for the obvious reason of warmer weather. Cruise lines accommodate this by placing most of their inventory in the Caribbean in winter. And for the last couple of seasons there has been excess in inventory there and travel deals to scoop up. There is still a lot of capacity in the Caribbean, although not as much as the past two years, but across all segments there are still some good deals to be found.
What are the top caveats or concerns to be noted in cruise choice and how can some of these issues be solved?
The biggest caveat to consider is onboard spending. That can end up equaling or exceeding the cost of the cruise fare. So people need to be aware that on most of mass market and premium lines the cost of alcohol can be huge. But must lines now offer pre-paid beverage packages and that is a smart move for travelers who consume more than a certain threshold per day.
Regarding shore excursions – especially in the Caribbean– passengers really do not need to purchase these tours. They can go on their own very easily and get around easily with a taxi or private car and still end up saving. In other destinations, though, it may be harder to navigate and passengers often are better off buying through the ship. It might not be much cheaper to put something together on your own and then you have to account for the fact that many of the destination ground operators and tour companies are locked up by cruise lines so they are not even available to be booked by passengers. A lot of lines have deals with the destination companies and cannot sell to individuals, plus it is a question of whether they will be of a certain standard or quality, whether they are safe and even whether they will get passengers back to the ship on time.
For luxury passengers, booking a private meet-and-greet car tour through a third party may be possible but it requires some research upfront and that's when travel agents can get involved and add value.
What are your favorite cruise lines and why?
The best values these days are in premium cruise line segment, specifically Holland America and Celebrity. They often sell at prices comparable to mass-market sailings and their onboard product, the cuisine, the cultural enrichment, the service — these are markedly superior to mass market lines. If a travelers are not looking for water slides and surfing simulators then the premium lines like HAL ands Celebrity are a much better fit and, at times, a much better value for the same dollar.
David Yeskel is The Cruise Guru on Twitter. Find him at @cruiseguru_ and Oceancruise.guru
Top Cruise Ships, Top Categories: The Verdict
Global demand for cruising reached 22.04 million passengers[1] in 2014, up 68 percent from 13.1 million passengers in 2004, according to a new study from Cruise Lines International Association (CLIA), the largest cruise industry trade association and the leading authority of the global cruise community. Since 2013, demand for cruising grew 3.4 percent, from 21.3 million passengers.
A survey by U.S. News & World Report this month factored in a number of elements, such as expert opinion and CDC reports to come up with a comprehensive list of the best cruise lines according to category.
For the Money
1. Royal Caribbean International
2. Carnival Cruise Lines
3. Celebrity Cruises
For Families
1. Disney Cruise Line
2. Royal Caribbean International
3. Carnival Cruise Lines
For Romance
1. Crystal Cruises
2. Regent Seven Seas Cruises
3. Azamara Club Cruises
For Luxury
1. Crystal Cruises
2. Regent Seven Seas Cruises
3. Azamara Club Cruises
In the Caribbean
1. Disney Cruise Line
2. Royal Caribbean International
3. Celebrity Cruises
In the Mediterranean
1. Regent Seven Seas Cruises
2. Azamara Club Cruises
3. Silversea Cruises
Related Stories: