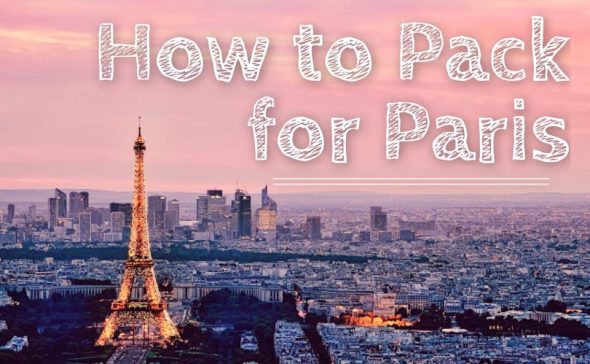 Paris may be loveable in every season of the year but packing for those moments can put a damper on the romance. Packing for Paris requires careful consideration. Winter can be bone chilling: wet snows, whipping winds chills, nights that dip into the teens. Spring and fall are lovely, indeed, with a mix of temperatures and conditions that require a handy pocket umbrella and a course in layering. Summer in Paris is pure splendor, with and without the crowds. And in July the time is sublime with warm, dry, sunny days. The average temperature for this time of year starts off at around 65 degrees at the beginning of July and inches up to a balmy 68 degrees by the end.
So what to pack? First consideration: leave the shorts at home. Scanty hippy-garb and sloppy backpacker duds are definitely démodé in the City of Lights. Even the canines sport a certain fashion sense on these bustling sidewalks. But that said, casual can be simplement in France.
Black is always Fashionable in Paris
On the sidewalks of Paris, black is the new black. Black is always hip, always fashionable, and always great for packing. It goes with just about anything else you can bring, including those cool new bootcut jeans you are bought just for the trip. Dark-washed denim is flexible and flattering. Leave the tie-dyed stuff at home. Grays and beiges can complement blacks for an element of stylish, understated chic.
French people love their stripes so feel free to bring yours and get lost in a crowd that invented the Marcel Marceau style guide to great miming and black-and-white striped long-sleeved cotton T-shirts.
Add a scarf. In fact bring three in a variety of hues and patterns. Scarves are always in fashion and the French can certainly show you how to tie it, knot it, cast it, wrap it and roll it in ways you would never have considered. They dress up any outfit and, when in Paris, you might feel naked without one.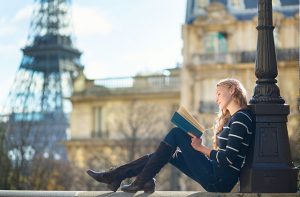 Bring a sweater or two, too: a cardigan and pullover. Black is always a good bet. While warm during the days, nights can be a little chilly, especially if the breeze kicks up during the sunset boat ride along the Seine. Consider rain in all outerwear selections and pack a lightweight trench coat. A light sports jacket for summer is a save-all for looking smart, even with a T-shirt. In the spring and fall, consider a sweater-coat instead of a bulky regular coat for to add that needed flair against the elements.
Walking in Paris: Lose the Stilettos
Shoes cannot be given enough emphasis here. Paris is a walking city and you can pack the miles on without even knowing. If a fashion compromise must be made, make it with your soles and where hardy walking shoes through the urban Paris terrain that ranges from mud to gravel to cobblestone to broken sidewalks to the ever-so-smooth promenades of the Champs-Elysees. Bring at least two pairs of "sensible" shoes – an extra just in case. Bring wanderlust sandals – even Birkenstocks, if you must, although other brands, such as TEVA and even Merrells offer some stylish sturdy options. Get your blisters at home. That means that heals can come along but make sure you have given them the test before squeezing them into your essentials. And, of course, pack the flip-flops. These are not just for poolside lounging, they are fungus-saving footwear to be worn in bathrooms and showers wherever you travel.
When it comes to personal items, although you can purchase whatever you need in pharmacies throughout the city, whatnot notions tend to be pricey in these parts. Bring your toothpaste and your tube. Better hotels will supply these for you if you have forgotten, although you might get some famous French service treatment for the asking. Pharmacies in France will supply a lot of drugs that need prescriptions in the U.S. as over the counter commodities. Again, these will be pricey and you may lose something in translation, so best to keep prescriptions handy and safe.
Similarly, leave the hair dryer at home. These are de rigueur in most hotels, regardless of the rates. You will need some voltage switches though for your other electronics. Paris runs on 220 volts so you will need a transformer (and two-round-pronged plug) to run your U.S.-bought items on 110 volts.
Prêt–à–porter: Bring it; Buy it
Le bag: OK, if you want this to be a fashion statement, Longchamp "Le Pliage" bag is happy to oblige. Although common, the lightweight, waterproof Longchamp carryall is always in style, holds its integrity, comes in a flurry of color options and, well, holds everything you need to carry. Find them at any airport and find them on the streets of Paris.
Leave the guides at home. Run Lonely Planet or some dozen other options for guides as apps on your Smartphone. Consider getting the Paris City Pass for getting around and sightseeing. It's an efficient way of getting oriented and pays for itself the minute you enter the Louvre.
Discount Designer Shopping in Paris
And leave room in your luggage for lucky finds in designer duds. Paris may be the epicenter of fashion but savvy wanderers will want to find out where the discounts are. You don't have to pay designer prices to take home an authentic find. A French top discount mall just outside of Paris and adjacent to the Disney Paris theme park is La Vallée Village, basically a Disneyland for shopaholics. Find such brand icons as Anne Fontaine, Berenice, Jimmy Choo, and Valentino (and let's not forget Longchamp), among a host of others offering their designs at rates far below what you would find in the U.S. – even at discount outlets. Special onsite VAT kiosks manage the tax rebates for qualifying purchases. Catch the train to Disney Paris and stop at the Val d'Europe/Serris Montevrain station.
Within Paris enjoy an entire street of outlet stores: rue d'Alessia brings a variety of very high end (and some lower end) designer outlet shops, Sonia Rykiel among them (also at La Vallee). And don't forget foraging through Paris' many high-design consignment shops for those now-affordable Hermes scarves (no worse for the wear) and those Louis Vuitton luggage finds to pack it all up in and bring it home.