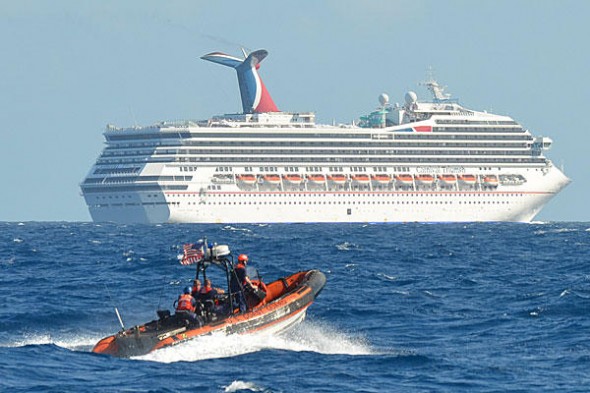 A new poll shows that people's perception of safety and comfort on cruise vacations may be shifting downward given the tide of events on the high seas over the past few years.
The Carnival Triumph's well-noted limp back to shore was the most recent kick off to widespread questions of quality standards and shipboard safety. And to that end, a Harris Poll conducted in March found that Quality, Trust and Purchase Intent scores recorded in the week immediately following the Triumph's return to shore indicated significant drops when compared to scores recorded prior to the incident. The questions were put toward several cruise line companies, not just for Carnival.
"When we first addressed this topic in March, even we were open to the idea that a 'recency bias' of sorts might be impacting the results so soon after the Triumph fiasco, creating a low tide for the industry as a whole," said Harris Poll Insights Vice President Deana Percassi. "But these more recent findings, coupled with reports of heavily discounted pricing on Carnival cruises, indicate that the industry as a whole, as well as the Carnival brand specifically, may still be facing rough seas."
Many suggested at the time that the drops were likely a temporary setback, and that perceptions would soon bounce back. However, a more recent survey of 2,052 U.S. adults (between May 14 and 16, 2013 — prior to the recent fire aboard Royal Caribbean's Grandeur of the Seas) showed perceptions for the top cruise industry brands remained below their pre incident levels and continued to decline.
Cruise Vacation Quality
Looking at specific perceptual measures, the average perceived Quality score across the seven brands tested is down by 13% vs. its pre incident level and 6% compared to the post incident wave of testing. While Carnival's Quality score shows the steepest declines (down 28% vs.12% pre), all of the other brands tested ranged individually from 8%-11% below pre-incident levels.
The average Trust score across the seven brands tested is also down in comparison to both pre (down 12%) and post (down 5%) incident; as with Quality, Trust shows the steepest decline for Carnival Cruise Lines (down 26% vs. pre, 11% vs. post). However, the six other brands tested remain between 8%-12% below pre incident Trust levels.
Purchase Intent has declined, on average, 11% from its pre incident level (and 5% from its post incident level).  While this again affects most of the brands tested (with most down between 7%-15% vs. pre levels), it is worth noting that Holland America's Purchase Intent score has largely weathered this perceptual storm, holding at just 2% below its pre level. Carnival is again hardest hit, down 20% vs. pre, 8% vs. post.
Airlines Getting a Boost from Cruise Incidents
Revisiting statements comparing the cruise industry to air travel – a comparison first made in the February Harris Poll – Americans' inclination to favor air travel over cruises has only increased. Over six in ten Americans (62%) agree that air travel is much more reliable than taking cruises (up from 57% in February), and the majority (56%) agree that air travel is much safer than taking cruises (up from 50% in February).
Roughly half of Americans agree they're less likely to take a cruise now than they were a year ago, with this sentiment proved stronger among those who have never taken a cruise (56%) than among those who have (43%).
One-third of Americans (32%) agree that cruises are "worry-free," down slightly from 35% in February, with past cruise experience again appearing to have a considerable impact on this perception: those who have taken a cruise (51%) are again more than twice as likely to agree that cruises are "worry free" over those who have not (22%).
**Footnote: results are compared, where applicable, to Harris Poll EquiTrend® data collected from January 11, 2013 to February 8, 2013 (the Carnival Triumph incident lasted from February 10-14, 2013) and a Harris Poll of 2,230 U.S. adults surveyed online between February 19 and 21, 2013.