New York: Stay on Top of the World
The ONE UN New York skyscraper hotel, now has Sky-High Weekends with a dedicated Skyscraper Curator and a fun weekend travel package. The NYC hotel focuses on giving guests the best of the renowned NYC skyline in its iconic location adjacent to the United Nations on 44th St. and 1st Ave.
The new Sky-High Weekends in the hotel's luxury West Tower include:
• Sky-High Evenings – A dedicated Skyscraper Curator walks guests through interesting trivia about notable skyscrapers viewable from the hotel's 30th-floor Skyline Club
• Sky-High Education – Complimentary tickets to New York City's Skyscraper Museum in Battery Park for all Sky-High guests (perfect for families).
• Sky-High Accommodations – Luxury West Tower guest rooms with a guaranteed skyline view, including free Wi-Fi and breakfast and evening hors d'oeuvres in the Skyline Club.
• Sky-High Treats – A signature box of 16 Tumbador® Chocolate Bonbons, from the Brooklyn-based chocolatier, and a set of custom-made collectible NYC skyscraper postcards.
The ongoing rate is $294 per night in a West Tower deluxe room, and that includes sky-high amenities, Wi-fi, breakfast, and luxury accommodations (with killer views!).
Contact:
(212) 758-1234
www.millenniumhotels.com/usa/oneunnewyork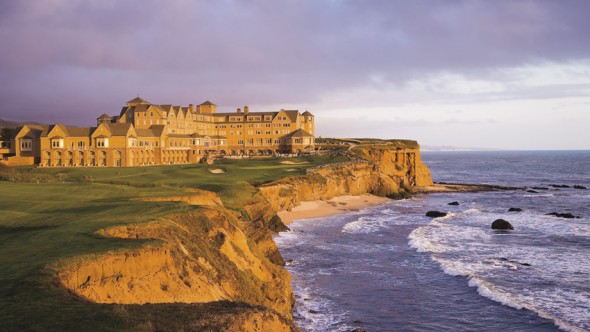 Ritz-Carton Half-Moon Bay offers Packed "Intrigue" Package
The Ritz-Carlton, Half Moon Bay is inviting guests to stay a little longer. The resort's Intrigue Package extends visits with a complimentary night at Northern California's only luxury coastal resort. The Intrigue Package includes a complimentary third night when booking three nights in a coastal view guestroom. The package also features daily breakfast for two , overnight valet parking, and daily resort fee. Guests can also enjoy the Signature Drive, Half Moon Bay's official mapped scenic automobile route that navigates five distinctly different micro-regions including Historic Main Street, the Pumpkin Region, California's Redwood Forest, the Santa Cruz Mountains and the Pacific Coast.  The Intrigue Package is available through March 30, 2014.
Contact:
(650) 712-7000
www.ritzcarlton.com/hmb

La Quinta Rolls Out the Red Carpet with New "Chestnuts & Capra" Package
La Quinta, known for harboring the golden Hollywood crowd with its 41 pools, 796 casitas, suites, villas and vacation homes, seven restaurants, award-winning spa, and 23 tennis courts since it opened in 1927, has a quintessential Hollywood package for the month of December. The hotel's fourth annual Capra-esque celebration during the upcoming holiday season includes a "Chestnuts & Capra" package, which features guest room accommodations, dinner for two at Morgan's, breakfast for two at TWENTY6 and the ultimate pre-dinner perk – roasted chestnuts and cocktails (including the George Bailey, Mary Bailey and Poinsettia) for two. Rates start at $345 for two, excluding taxes and resort fee ($27). Guests can enjoy a variety of seasonal experiences from interactive fudge-making demonstrations to chestnut roasting, holiday cooking classes and the resort's tribute to Capra's iconic holiday movie, "It's a Wonderful Life," which Capra wrote while staying in his favorite La Quinta Resort casita.
Contact:
(760) 564-4111
www.laquintaresort.com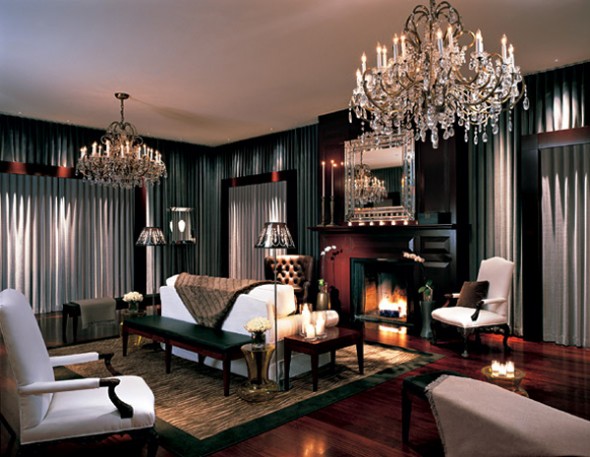 Get a Lift at the Clift in San Francisco with Winter Package
The Clift, now a member of the Morgans Hotel Group, is running The Silver Skates package through January 20, 2014. Guests get a chance to experience a favorite winter pastime at the iconic Holiday Ice Rink in Union Square. The package includes accommodations, complimentary access to the rink, skate rental for two, buffet breakfast, and 20% off dinner at Velvet Room with rates starting at $215. The Clift's 317 guest rooms offer guests a stylish retreat, featuring Philippe Starck-designed English sycamore custom king sleigh beds, whimsical wooden wheelbarrow chairs. The legendary Redwood Room off the lobby was recently restored to a cocktail haven featuring world-class mixology and nightlife
Contact:
(415) 775-4700
Promotion Code: PKSLVR
www.CLIFTHotel.com

Shopping Packages in Seattle, Portland and Nashville
Stay in art-filled properties in Seattle, Portland and Nashville. And enjoy a little seasonal cheer while shopping.
Shop the City in Downtown Seattle
Shop at Pacific Place where five floors of retail wonders await and stay two blocks away at the Hotel Max. Provenance Hotels has a "Max Out Your Holiday Shopping" package that includes a $100 gift certificate to Pacific Place, valet parking and a late 2 pm check out. The package starts at $239 per night, plus tax, available now through January 20, 2013. Call (866) 986-8087,  www.hotelmaxseattle.com.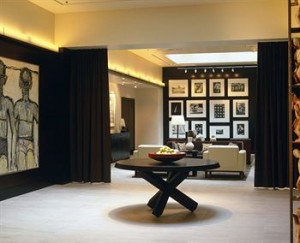 Tax Free, Stress Free Shopping in Portland
There is no sales tax in Oregon, so it makes sense that Portland is a great place for holiday shopping. This season, Provenance Hotels' three locations in the heart of downtown Portland – Hotel Lucia, Hotel deLuxe and the historic Governor Hotel – each has a "Shop Your Socks Off" package that includes a complimentary upgrade to the next available room type; two full-day TriMet passes to ride the city's Max light rail; a coupon book full of savings at nearby Pioneer Place mall; a $20 food and beverage credit; and a late 2 pm check out. At Hotel Lucia, the Shop Your Socks Off package is priced from $179 per night, plus tax, and can be booked at www.hotellucia.com or by calling (866) 986-8086. At Hotel deLuxe, package rates start at $159 per night, plus tax, and can be booked at www.hoteldeluxe.com or by calling (866) 986-8085. At the Governor Hotel, the package starts at $179 per night, plus tax and can be booked at www.governorhotel.com or by calling (888) 246-5631. This package is available through January 15, 2014.
Family Friendly Shopping in Nashville
Hotel Preston, a hip, artsy hotel conveniently located near Nashville Airport, is offering Music City shoppers a little family pampering and some quality time at Opry Mills Mall, a premiere shopping spot. The "Shop 'til You Drop" package includes accommodations; a $20 food & beverage credit; transportation to and from Opry Mills Mall; a kid's activity pack with coloring books and games for little shoppers; discount shopping coupons and a $50 gift certificate good for use at Opry Mills. Priced from $189 per night, plus tax, the package is available through December 30, 2013. Call  (866) 986-8089, www.hotelpreston.com.
Similar Stories: