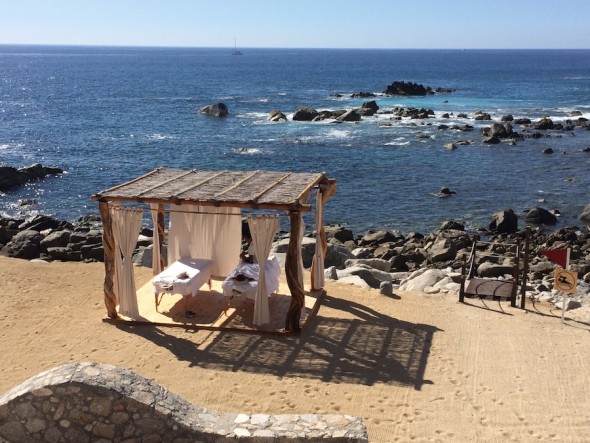 Perched at the bottom of the Baja Peninsula – that jagged arm that juts south into the Pacific from the crowded borders of California – are the rockin' town of Cabo San Lucas and its art town neighbor of San Jose del Cabo. Together they comprise what is widely known as Los Cabos. In some ways the locations could not be more different but they are held together by a steady stream of visitor traffic flowing from a 20-mile corridor of hotels and resorts fondly tagged Millionaire's Row.
For the glitterati of Hollywood, this means roiling breakers and golden sun are but a two-hour private jet tootle from Santa Monica. For the rest of the world the all of what Los Cabos has to offer, from art galleries and haute cuisine to simple crab chasings along the tide pools, is an easy trip on commercial airlines from a variety of U.S. destinations and one that is likely to be as affordable or as expensive as one wishes.
Luxe Lodging in Cabos
The lively line-up of luxury lodging along the lavish oceanfront corridor runs the gamut of mid to luxury class budgets. Think adult all-inclusive, such as Secrets Marquis, to such five-star citadels as the One&Only Palmilla, Capella Pedregal, Rosewood's Las Ventanas al Paraiso, and Auberge Resorts' La Esperanza. Tucked into to this cast of luminaries is a family-owned hotel that whispers luxury rather than shouts it and puts it in reach of a wide range of pockets.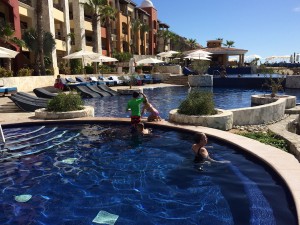 The Hacienda Encantada in Cabo San Lucas is an easy 20-minute drive from the international airport and a convenient spot about equal distance from the harbor hamlet of Cabos San Lucas and the tony town of San Jose del Cabo. However, as an all-inclusive with five dining venues, endless pools, a spa and plenty of loungers looking over the breaking waves, there is not a lot of reason to leave.
The property has 150 rooms with precious kitchenettes, couple-sized Jacuzzi tubs with windows into the room and views, amble closet space, granite and Spanish tile bathrooms, walk-in shower, private commode and pretty much anything else you can ask for. Yes, there is coffee, thanks to handy Hamilton Beach Brew Stations and daily packets of sustenance. But there is breakfast too, probably a highlight of the day in the Las Marias buffet overlooking the surf.
There, wait staff know your name and get your favorite eggs as you pore over the plethora of fresh fruit and hot meal dishes around the food station. The restaurant leads down to some lower levels where gourmet dining lights up the evenings while a harpist strums, waves break and a delicious breeze blows in from the east. Guacamole lovers can learn to make a mean mixture of their own in cuisine classes offered onsite, chips included.
Unlike many of its compadres along these golden miles of, Hacienda Encantada is family owned and you can see touches of that in the décor, the paintings, the furniture choices where flourishes seem to have the personal eye of mothers, aunts and actively involved sons. According to Gabriel Ibarra, Director of Sales and Marketing for Mexico Grand Hotels, the hotel's parent branding, his uncles made their start with opening Carlos 'n Charlies and Señor Frog's. The hotel business was not far behind with Marina Fiesta located right in the center of the action in Cabo San Lucas, and Hacienda Encantada on the tourist corridor.
Opening this spring is the El Encanto de la Hacienda on a stunning spread of oceanfront just steps away from the Hacienda's established accommodations. These are 52 owned studios and multi-bedroom units that will have their own amenities — infinity pool, restaurants, a swim-up bar and a designated event space for weddings, as well as total access to all of the amenities at the main resort. For guests of any Grand Hotel location, an option to book room only is always on the table. But for guests that choose the all-inclusive plan, they can dine at all of the resort's restaurants including those restaurants and eateries located in the party-focused marina of Cabos San Lucas.
Los Cabos: Beyond Los Arcos
Once the dining and the sun dosing pass their prime, and that itch to explore beyond the pool bar takes hold, Los Cabos has a wealth of options for easy day trips that move well past the iconic Los Arcos imprint of the destination. At Hacienda Encantada, there is usually a dedicated concierge or two available to create a packaged outing from most interests. And there is no shortage of tour mongers peddling trips to nearby beaches, whale watching, dolphin petting, horseback riding, dirt-biking, fishing, sailing, snorkeling and the latest darling of must-do activities: flyboarding. Costs run from $30 to $300 per person, depending on choices and time allotments. What is clear, however, is that Los Cabos is much bigger than beach, desert and margaritas. A modicum of curiosity can bring plenty of unexpected action.
Adventurists, especially those with skateboarding proclivities, will want to press their feet to the flyboard for a good 30 minutes of running loops and jumps over the waves. With special boots connected to a skateboard-sized flyboard, an attached hose lets sea water power the rider well above the waves – up to 45 feet in the air. Rates run around $200 for 30 minutes of flight: helmet, lifejacket and boot-rigged flyboard included.
Boat trips into the Sea of Cortez to see the famous Arc-shaped rock formations, as well as the beaches they hide (calm and casual Lover's Beach and the wave pounded Divorce Beach adjacent) are usually managed on small, motorized skiffs or Zodiacs with little shade against the sun. Whale watching is a must for those who want to witness the mighty mating habits of the world's mammoth cetaceans. Of the world's 11 species of whales, eight venture to the waters off Los Cabos, (iminke, bryde, fin, sei, humpback, gray and blue among them) during their winter breeding season in warm waters.
Jacques Cousteau called the Sea of Cortez the World's Aquarium and it lives up to its name with sea lions, whale sharks, manta and mobula rays, dolphins, all manner of microfish and some fascinating bird life.
Art and Culture in the Baja
But not everything Cabos depends on the sea. Two art colonies remind wanderers that Los Cabos has culture, too.
San Jose Del Cabos, at the upper eastern end of the resort corridor, remains a charming and walkable town that is anchored by a church, numerous art galleries, creative notion stores, comely boutiques, a smattering of desirable restaurants and cobbled streets to keep it all within its colonial roots.
The Mission San José del Cabo was founded in 1730 and it was a notable supply stop for galleons traveling to and from the Philippines. The expansive town square is the site of festivals and art walks. On Thursday evenings from November to June, art works fill the campus and most stores stay open late. Getting there can be pricey if you do not rent a car. A one-way cab ride from the Hacienda Encantada will run at least $25.
The other jewel of the area is Todos Santos, a colonial art town in the nearby mountains, about an hour's drive away and best done through a half- or full-day tour package.
The calm there is a nice segue from the frenetic youth and party scene in Los Cabos and the setting evokes a strong element of a different time and place. The central museum of this eight-block town is free for the wandering and offers a casual slice of life, what the town was like a hundred years ago in photos and even earlier in artifacts.
Handmade jewelry, artful notions and colorful cotton wraps and dresses mix in with the drawings and paintings of local artists in the shops inhabiting the old adobes lining the main street. You can tour the mission here, Misión Santa Rosa de las Palmas founded in 1723 and renamed the next year as Nuestra Señora del Pilar de La Paz. You can stay at a cool and undiscovered bed and breakfast at the end of the road and have delicious meal at the Hotel California – the town's centerpiece. The hotel does not confirm or deny any involvement as the focus of the Eagles' song but does offer plenty of odd artworks and preserved ambience for anyone seeking spirits in Cabos.
Dining Delights in Los Cabos
As for dining, the resorts themselves as well as a wealth of options around the marina provide fine fare for crowds seeking the usual staples in a vacation in Mexico: tacos, tortillas, grilled meats, great guac and crevice and flourishes of nopal.
However, surprises await those who want to wander away from the madding crowd. Within the cobbled streets of "Old Town" San Jose del Cabos find Don Sanchez Restaurant. Half fine wine restaurant, half gourmet cantina, the signature among the 15 mojito options on the menu is the watermelon and basil mojito. Chef Todd Chapman puts Iron Chef creativity into his entrees with such choices as cumin-seared yellowtail with strawberry, tomatillo, habanero and cilantro. His Quinoa Crab Duo uses special local seasonings with the hearty Peruvian grain and soft-shelled crab. His favorite local fruit is the pitaya, with which he makes some flavorful desserts and gelatos. Entrees average in the mid $20s.
A must for unusual food experience seekers in Los Cabos is a trip to Flora Farm. It's a hilly ten-acre spread on an elevation not far from the Tourist Corridor and a fave with celebrities seeking real food in a very cool place. Flora Farm is a holistic concept in living and not just a great place to eat fabulous handmade fresh, organic farm food. The farm features several wholly owned (and several fractionally-owned) homes that are all models of what can be done by hand using only locally grown and recycled materials – from kitchen appliances, to bathrooms, to furniture and textiles. The ample gardens are tended by those who live there and for visitors there are park-like grounds, some local dogs and a farm-themed restaurant with picnic tables, a bar that serves cocktails in mason jars, family-style dishes with and without meat, and, usually, a long wait even with reservations. The one must-have if you are just stopping by: the Farmtini a wild hibiscus infused cocktail with ice cold grey goose shaken and served up. Non-drinkers: make it a fresh basil and mint lemonade.
Hacienda Encantada rates start at around $207 per night, with daily breakfast.
For more information about staying in Los Cabos and playing in Los Cabos, check out VisitLosCabos.com and VisitMexico.com.