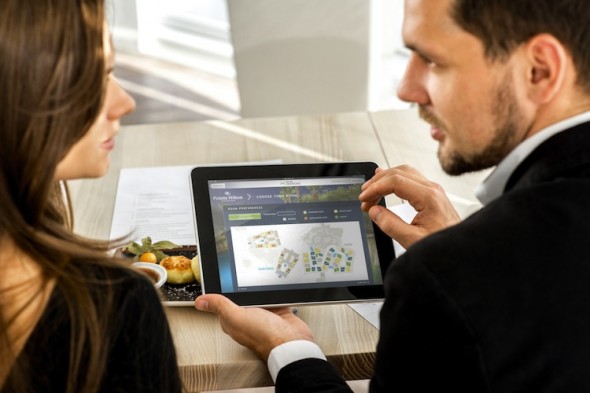 Hilton Hotels has been busy spearheading a noticeable revolution in digital technology in hospitality. No, this is not about "Lost in Space" style robots that bring towels to guestroom doors nor the teleportation of meals to the room – yet. Rather, it is a quiet revolution in conveniences that can be commanded, easily and effortlessly, from the palm of the hand.
Earlier this year, Hilton launched a first for the industry – an app that allows guests to choose their room, upgrades, location, amenities, plus check in (and check out), entirely through their Smartphone. These check-in services are now available at more than 4,000 Hilton Worldwide properties across 11 brands in 80-plus countries via members' Hilton HHonors accounts. As 2015 gets underway, plans are to make it possible to go straight to the guestroom and unlock the door through this same application. These are only the beginning of the possibilities in discussion behind closed doors at the hotel company.
Travel-Intel talked to Dana Shefsky, the veteran Director of Innovation at Hilton Worldwide, about what's afoot in "digital stays" at Hilton properties and what new innovations are on their way.
TI: What is driving this revolution or evolution in guest-focused service technology?
HH: Our industry's future depends on personalization and "connectedness" and these are easily accomplished through mobile devices that can remotely guide guests through their entire travel experience. Now that includes the hospitality experience, as we redefine the guest journey and make it digital.
TI: What would you say is the most significant and "game-changing" of these new technologies?
HH: We have worked on a number of initiatives, but digital check-in is an industry "first." So we empower travelers to select the room they want to stay in, just as they select a seat on a plane or select a rental car model, on their phone. The next evolution of the digital travel journey – room selection — is now available at 4,100 properties worldwide. Guests use this function and love it — and it's catching fire. We are the first hotel company to allow our guests to choose their room from a digital map. They can see images of the room category and also locations. It is near the elevator? A walk down the hall? Near the pool? They can truly customize their experience.
TI: How would you say mobile apps have evolved in the hospitality sphere over the past few years?
HH: Previously, mobile apps were mostly booking-based and there was some customization of amenities. But now, as this app is evolving, you can see the hotel you will be visiting; you can see the weather forecast; you can check out a map, note areas interest, find restaurants nearby. This seems to be the standard that hospitality is moving toward: "connectedness" and customization. We are empowering hotels to talk to their guests who are coming and providing ways for guests to talk to Hilton team members around the world about things they need to know to manage their stays in unfamiliar destinations. This function is managed quite well through Twitter with @hiltonsuggests.
TI: How might Business Travelers in particular be impressed by these new capabilities?
HH: We are seeing various segments of adoption but in, particular, business travelers love the control we provide them – they pick their room, they don't have to wait in line. And while we rolled out digital check-in, we are not stopping at choice of room. In the not so distant future travelers will go straight to their room with access and customization handled completely from their phone.  We're hearing loud and clear that business travelers want the entire experience digitized – literally all in the palm of their hand. So we are rolling out these capabilities to four of our brands by end of year.
A quarter of our business is now conducted on digital channels. Our robust digital functions and amenities are available mostly on our HiltonHonors apps only – and that is where the guest is really empowered and repeat guests are created. Over 70% of the travelers we surveyed said they prefer a brand that allows for them to choose their room and would engage this company over a brand that does not. This point, alone, will allow us to continue to advance.
TI: As a traveler and innovator, what might be your dream vision of an app or in-room technology you would love to see in Hilton's future?
HH: My perfect stay begins at the time of booking. I then get access to content and services that allow me to customize my stay completely. I choose my room, maybe request an upgrade, and when I touch down in the city, the hotel makes contact with me and makes sure my needs are met. I head directly to the room and get into the room and find, when I am finally there, all my at-home preferences have been met seamlessly through my engagement with the app: the lighting and the air temperature are just way I want them. Any room service or pillows I need are already there. And during my stay – access to restaurants and the spa is in my hands. If I need to make a request of the front desk, it's just a text or a chat away. Sky is the limit – this industry is the next frontier for tech advancements. It won't stop at "Smartphone as room key."
TI: How are you marketing these initiatives and getting the word out to travel counselors?
HH: We began a broad marketing push with email and social media ads as well as other things. Word of Mouth is very big for us, especially travel forums and social media. So we have a focus there and we feel this is especially powerful with millennials. Our travel agent sales division is well connected to make sure agents are armed and equipped with digital products and to make sure their clients know about these services.
Similar Stories: