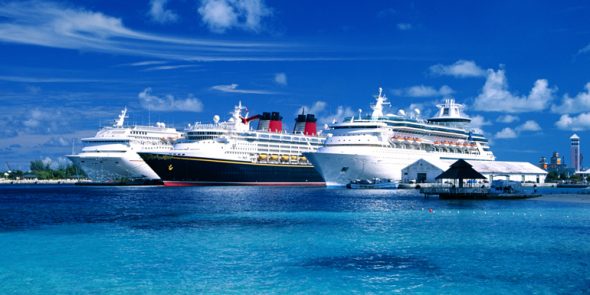 Cruise ship new-builds continue to be hot topic in the travel industry and 2017 promises to be a hot year for this hot topic with a number of new ships coming online from such global shipyards as Fincantieri, Meyer Werft, Meyer Turku and STX France.
"New ships are the life blood of the cruise industry and so many vessels are on the horizon in 2017," says Seatrade Cruise Global Portfolio Director Robyn Duda. "There will be plenty of ship announcements and news of anticipated orders in the pipeline."
Cruise ships preparing to launch in 2017:
American Constellation – The 170-passenger American Constellation is American Cruise Lines' latest coastal cruiser. The maiden voyage is set for May 6, 2017.
Flying Clipper – The new-build from Star Clippers is a five-masted, square-rigged vessel that will feature three pools, including one that funnels sunlight through the ship's atrium into the dining room below and a glass-sided dive-training pool, a watersports platform, an atrium restaurant with open-seating dining and a variety of cabin upgrades.
Majestic Princess – Princess Cruises is building a third ship in its Royal Class to debut in Summer 2017. Majestic Princess will be based in China year-round and will include features catered to the Chinese market.
MSC Seaside – Sailing year-round from Miami and heralding a new class of MSC ship, the MSC Seaside will have a promenade with shops, restaurants and bars. The ship will be 1,060 feet long and 135 feet wide, and have more than 468,000 square feet of public areas, including a theater, a terraced balcony and panoramic lifts with sea views.
Norwegian Joy – The second ship in Norwegian Cruise Line's Breakaway-Plus Class will be 163,000 tons and carry 4,200 passengers. Norwegian Joy will be custom-built for the Chinese market, and it will be deployed full time to Asia, catering to Chinese passengers.
National Geographic Quest – Lindblad Expeditions will welcome the new ship in June 2017 when it is scheduled to sail Alaska and the Pacific Northwest before relocating to Coast Rica and Panama, then to Belize and Guatemala in early 2018. About a third larger than existing Lindblad ships with an additional fourth deck, the 100-passenger coastal vessel will have 50 cabins, 22 of which will have balconies.
Silver Muse – The 40,000-ton ship will be the largest ship in the Silversea fleet and the first vessel in the new three-ship class. The intimate 596-passenger ship is a step toward "ultra-luxury ocean cruising" and will feature all-suite accommodations and a supper club-style specialty restaurant.
Viking Sun – As the fourth of six ships in the Viking Ocean Cruises fleet, this ship will include several of the company's popular riverboat features such as the Aquavit Terrace, an alfresco dining venue, and plenty of outdoor space on the sundeck and beyond.
As more than 24 million passengers are expected to take a cruise in 2017, a new survey looks at what's hot and what's not in for consumers in their cruise line preferences
Best Cruise Lines for 2017: U.S. News Does the Math
U.S. News & World Report, an authority in rankings and consumer advice, has taken the pulse of the cruise industry to come up with the 2017 Best Cruise Lines rankings. The survey evaluated 15 top cruise lines across six categories. The rankings look at the best cruise by brand, region, itinerary and budget.
For the first time, Celebrity Cruises is named the No. 1 Best Cruise Line for the Money and the No. 1 Best Cruise Line in the Mediterranean. Disney Cruise Line earns distinctions both as the Best Cruise Line for Families and the Best Cruise Line in the Caribbean for the fourth consecutive year. Crystal Cruises continues its reign as the Best Luxury Cruise Line and the Best Cruise Line for Couples.
The methodology for the Best Cruise Lines rankings factors in expert evaluations of cruise ship quality, reputation among travelers, results from health assessments conducted by the U.S. Centers for Disease Control and Prevention, and other factors such as price class and itinerary offerings.
2017: Best Cruise Lines Rankings

For the Money    

                                
For Luxury
1. Celebrity Cruises
1. Crystal Cruises
2. Royal Caribbean International
2. Regent Seven Seas Cruises
3. Norwegian Cruise Line
3. Oceania Cruises

For Families  

                                     
For Couples
1. Disney Cruise Line
1. Crystal Cruises
2. Royal Caribbean International
2. Regent Seven Seas Cruises
3. Carnival Cruise Lines
3. Azamara Club Cruises
In The Mediterranean     
In The Caribbean
1. Celebrity Cruises
1. Disney Cruise Line
2. Regent Seven Seas Cruises
2. Celebrity Cruises
3. Oceania Cruises
3. Crystal Cruises