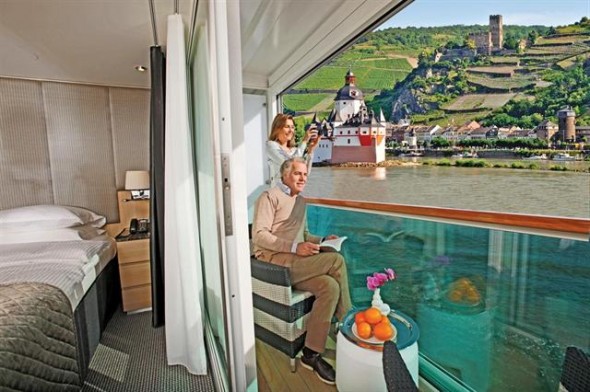 New to the U.S. market, Australia's Scenic Cruises is making heads turn on Europe's classic riverways with a gleaming new "Space-ship" called The Jewel. The 169-passenger vessel is the seventh in the fleet and presents a new kind of luxury for the cruise crowd: a totally all-inclusive vacation.
That means that from the time they land at the airport in Europe, greeted by one of the company's transportation staff, to the time they are dropped back at the airport to depart from their river cruise experience, all elements are taken care of: dining, excursions, transport, guiding and tipping – all of it.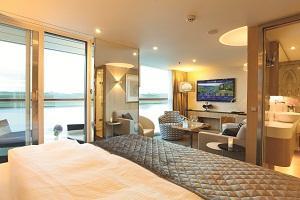 But beyond the all-inclusive sheen, the Jewel offers much more luxury in a trend that seems to be ratcheting up in the competitive river cruise category. As the latest in the line, which includes The Ruby, The Sapphire, The Pearl, The Emerald and The Diamond, The Crystal, the ship is considered a "Space-ship" by company lingo and contains many upgrades in travel not found on other lines. For instance, each cabin on the Jewel comes with a push-button sun lounge. That means each room has a sun terrace that is enclosed by a window to make it a solarium and part of the room in cold weather, or an open glass balcony in warm weather when the top glass comes down with the push of a button. Cabins are ample, uncluttered and modern with 32-inch televisions that also serve as computers, clean glassed-in bathroom, decent closet space, plenty of outlets (220 volts) and a small fridge and snack spot stocked with unending bottles of beer, European wine and chocolates, chips and mineral waters. Beds are amazingly comfortable with large down pillows (and there is a pillow menu available) and high threadcount European linens.
Guests get a daily choice of tours – usually a guided walking tour, guided bicycling tour (the ship carries 10 motorized bicycles onboard for use by guests anytime), a trip to a museum or site of historical significance and an on-your-own option available at all times by GPS programmed listening gadgets able to point out places of interest as you walk near them (each cabin stocks two of these with ear phones).
Each cabin is attended by a resident butler, depending on cabin category (there are four) can manage an array of needs beyond serving morning coffee and afternoon cocktails. And unlike other lines, a tip for these efforts is not even on the table.
"Once you board this ship, you put your wallet away," says Anna Wolfsteiner, who heads international marketing and distribution for the company.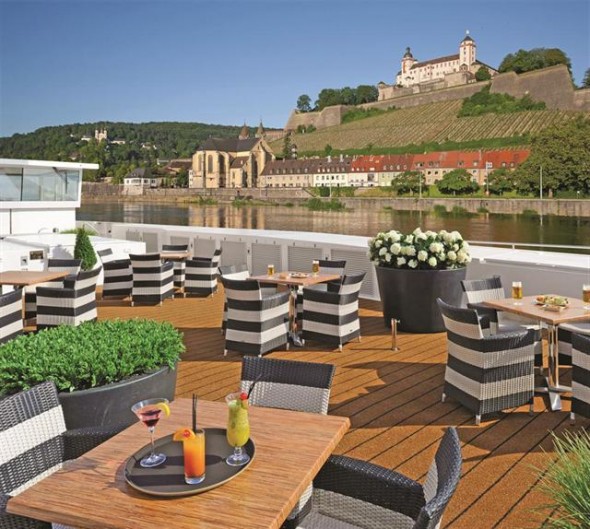 And that goes for the dining. Dinners come with an assortment of wines, including French and German labels and there are two special dinner options for guests during their cruise: a special multi-course wine pairing dinner with a menu that includes foie gras, lobster and other delicacies. And then there is a special Italian menu served in a scenic, roped off area of the lounge with Italian wines, great views and hovering service.
For lunch diners can also try the lounge, which serves sandwiches, soups, salad and hot plates bistro style and is always available for cocktails. Again, all is without charge.
The back-story of all this points to Glen Moroney, an Australian national who put together a land tour company in Australia for Australians, expanded that to Europe and through that company, Scenic Tours, started Scenic Cruises, noting that many of their past guests wanted to see Europe by river now. And they wanted to see Europe in comfort.
Moroney entered the shipbuilding business about 10 years ago and has never looked back. The company is completely family owned (Glen builds them, wife Karen designs and decorates them) and now, with seven ships in the fleet and more on the way, the company is expanding its cruise product sales into the U.S. market. A new head office recently opened in Boston.
All ships are more or less the same build and size with same upgraded amenities, layout and decor, except for the Emerald, which is now positioned on the Seine and needs to be smaller (126 passengers) to be viable for that route.
The company offers itineraries that start at 7 days. The company is also in the process of rebranding its Evergreen Tours fleet for marketing in the U.S. That line (yet unnamed) will offer two ships in the four-star category: 182-passenger sister ships—Riva Royale and Riva Princess, which should be ready to sail next year in Europe.
Cruises run from Istanbul to Amsterdam to France and Russia. Currently, an all-inclusive eight-day river cruise on the Danube starts at $3,455 per person, double.
Contact:
Scenic Cruises
(866) 689-8611
[email protected]
ScenicTours.com