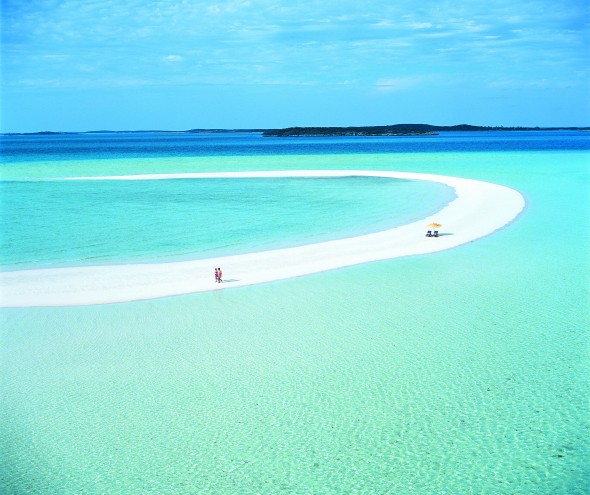 When times call for having your own private island and buying an island is just not in the cards, consider these cards: a magical adventure island in the Bahamas cays called Musha Cay. Share it with 24 of your favorite friends and one David Copperfield as your host, there to make the magic and ensure it is working.
Buying an island for the night isn't for everyone but at Musha Cay it is available to anyone who has $54,500 to spend and something big to celebrate. The price and setting was right enough for nuptials between Penelope Cruz and Javier Bardim, and for Sergey Brin and bride. Bill and Melinda Gates and friends took a Musha Cay vacation, and there have been some rumors about Johnny Depp's time on the island. But then, an all-inclusive $2,180 per person night on David Copperfield's magical island buys a lot of private island.
Once you land on the island's private runway, or dock the yacht and come to shore, the wow factor sets in. First, Musha Cay is not simply a gorgeous resort that hired the right design team and got the color schemes to pop. Musha Cay is another world full of other worldly experiences that only a guy who can be in Las Vegas one minute and Paris the next, or fly effortlessly above the crowds or handily and confidently make the Brooklyn Bridge go away, could dream up. And dream he did, with the help of a skilled team of illusionist engineers, to make Musha Cay into an island of adventure, an island of the unexpected, where anything can happen – and does.
Where else would you find a library dedicated to the magic arts in a tempered room of filtered light controlled by plantation shutters? Rifle through letters from Charlie Chaplin and Arthur Conan Doyle, or check out some piece of water torture equipment invented by Houdini while waiting for the keys to your cottage to appear.
Take the path less traveled and come upon a sacred monkey stone that rises out of the earth at your approach and bids you enter a dimly lit tunnel. Enter you do and exit into an exquisite monkey village where squirrely primates hop around you through the tropical greenery while you try to figure out just what kind of paradise you have suddenly found.
But the art of the story is what Copperfield is all about and his signature island experience does not disappoint. There are secret beaches to find, lost pirates to help, strange and unusual props that materialize up unexpectedly in jungley places. As one writer described, it's a bit of Disney – with impeccable detail.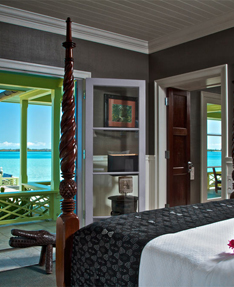 And that detail is lavished on each of the cottages, each a complete work in its own right starting with the plantation style bones of the architecture and moving into rich, Balinese interiors surrounded by ocean and bathed in Bahamian light. Count a total of 12 bedrooms and 13.5 baths among cottages as prodigious as 10,000 square feet. Privacy is ensured with each cottage located a distance from anything else — after all, there are 700 acres here spread across 11 secluded islets that Copperfield acquired in 2006.
But never ask beauty to trump entertainment at a resort owned by the world's most celebrated master of magic. Movies on the beach, nautical toys, must-try adventures such as the Musha 500 race, the M.U.S.H.A. Force spy challenge, and the Treasure of Copperfield Bay treasure hunt are not for kids only.
And on Musha Cay they are memories shared in an island paradise filled only with the people you pick.
Make it Imanta
If you are seeking to buy out a resort that is not a private island, Imanta, less than an hour's drive of Puerto Vallarta International Airport, provides the wrapped setting with plenty of location benefits.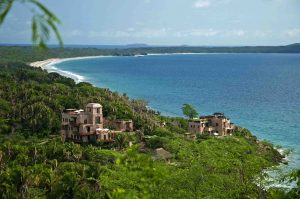 For starters, the spot on a secluded point along the beaches of Punta de Mita in Nayarit will turn a wedding ceremony into a heavenly tableau. Then there are the dozen private "casas," more like mini-manses, perched on bluffs above the Pacific, each with bedrooms that could fit a bowling alley, décor that would please a movie star, and views that take your breath away.
The onsite spa keeps the bride beautiful and guests relaxed while nearby towns and villages provide plenty of distraction as the wedding couple prepares or repairs.
A buyout of Imanta starts at $21,000 and can accommodate up to 28 special guests. But overflow lodging in nearby luxury resorts and hotels can accommodate any bounteous guest list.
Not up for a party? Take your private palace over the Pacific with a bit of a discount. At Imanta, through October, guests can stay three nights for the price of two.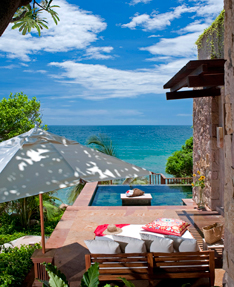 Contact:

Musha Cay and the Islands of Copperfield Bay
Exumas, Bahamas
(+1 208) 309 1106
Email: [email protected]
Website: www.mushacay.com
Imanta
Punta de Mita, Nayarit, Mexico
(52) 329 298 4200
Email: [email protected]
Website: www.imantaresorts.com
* Members: Kurtz-Ahlers Collection of Exclusive Resorts