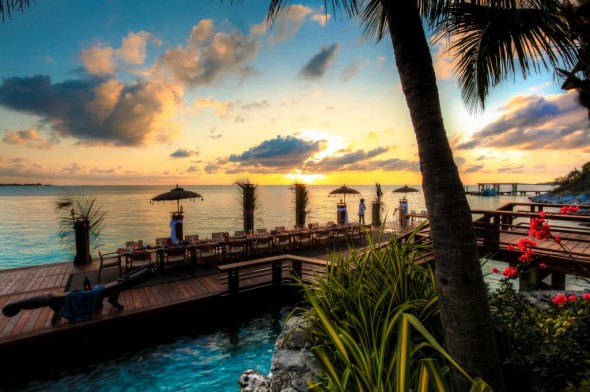 Destination weddings on the beach are best managed with a resort buyout. Why? Three B's: Brides, Beauty and Best Bang for the Buck. And two resorts that put the bloom on a destination wedding buyout are Villa Manzu in Costa Rica and Musha Cay in the Bahamas, and Gansevoort Turks + Caicos for accommodation within a larger resort.
A recent survey by Expedia, "American Altar Report 2014," showed that wedding planning can be one of the most stressful things we can do – outranking tax day, job interviews and driving tests. At the same time, 84 percent of Americans believe that destination weddings are more fun than traditional wedding ceremonies and most of those (76%) believe these are far less stressful to plan. And just where do those weddings need to be? Some 43% of brides to be say they want their wedding on the beach. And 62% believe that special beach should not be more than six hours flight from the USA.
According to The Knot, the average spend on a wedding in America is $28,000. Destination weddings can range from $5,000 to $40,000, and often the cost of the honeymoon is thrown in.
While the downside may be a paired down guest list, the upside is fun in the sun, the bounty of more time and less stress, the beauty of a private resort experience, and money spent on memory making rather than damage control on details.    READ MORE …