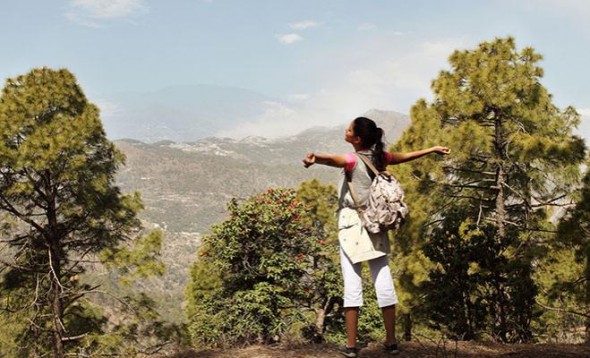 Spa guru Susie Ellis calls them "high yield tourists." A white paper from a recent Global Spa Summit refers to them as "borderline tourists," or those who seek perfect packaging in the blend of spa with experiential vacations. Either way the emerging wellness-focused traveler is getting identified by travel counselors as the new mother lode when it comes to matching travelers with product: the stressed out worker and the stunning destination spa.
It is for this traveler that Ananda in the Himalayas has been making its name. Its programs in yoga, diet, Ayurveda and transcendental meditation are legendary and serve to lift emotions and spirit as much as they bolster strength. For the 88% of women (78% of men) who report the toll of stress in their daily lives, for the more than two-thirds of the U.S. population suffering from unhealthy levels of weight (CDC) and for the emergence of new wealth demographics in the U.S. predicting an 85% increase in the number of billionaires over the next nine years, Ananda is well positioned to answer a very clear call: the irresistible harmony of luxury and health in the right place and at the right time.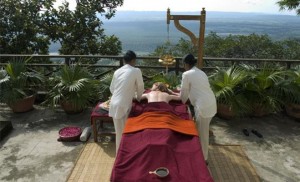 Ananda is a short drive from Rishikesh, the birthplace of yoga and what became the epicenter of transcendental meditation following an extended stay by the Beatles in the 1960s. It's an easy hour flight or 4-hour train trip from New Delhi to this royal spread overlooking the powerful Ganges. Healing energy defines this Maharaja's palace on the foothills to the top of the world.
Once there, guests get the benefit of royal pampering, from delivery of Ananda's signature ginger, honey, and lemon tea each morning to the caring focus on weight management, detoxification, Ayurvedic rejuvenation and stress reduction that can anchor in life-saving changes for a guest.
Days are spent dipping into yoga and meditation, working with highly trained medical personnel, facilitators and Visiting Masters toward meeting desired purpose and goals, spending quiet time amid the resort's 100 acres of gardens (with roaming peacocks and playful monkeys, of course) all within reach of the most spiritual river in the world. And then there is the necessary taking of time for beauty and health through immersive pampering experiences.
The 24,000-square-foot spa lies at the center of the Ananda journey, presenting a prodigious menu of restorative beauty and relaxation elixirs stemming from
ancient Ayurvedic practices as well as international specialties. Signature indulgences might be the Ananda Fusion Massage, as well as classic Reflexology, Aromatherapy, Deep-tissue, Thai, Tibetan, and Swedish massage techniques. The Abhyanga Massage, that uses four hands in synchronized paths around the body, is a favorite in the Ayurvedic tradition. Men and women's water retreats bring the sauna, steam room, reflexology footbath, and cold plunge pool.
Dining is done in a terraced venue overlooking the grounds as healthy, holistic choices in international fare ensure perfect nutrition throughout the time spent. For those on wellness programs, a daily menu based on Ayurvedic principles and customized for each guest's individual body type is on offer. But there is plenty of time to spend off property as well: guests go for guided hikes in nearby Kunjapuri Temple, visit ancient spiritual centers in Rishikesh and Haridwar, and track wild elephants and leopards in the nearby Rajaji National Park.
And when guests return they retire to a spacious guestroom with all the conveniences of the outside world: satellite TV, complimentary Wi-Fi, private patio, pillow menu, sunken tub with a view. Suites and villas amid the 78 available accommodations, take it up a notch with private pools, butler service, even a rooftop Jacuzzi. The Viceregal Suite is located in the historic palace while others sprinkle around the adjoining buildings and grounds.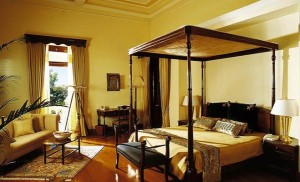 Why Ananda in the Himalayas?
Perhaps one word will explain it. Accessibility. For clients this means the chance to access wellness treatments and practices older than most modern  practices in benefits and strengths that have borne the tests of time. For clients this means the chance to journey to an exotic place where everything will be taken care of for them, where the service and level of luxury are guaranteed. For clients this means access to life-changing wisdom and experience inside peaceful settings and peak moments, a chance to open up and receive, be taken care of, learn and adapt. It may mean the missing piece in weight management or the chance to withdraw from draining habits. And it will mean the dissolution of stress and the building of energy.
For agents, it means helping clients in need find the right break – the healing vacation. This vacation will be the one that will be remembered and the one that will make the difference. Selling a wellness vacation is not like selling a cruise or a week at a theme park. It is not sold on sense of price, but rather it is all about sense of place. In the foothills of the Himalayas, an easy stretch from New Delhi, that place is found.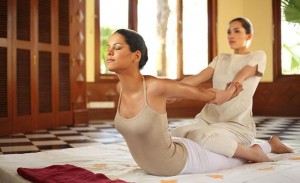 Packaging Ananda for All Possibilities
Getaways at Ananda (add an Ananda immersion to a pre-planned tour of India) start at three nights while Ananda wellness packages run from five nights to three weeks, ranging from $ 420 to $ 770 for one  $ 650 to 1110 for two) per night depending on length of stay. Ananda's wellness programs follow a holistic approach towards achieving the best results in a safe, nurturing atmosphere, expertly guided by a team of expert ayurvedic doctors, skilled therapists, nutritionists, yogis and spa cuisine chefs. Years of research by Ananda's ayurvedic, yogic and international wellness experts mean a skilled
integrated focus on the guest's core physical and mental aspects that will have the most impact. The results are award winning programs that work to create a sustainable journey towards a healthier, enriched lifestyle.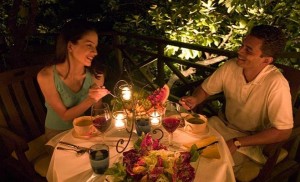 All wellness programs start with a detailed consultation with the Ayurvedic Doctor/ Spa Consultant to determine the individual's body type. The balance of the all-inclusive program comprises spa treatments, yoga and cuisine, all customized according to the guest's body type so the wellness journey can be complete and tailormade.
The 2013 SpaFinder report noting the latest trends in spa and wellness put Healthy Hotels, Mindfulness Massages, Earthing, and Authentic Ayurvedic Experiences at the top of the watch list this year.
Such experiences are not new to the ancient healing arts and surroundings to be found at Ananda in the Himalayas – as old as wisdom can reach, as high as it can peak and always ahead of its time.
CONTACT:
Ananda – In the Himalayas Palace Estate
(011 91) 1378 227500
Email: [email protected]
Website: www.anandaspa.com