Charlottetown, PEI, Canada: $147 
Year-over-year price drop: 13%
Located on the south shore of the province, Charlottetown joins Quebec City as one of Canada's most historic and picturesque cities. Known for its delicious lobster, potatoes and other locally farmed goods, the autumn harvest season is the perfect time for visitors to enjoy the immense bounty of the island's farmers, fishers and producers.
Quebec City, QC, Canada: $120 
Year-over-year price drop: 12%
Arguably Canada's most beautiful city, Quebec City is a romantic destination surrounded by breathtaking landscapes and Canada's version of the Great Wall of China. Plus, with an abundance of historical, cultural and outdoor activities to take part in, it's more than just a pretty picture.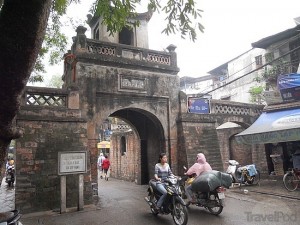 Hanoi, Vietnam: $54 
Year-over-year price drop: 32%
One of Southeast Asia's fastest growing cities, Hanoi is a fascinating blend of Eastern and Western cultures. You can get a free tour of the city from students at the University of Hanoi and visit the sites with knowledgeable tour guides. The Old Quarter is another area where tourists can find the best bang for their buck with reasonably priced Western and local fare.
Warsaw, Poland: $102 
Year-over-year price drop: 26%
Another city breaking away from a troubled past, Warsaw is proving it belongs amongst Europe's trendy tourist destinations. Savior Square is a vibrant area full of chic cafes, stylish restaurants and fun nightlife, which is why it is gaining a reputation as "Hipster Square". Warsaw has several milk bars remaining from their communist era that offer low prices and a view of life before democratization in Poland. For about $20 more than the overall average price, travelers can splurge on five-star accommodation.
Phnom Penh, Cambodia: $53 
Year-over-year price drop: 20%
Previously considered a rough place to visit, the capital of Cambodia has steadily improved its reputation as a travel destination. Standard tourist sites are few, which means a visit provides the opportunity to relax, watch the street life and absorb the local color. Khmer restaurants, which serve local cuisine, can be found throughout the city with the average meal ranging from $2-4 in price.
Siena, Italy: $130 
Year-over-year price drop: 15%
Located in the heart of Tuscany, Siena is a medieval city that makes you feel like you stepped into a time machine. If you're looking for something tasty, La Taverna di San Giuseppe is a popular favorite, but the city's main attraction is the semi-annual Palio horse race, which pits neighborhoods against each other in a long-standing and friendly, yet serious, competition.
Laguna Beach, CA: $197 
Year-over-year price drop: 15%
Although featured in reality TV as an affluent seaside destination, Laguna Beach has never been more affordable. Inexpensive eating options are intertwined with high-end restaurants to cater to a variety of tastes and budgets. This area of Orange County is a surfer's dream.
Santiago, Chile: $134 
Year-over-year price drop: 14%
As the political, economic and cultural centre of Chile, Santiago treats visitors to some of the world's best wineries and restaurants, including the uniquely Chilean Peumayen Ancestral Food. Travelers will love its close proximity to both the mountains and the Pacific Ocean, where you can ski and relax on the beach in the same day.
Zurich, Switzerland: $189 
Year-over-year price drop: 14%
Despite its reputation as a global financial centre, you don't need a Swiss bank account to enjoy all that Zurich has to offer. Its fast and effective public transit allows tourists to save a few Euros by staying in the surrounding area instead of the city centre. Impressive outdoor attractions Mount Titlis and Lake Zurich are also easy to access and free to enjoy.
Seoul, South Korea: $137 
Year-over-year price drop: 12%
As the largest metropolis and capital of South Korea, Seoul is a megacity and home to endless street food vendors and vast nightlife districts. In contrast to the grandiose of the city, the mountains surrounding Seoul offer many hiking opportunities for outdoorsy travelers, with Bukhansan National Park being the largest.
Source: Hotel Price Index, Hotels.com
Similar Stories: